Crisp Vs Drift - features and pricing comparison
Building a conversational relationship with leads & customers is becoming a norm in 2019. Since 2015, Drift is on a mission to turn the internet into a conversation. Let's have a look at what they've built and how Crisp can be compared to this solution.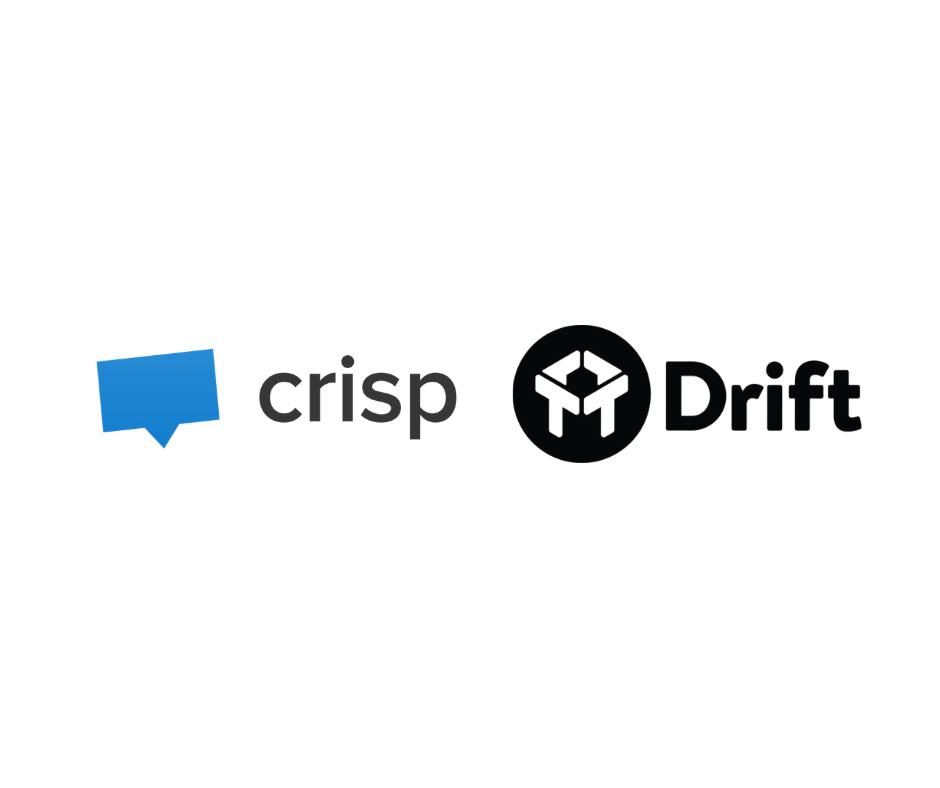 Building a conversational relationship with leads & customers is becoming a norm in 2019. Since 2015, Drift is on a mission to turn the internet into a conversation. Let's have a look at what they've built and how Crisp can be compared to this solution.
Why should you use a platform like Crisp or Drift?
Drift & Crisp come from a common background. Drift started with a live chat in 2015 as Crisp did. From then these two platforms have grown towards different objectives.
Drift is dedicated at helping sales & marketing teams to generate more leads with less effort.
Drift is targeting the mid-upper market.
Crisp is dedicated at helping companies to humanize customers' relationship with better solutions.
Crisp is targeting the low-mid market.
So regarding Drift or Crisp, you can use them for :
Gathering customers or leads data
Exchange messages based on multiple channels
Support users through a knowledge base
Automate marketing & sales process
Segment user base
Globally, these applications are very useful, they allow to unload teams from inefficient actions and offer an all-in-one solution for customer success!
Through this guide, we will cover the analysis of the live chat feature and the chatbot feature and explain why Crisp is a good alternative to Drift.
Crisp Vs Drift: Features comparison
First, let's have a basic look at features regarding Crisp & Drift. At first hand, they offer some identical feature
Live Chat Software Comparison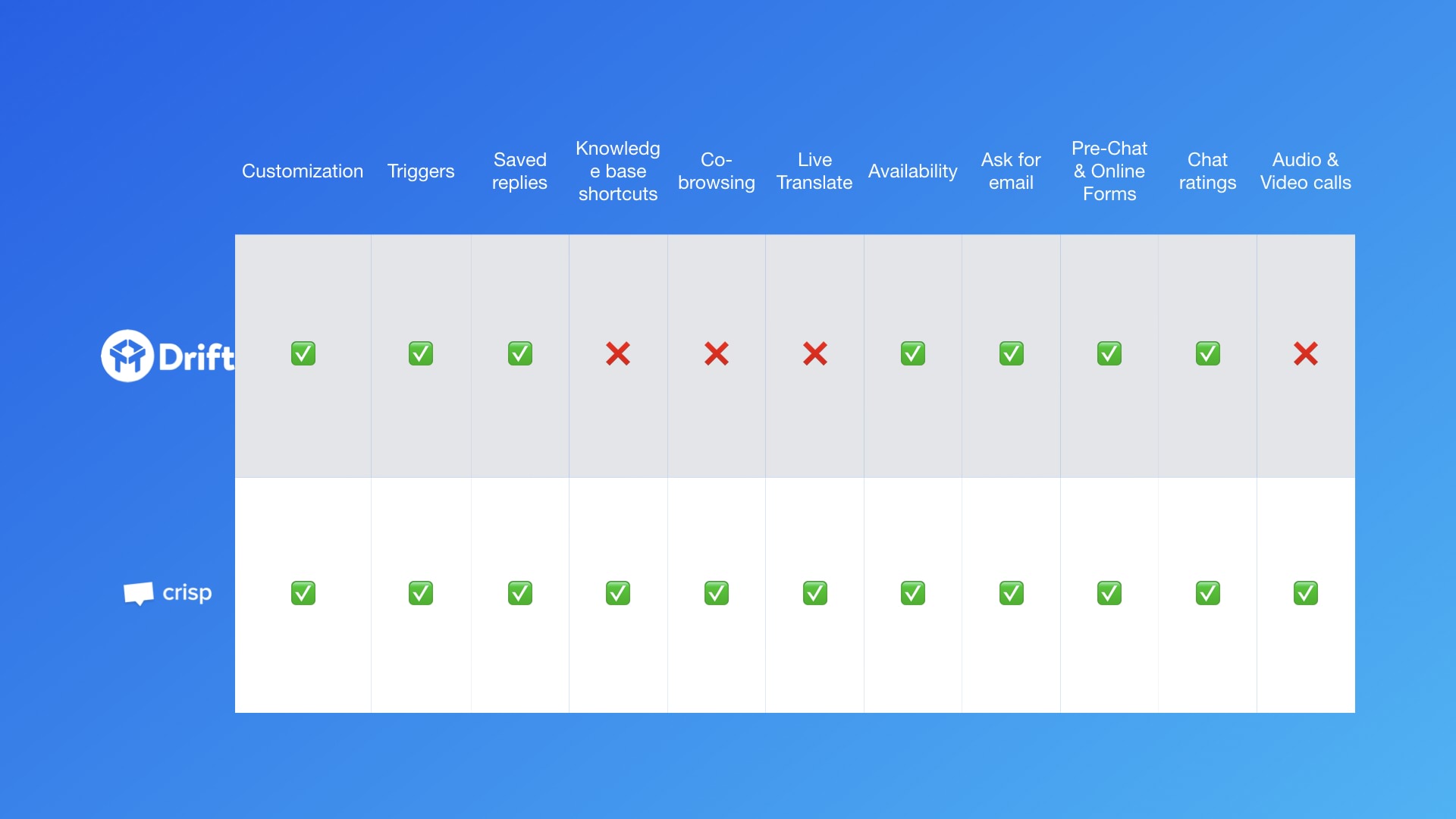 Customization: The ability to modify the look of the chatbox regarding colors, messages and so on.
Triggers: The ability to send targeted messages from the chatbox based on user behavior regarding your website.
Chatbots: The ability to build conversational experience based on an automated workflow.
Shortcuts: The ability to send pre-registred messages.
Knowledge base shortcuts: The ability to use specific shortcuts to send messages from the chatbox, displaying links to the knowledge base.
One conversation/customer: The ability to centralize and unify conversations as one and only one conversation.
Live Browsing: The ability to assist the user while browsing your website.
Live Translate: The ability to translate automatically messages regarding customers language.
Availability: The ability to set availability regarding operators and customer support.
Ask for email: The ability to ask for users email after the conversation has started.
Audio & Video call: The ability to start an audio or a video call from the browser without any additional plugin.
Knowledge base software comparison
As Drift does not offer a knowledge management system but an integration that lets reps answer using shortcuts, we felt it wasn't interesting to compare this feature with our knowledge management system software.
If you want to understand how we compare on this with other competitors, you can look at
You can find beneath the main features Crisp can offer for a knowledge base:
Multilingual helpdesk: The ability to build articles and helpdesk in multilingual mode
Helpdesk feedback: The ability to get feedback and comments regarding helpdesk articles
Customizable Helpdesk: The ability to modify the helpdesk's design and attach it to a proper domain name.
WYSIWYG Editor: The ability to edit helpdesk's articles with an enriched text editor
Categories: The ability to link articles to categories.
Statistics: The ability to have statistics upon knowledge base visits
Related articles: The ability to have related articles next to the one the users are reading
Search bar: The ability to use a search bar to look for the content that is needed
Chatbot software comparison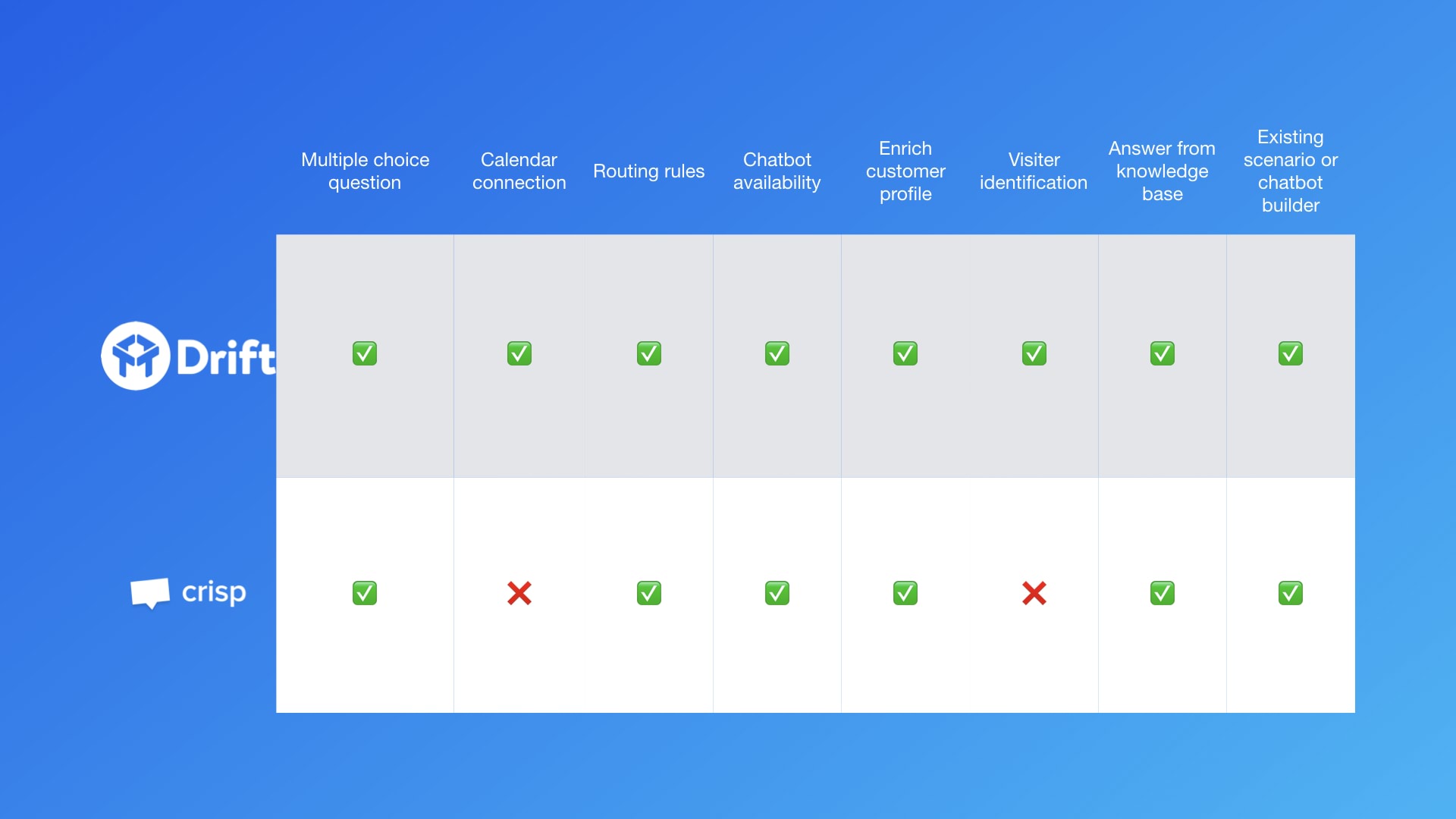 Multiple choice question: The ability to multiple choice questions.
Calendar connection: The ability to connect a calendar like Google or Outlook directly in the chatbox.
Routing rules: The ability to assign the right department based on users' interaction.
Chatbot availability: The ability to define the availability schedule of the chatbot.
Enrich customers' profile: The ability to enrich customers profile through customers interaction with the chatbot.
Answer from knowledge base: The ability to send articles from a knowledge base during a chatbot session.
Chatbot builder or existing scenario: The ability to create your own chatbot scenario or use existing one.
Crisp Vs Drift: Price comparison
As Crisp, Drift offers free access to the live chat so you can fully use their software at no cost.
But, if you want to go deeper, prices increase very fast and can be pretty much equivalent at Intercom as they bill per operator.
Discover how Drift compares with Intercom thanks to this details comparison.
Drift pricing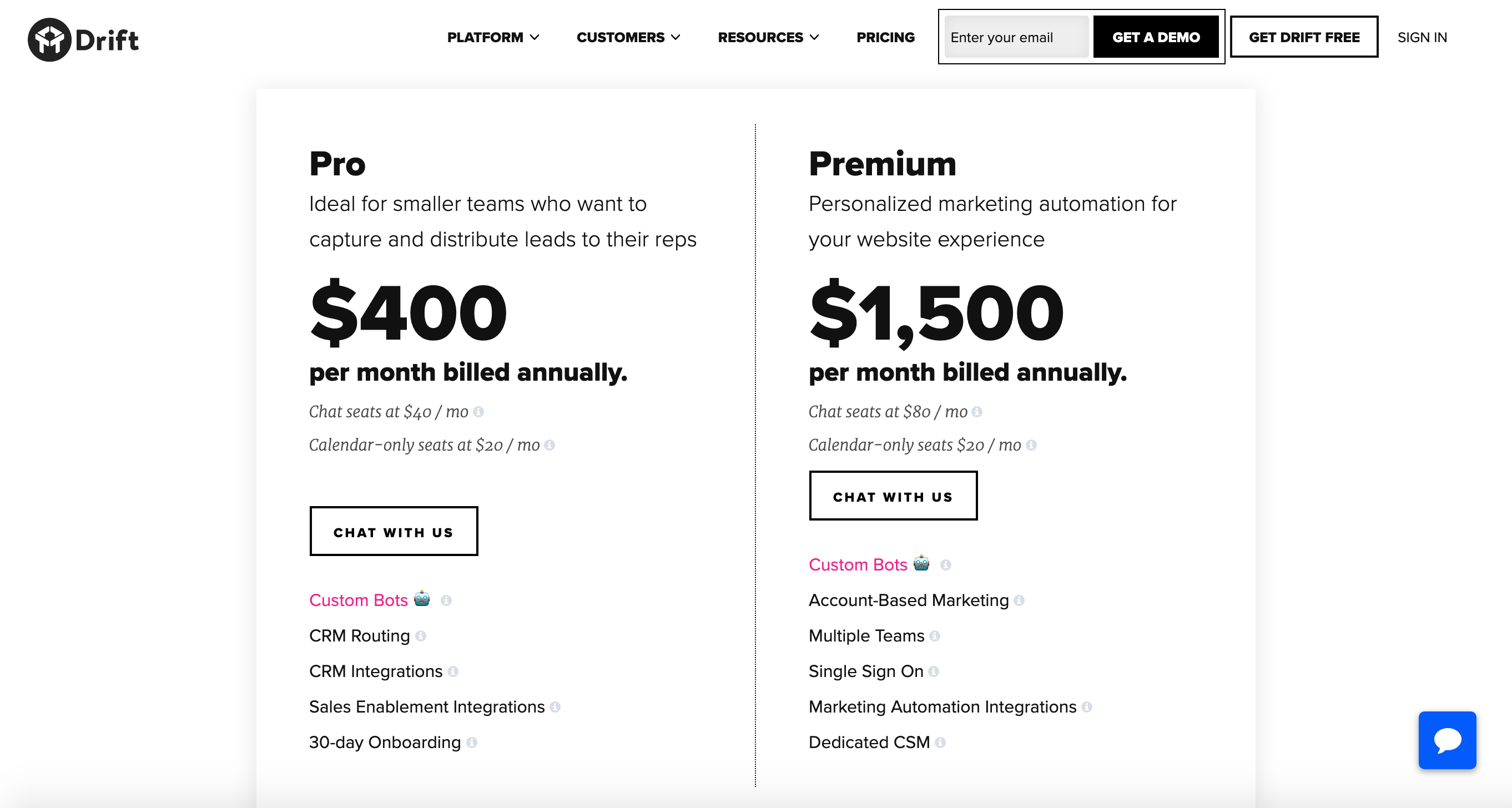 For the full Drift suite that we reviewed, which is the equivalent of what Crisp offer, it would start at 400$/months for one agent.
That means if you want to bring your whole team, you have to add another 40$/months.
Crisp pricing
Regarding Crisp features, it starts at 95$ / month for 20 Agents. Check the Crisp pricing page.
Still, wondering why you should change? Ask us for a demo!