Knowledge Management System: 9 knowledge base examples you'll want to copy
In customer service, we're often operating on the reactive side. When you're overwhelmed by customers requests, it's hard to be active and work on the strategy to help your customers be successful. That's why knowledge management systems are vital.

In customer service, we're often operating on the reactive side. And when you're overwhelmed by customer requests, it's hard to be active and work on a strategy to help your customers be successful. Furthermore, you'll mainly notice the same questions and issues coming back over and over again. That's why knowledge management systems are vital when you want to enhance customer satisfaction.
We've already reviewed great ways to reduce customer support requests and how you could have an impact on the efficiency of your company.
A knowledge management system can help your company:
Decrease support cost
Enhance customers satisfaction
Create a self-service culture by empowering autonomous actions
By answering questions in real-time and giving customers the option of finding answers by themselves, you can empower users to answer their own questions. By providing these resources so customers can help themselves complete these repetitive and tactical tasks, you can spend more time focusing on customers' questions that really matter.
If you are still wondering why you should build a knowledge base, here are some key facts that should make you change your mind:
70% of customers expect companies to offer a self-service management system
40% of customers prefer self-service to human contact to solve their problems
So first, let's review how you can build great articles to help you succeed at offering a world-class knowledge management system.
How to build great knowledge base articles?
Great content is at the heart of your strategy. If you're creating great content, your customers will find easily what they are looking for and you'll increase customer satisfaction.
Use your own data to build a knowledge management system
One of the first steps to building great articles is to know what your customers are looking for.
What are the repeating questions? What are the main issues regarding your product? What kind of content are they looking for?
Monitor customers requests
At Crisp, we use tags to group customers' requests and Trello to centralize incoming feedback so that we are able to get every piece of information easily accessible.
You could also use Notion.so, they offer great templates to help you build and centralize your customers' requests
Create group discussion with different department in your company
Get your support, marketing, and sales team together and make them contribute to some new ideas that could be integrated into the knowledge management system. These are the people that are the most in contact with your customers or leads so they know what they are waiting for.
Another great way would be to prioritize product bug in the roadmap so that repetitive incoming bugs could be fixed.
If you have enough resources, you can create a multilingual knowledge base that will serve your customers the best way.
Use your analytics to understand what they are looking for
Thanks to Google Analytics, you can monitor search engine requests and follow the different requests that are mainly written by customers.
You'll have to be able to have some specific role in your Analytics account to set these things up. Click here to set search terms monitoring in Google analytics.
Listen to your customers!
This sounds simple, right? there are different ways to get user feedback, as we mentioned in another article talking about live chat trigger, you can simply use a live chat to trigger depending on specific use cases.
For example, here are different use cases where you could trigger a live chat message:
A user has failed to log in more than 3 times (ask him why!)
A user hasn't moved from the checkout page for more than 30s.
A user has almost bounced from your product page.
More than Live chat, you can also use tools like Hotjar that are really impressive when talking about customers feedback.

So once you've done this process, you can now start to dig into the content and begin to integrate the data you have into great and delightful articles for your users.
How to write articles for your knowledge management systems
Writing articles for a knowledge base is something that is time-consuming, here are some good advice that will help you build the perfect knowledge management system
Group articles by categories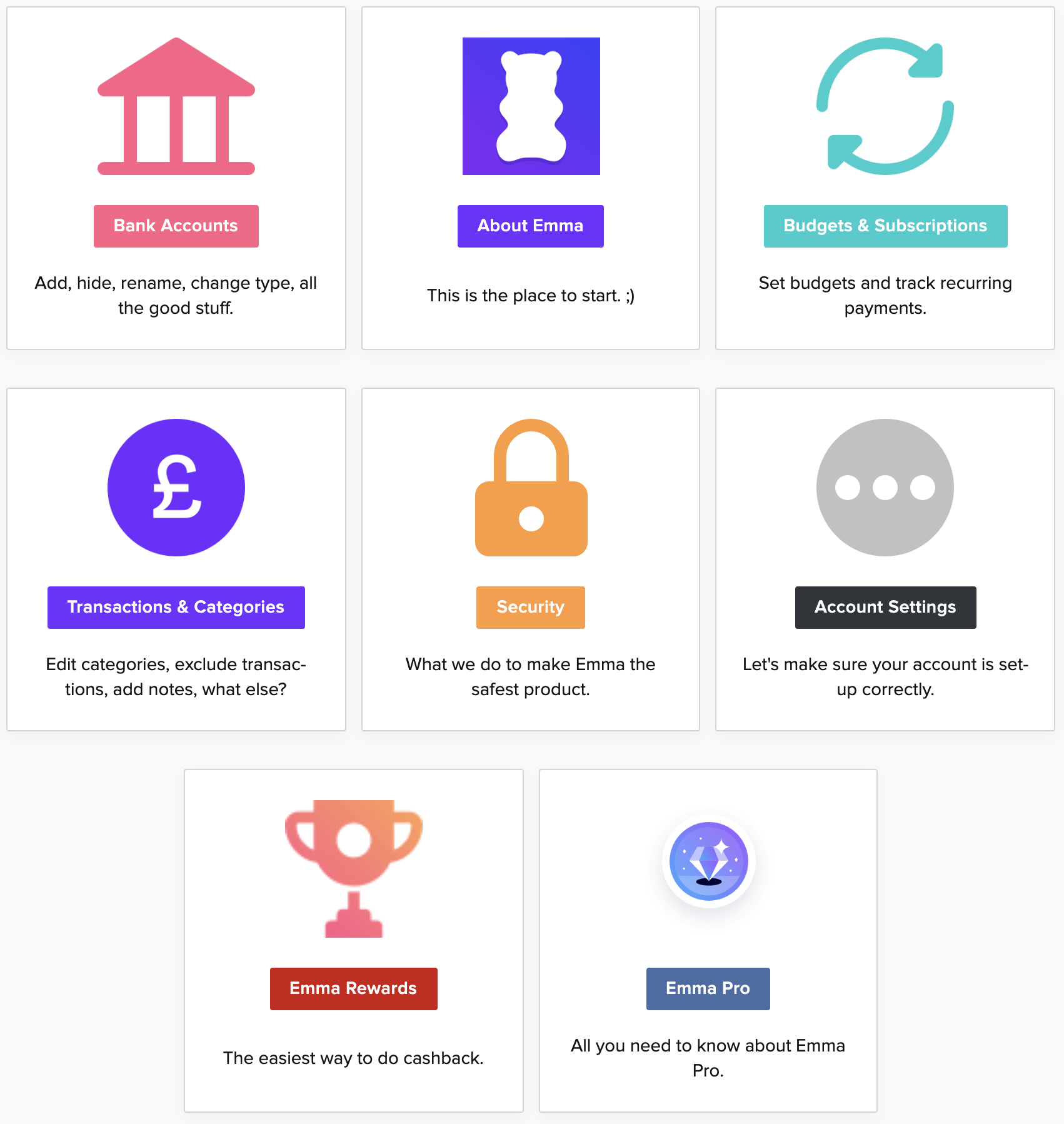 Emma-App is a mobile app that helps you to manage your finance. They've grouped their articles into eight categories that gather their help desk's articles.
Add emoji's to your content
Because why not? If you want to add a bit of fun to your content and make your customers happy to browse through the different categories that you are offering, why don't you add some funny part in it?

Combine texts and videos
Don't intimidate readers with a wall of text—when solutions aren't easy to find, contacting support will be the customer's next step. That's a failure to communicate and a frustration for both of you.
Use callouts, bullet points, spacing, and visuals to highlight important information and keep the full set of instructions visible at a glance.
One of the best resources on the web and that everyone should read while building a knowledge base article is the Mailchimp content style guide.
Here are a few advices taken from this guide:
Be casual but smart
Be specific
Get to the point
Link it up
Use tags and keywords
As you've understood, these are some generic advices that will help you to create the most impactful content. Just take them as they are
Create youtube videos and integrate them into your articles
By providing two kinds of content, you are able to satisfy mainly everyone that is looking to get help regarding your product.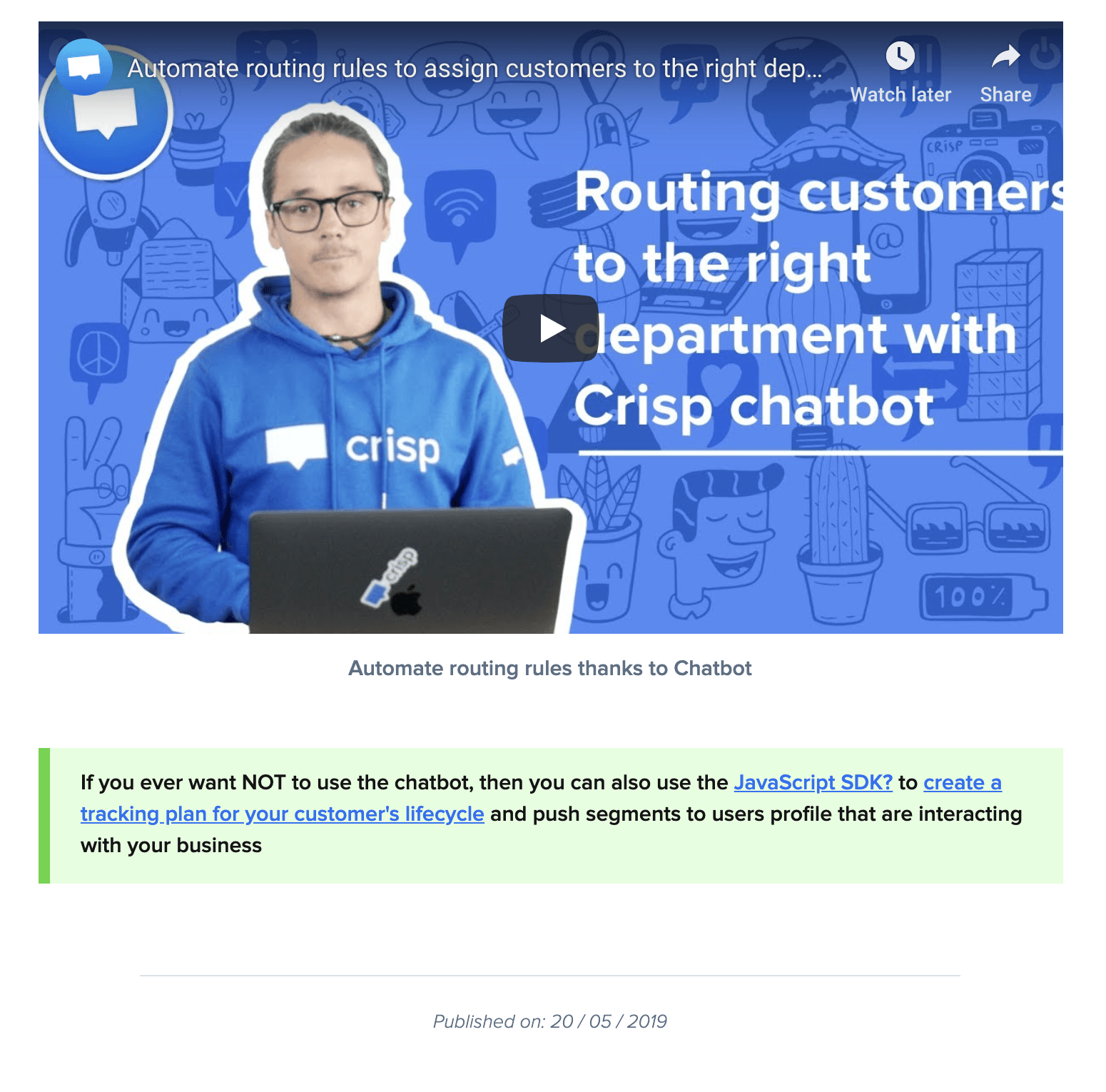 Add images that link to your text
Images help your customers to get more context about what they are doing. By putting some images into your knowledge management systems, you'll make the work for your customers much easier.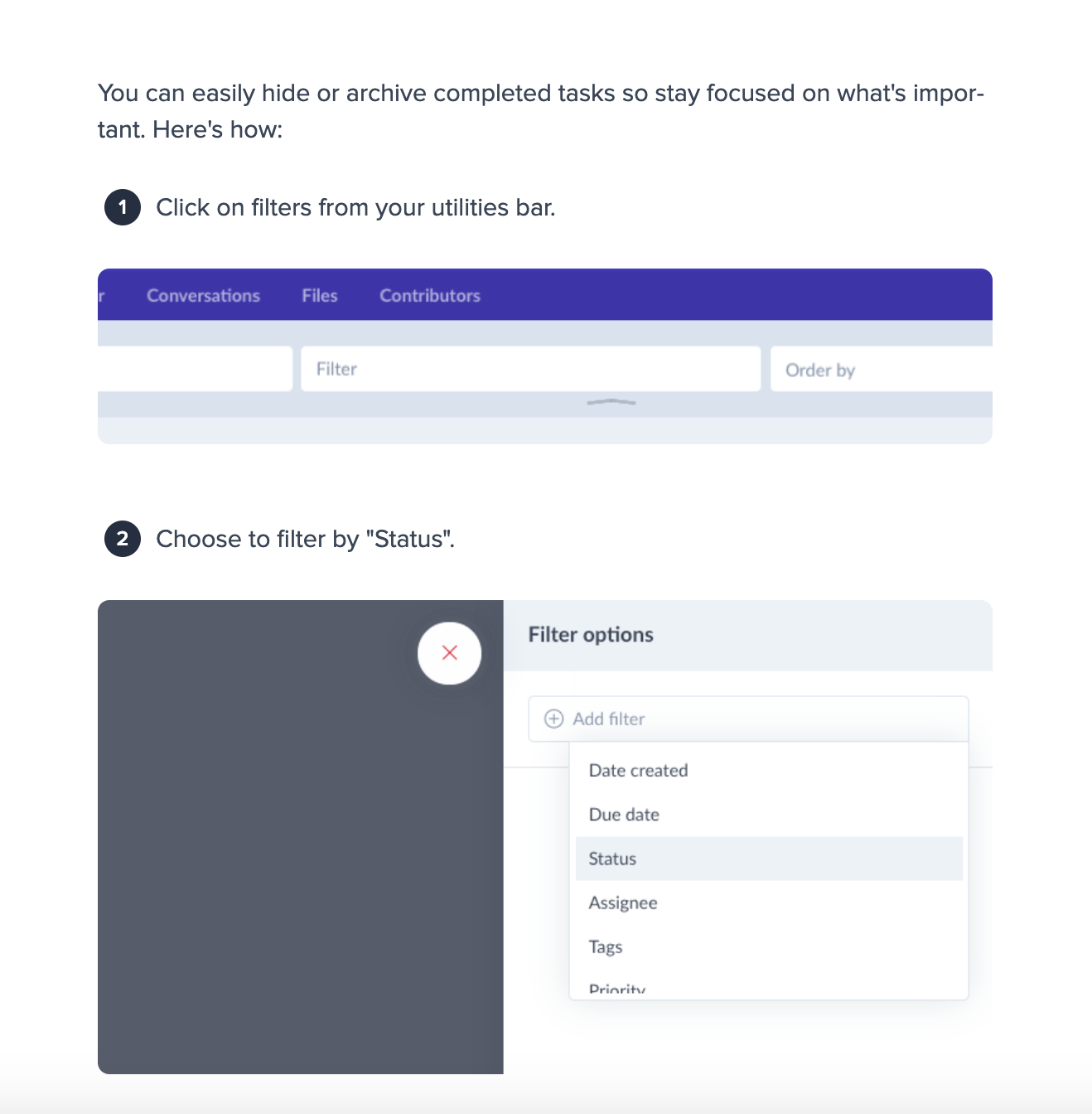 Organize your article logically
Great articles become helpful when it's designed around the reader's workflow.
Unless you want customers always asking you the same questions, here a few key insights you should keep in mind when building articles:
As you've noticed, you have to be organized in order to simply help your customers. First things first, start with the beginning.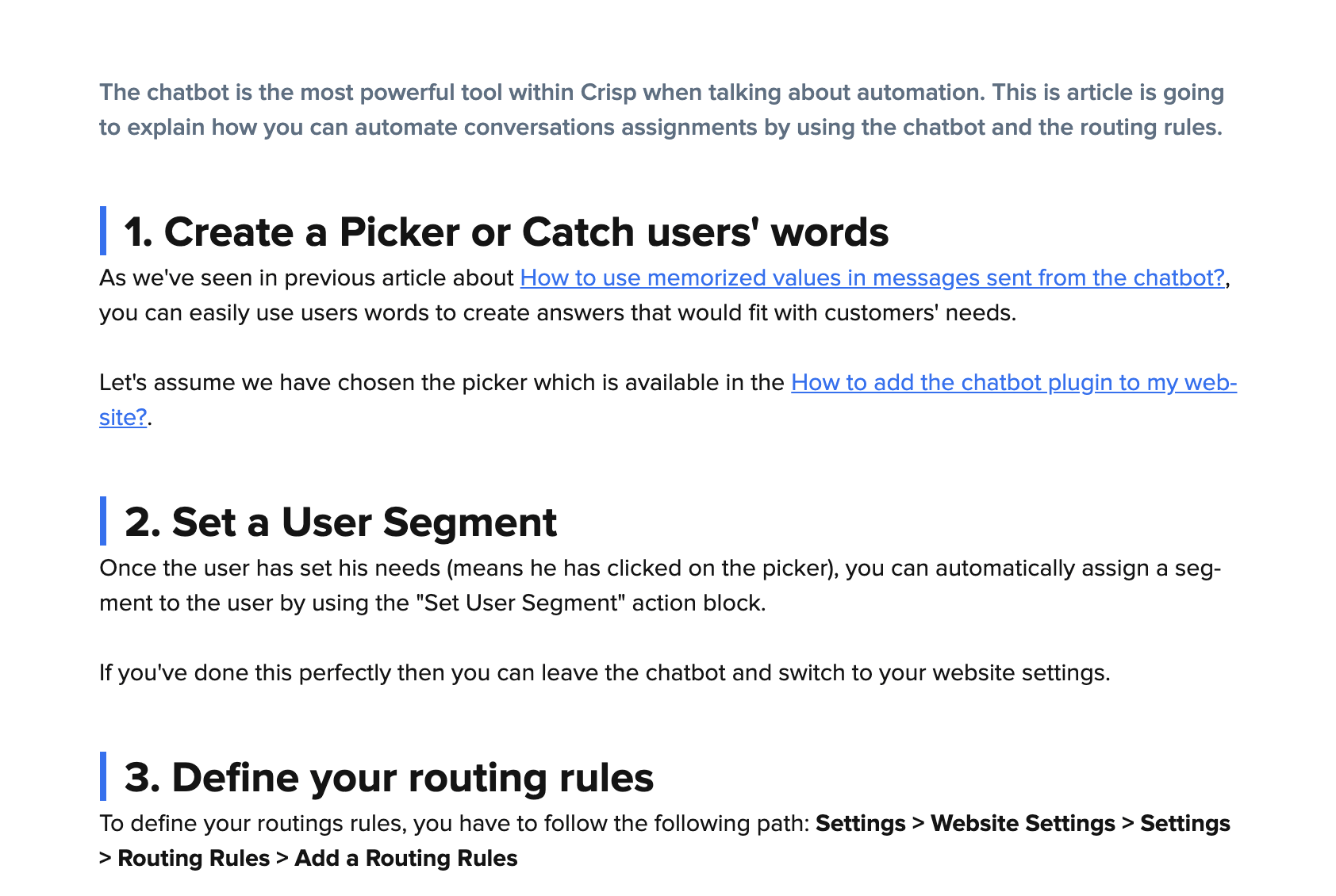 If your customers have to do multiple tasks, make the hardest at the end so the learning curve is not too hard from the beginning.
The more success is likely to happen, the more you'll see your customers succeed at the whole process.
Think of similar articles
Normally, this is not your job but in some case, you'll have to select which articles you want to be displayed next to the one the user is looking at.
Create links between articles
While writing your articles, think about which other content, the reader would benefit while reading your article. This is great for your customers and also for SEO as it keeps the robots browsing on your website.
Now that you are able to build the perfect knowledge management system, it's time to review some companies that have set an incredible knowledge base.
Knowledge Management Systems examples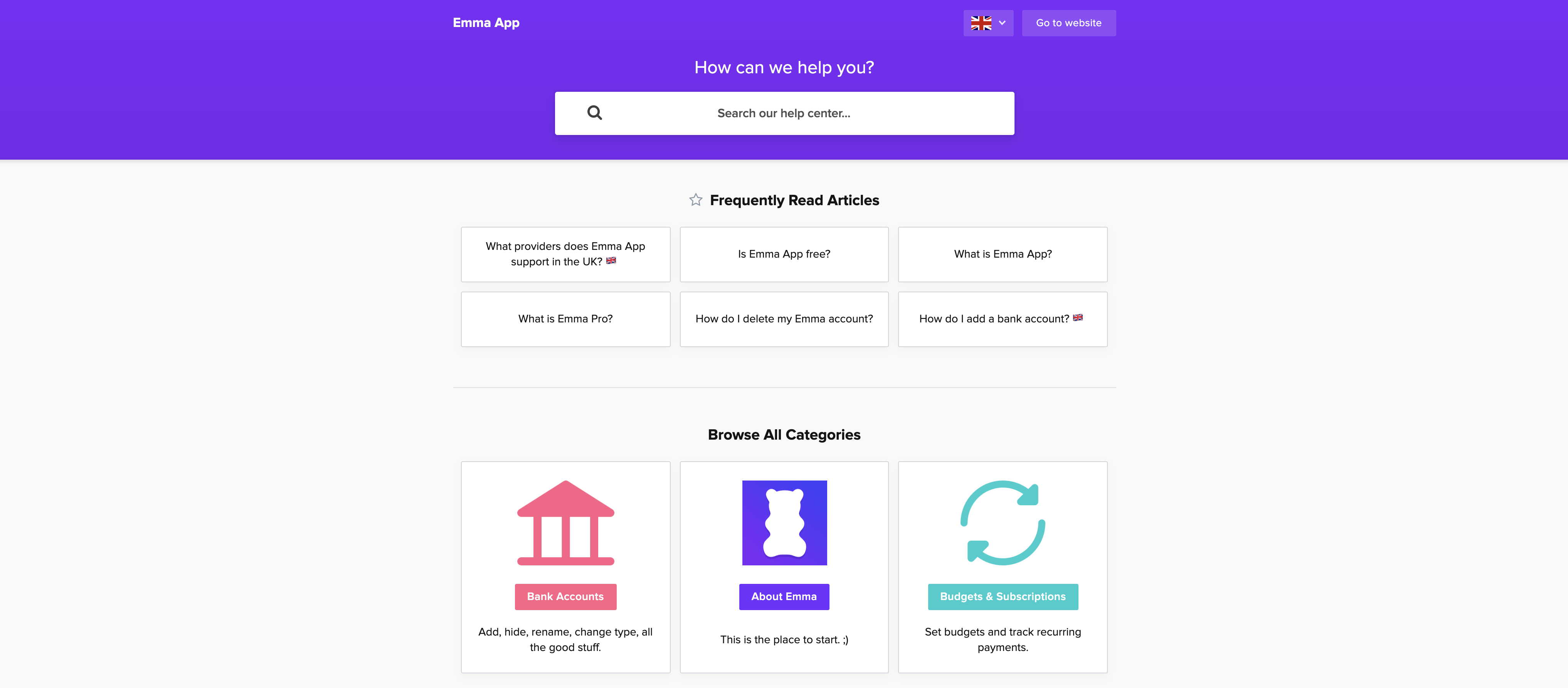 Why did Emma-app built a great knowledge base?
✅ Few categories
✅ Frequently read articles
✅ Emojis
✅ Images and Videos
✅ Chronological Orders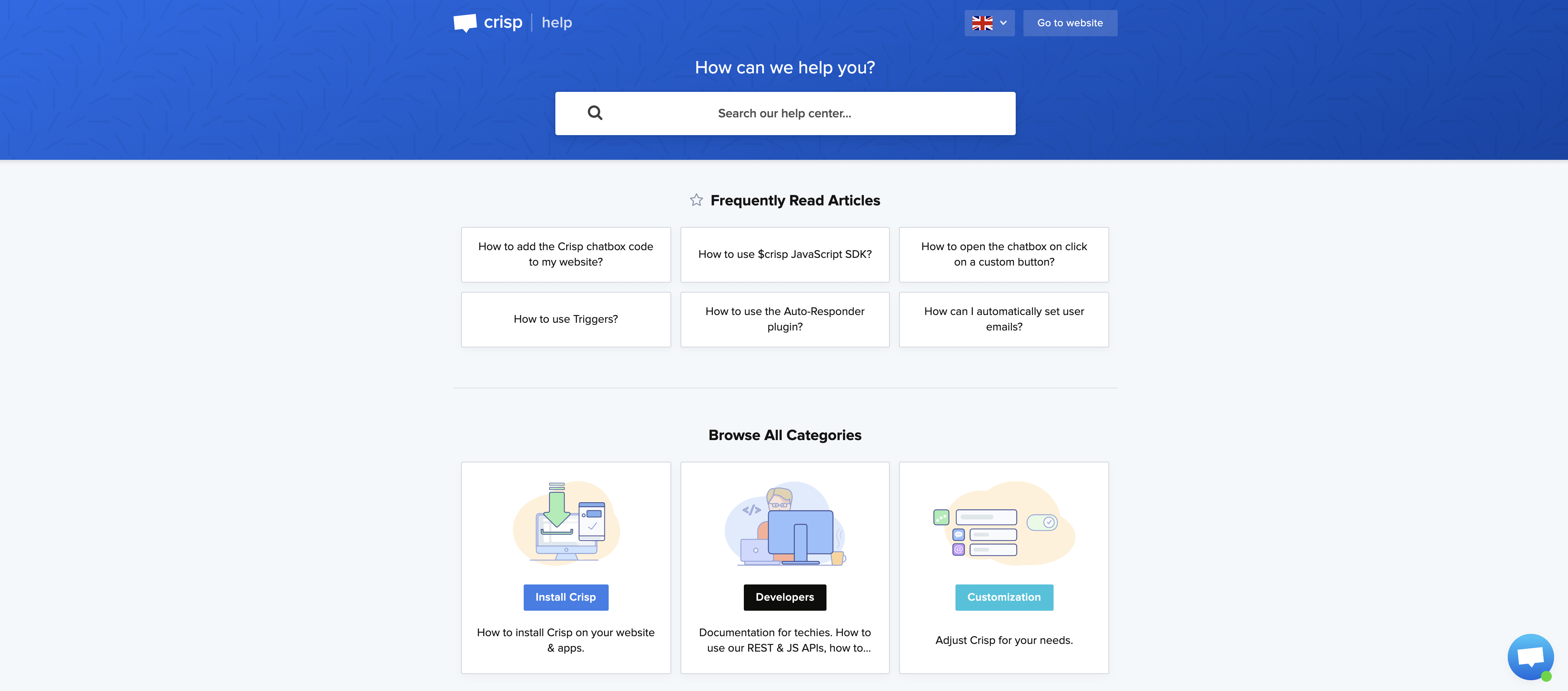 Why did Crisp built a great knowledge management system?
✅ Comprehensive images for categories
✅ Popular articles ranked first on categories
✅ Images and Videos
✅ Live Chat available on help space
✅ Custom Knowledge base Design
✅ Emojis
As you can see, there multiple ways for you to customize your knowledge base thanks to Crisp.