Shopify Live Chat: 5 tips to get you started
As Shopify is an e-commerce platform, it definitely needs a live chat to better support and assists customers through their buying process. Here are a few tips to get you started.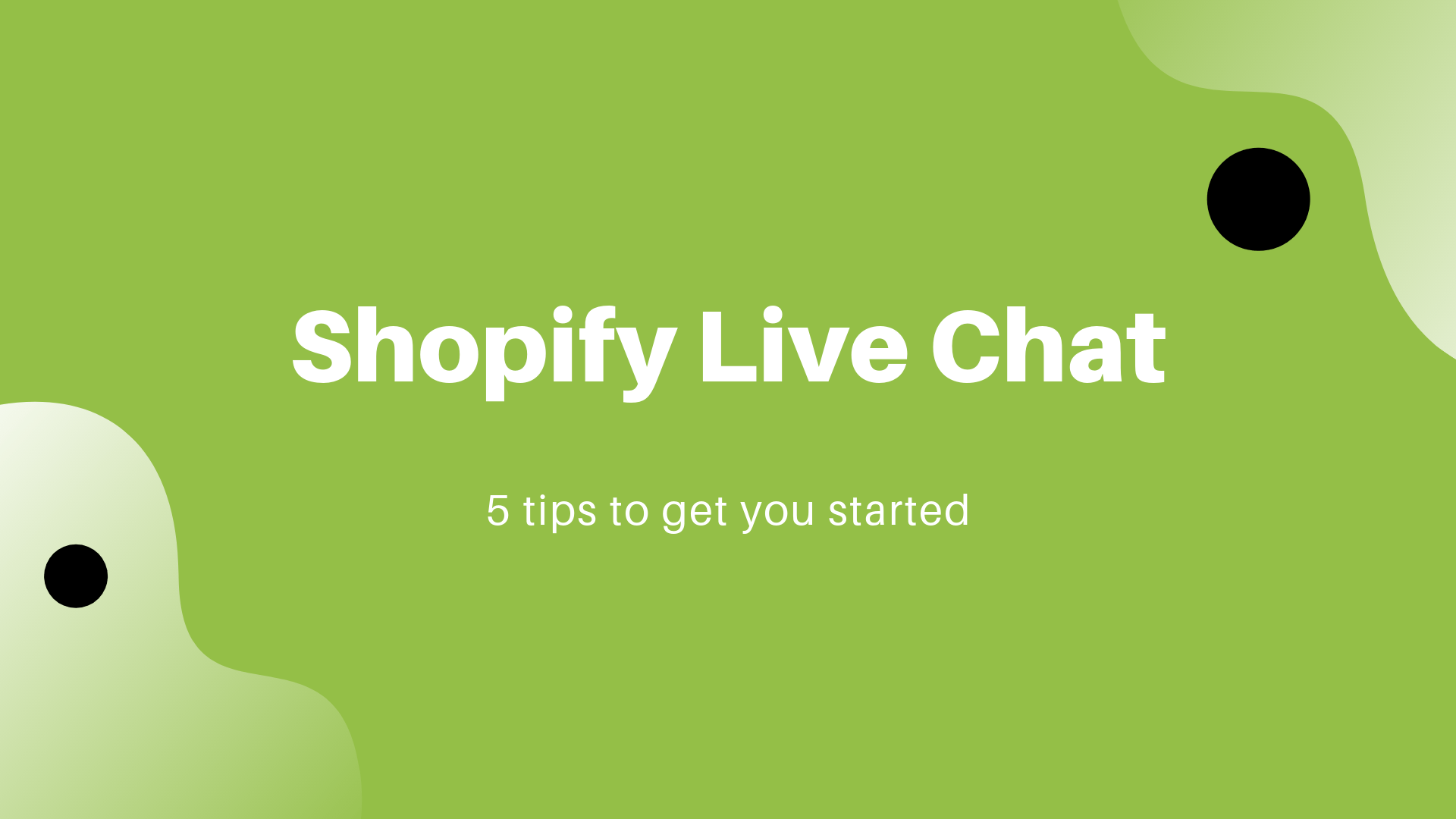 As Shopify is an e-commerce platform, every online merchant definitely needs a live chat and helpdesk to better support and assist customers through their buying process.
According to Forrester, customers who engage in a live chat conversation with a business are 2,8x more likely to complete a purchase.
As you may be running a small e-commerce website on your own, you may not be able to answer every customer's questions. Is it enough to build a competitive advantage?
The answer is yes! As long as you follow the few tips that we are going to give you, you'll be all set to install a live chat on your Shopify store.
Don't worry, by adding a chat app to your Shopify store, you'll not get flooded. Here are a few tips you can follow to kickstart your live chat support.
Choose the right time to display your live chat
As with every efficient online store business, you may have set Google Analytics on your website. With this wonderful tool, you're able to monitor peak traffic windows. As you're able to understand these things, make sure to make your live chat available on this window.

When you've defined the right shift during your day, be sure to pay attention to the number of conversations that are created.
More than only looking at conversation, take a close look at how many conversations led to a purchase or close enough to hope for one in the next few days.
From there, you can make your chat available at the perfect time and enhance your customer happiness by coordinating conversational experience with the highest buying intent.
Pro tip: While doing some discounts like Black Friday or Christmas sales and sending a newsletter to your customers, make sure that your live chat is available. You can even set some automated chat greetings to automatically engage with users that come from this specific newsletter, based on URL parameters.
Choose the right place to display your live chat
Your chat widget software should give you significant control over the way customers can get in touch with you. Make sure you can show and hide the chat depending on your key pages.
As we just mentioned, sending automated greetings is also a key part of your customers' engagement. If you can't do this with your current chat tool, look for other alternatives that offer the ability to target users based on visitors' behaviour.
By hiding the live chat app everywhere, you can then decide on which page you should display your live chat. Once again, by using Google Analytics, you should be able to define which are the best pages to display your chatbox.
Look for "Landing pages" in the "Behaviour" section, here is what you should be able to see:

With this data, you should be able to define a data-driven strategy that could help you to better assess the key pages.
Simply, with a bit of brainwork, you can define the following pages as being key pages for your customers' lifecycle:
Show the live chat only for product pages and the checkout process.
Show the live chat only on pages that feature new products or bestsellers.
Open the chatbox widely to send chat welcome messages after new visitors arrive on your website.
Show the chatbox for visitors that are brought to your website through marketing campaigns.
Show the chatbox to a specific country only.
Pro tip: While focusing on live chat, you should always think of your customer's lifecycle and what are the key touchpoint that they are going through before reaching you using a chat app. Building a shared inbox is a nice way to enhance customer communication.
Don't forget that live chat is not the only channel
Live chat is a great channel when trying to improve customer satisfaction on ecommerce platform. As there is a growing number of communication channels, companies should not forget that there may be some other channels to handle to offer the best customer experience possible.
As a small e-commerce team can't handle every conversation, it is normal to think about a way to centralize all your communication channels.
The best way would be to build a shared inbox that could unify customers' chat, customers' email, customers' SMS, or even customers messages coming from Facebook, Instagram DMs, WhatsApp, or Twitter.
A shared inbox is a perfect way to evolve in the multichannel environment we now face. More centralizing information also brings transparency and visibility throughout the team.
Pro tip: While focusing on shared inbox, you can also take some time to build canned responses that will help you to answer to your customer very quickly. These are templated answer for live chat that are available for you to use for common customers' question.
Look for qualitative instead of quantitative live chat conversations
As you're running out of time, you need to keep your mental energy and trust me, nothing will drain your brain faster than trying to handle multiple live chat conversations at the same time.
You'll serve your customers better (and so you too) by sending the right answer to one customer rather than twelve half-answers.
Settings up a queue is a bad idea as you are reproducing the same mistakes that big customers support companies are doing. Remember this voice:"All of our agents are not available, we will get back to you shortly". So rather than frustrating your customers, automate the first level of support.
Pro tip: While responding to customers, be sure that your chatbot is available and qualifying customers' requests to reduce the global amount of requests that you will have to handle. Here you can check some chatbot examples.
Does live chat increase sales for online stores?
The answer is, once again, definitively YES! As an e-commerce entrepreneur, you should always be willing to better understand your customer and live chat is a perfect way.
Having a chat with your website visitor is gold as 82% are more likely to convert to customers after a chat conversation.
Even more, their average basket value is 13% higher than people that didn't chat with you.
Live chat is a powerful (and underrated) channel to convert your ecommerce traffic into paying customers.
Live chat is not the only solution, you can also add upselling apps to your Shopify store to automate upsells and improve average basket value per customer.
Now that you're convinced about setting up a live chat or an helpdesk on your Shopify store, here are some key resources that will help you: