September 2022 🎒 - Crisp Product Update
Willing to see what we've built at Crisp this month? Get a glimpse by reading this article.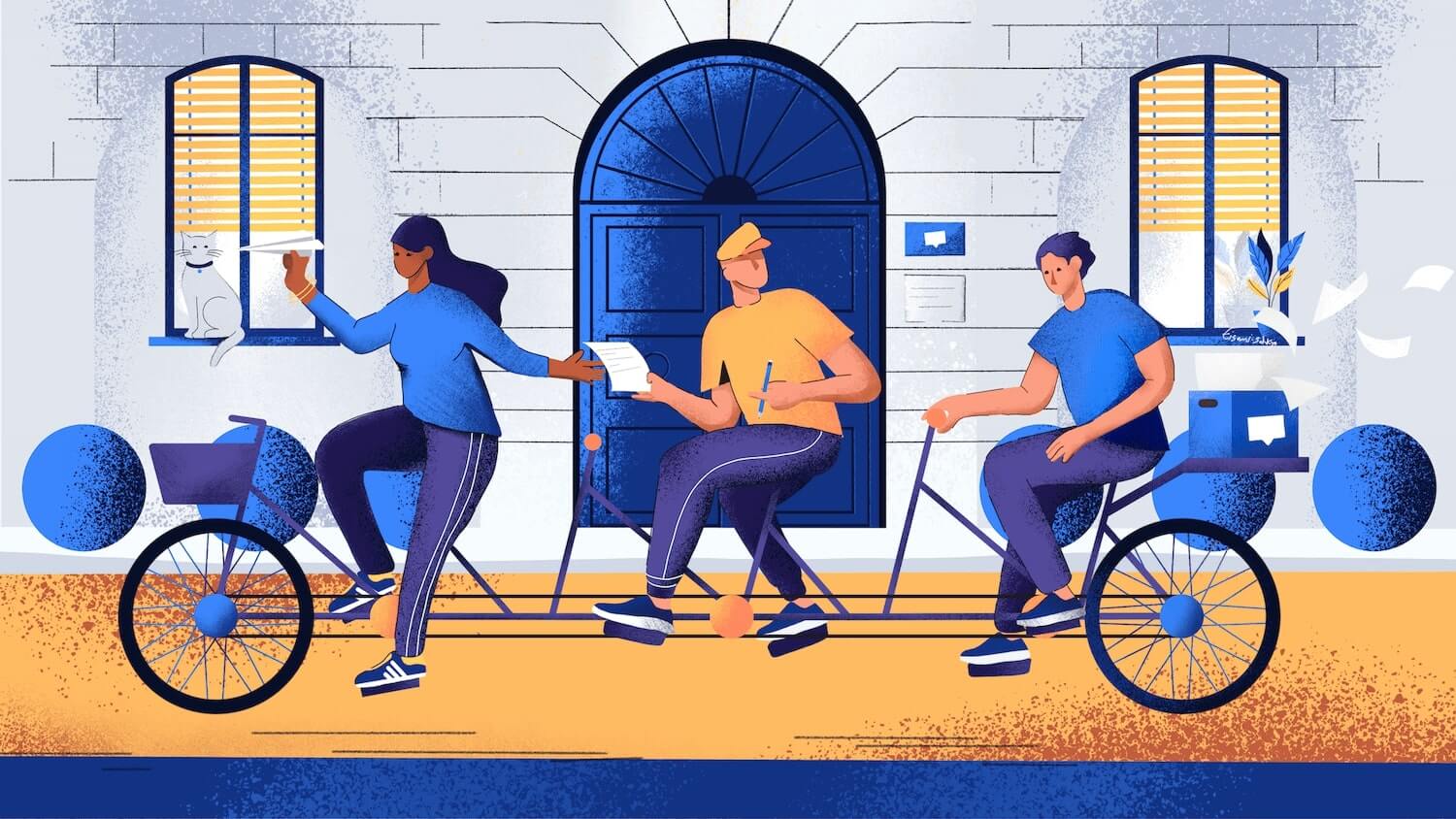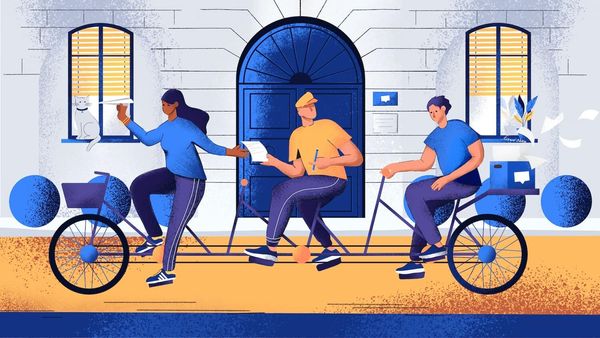 New features
Add multiple Facebook Messenger pages to your one inbox 📟
For years, only a single Facebook Messenger page could be linked to one Crisp Inbox. It's now possible to have multiple pages! Add as many Facebook Messenger pages as you want and centralize all your messages within one inbox.
Each conversation from Messenger comes with dynamic custom data regarding the Facebook Messenger message origin, so you always get the context!
Many more improvements have been brought to the Messenger integration itself, check them out below ⬇️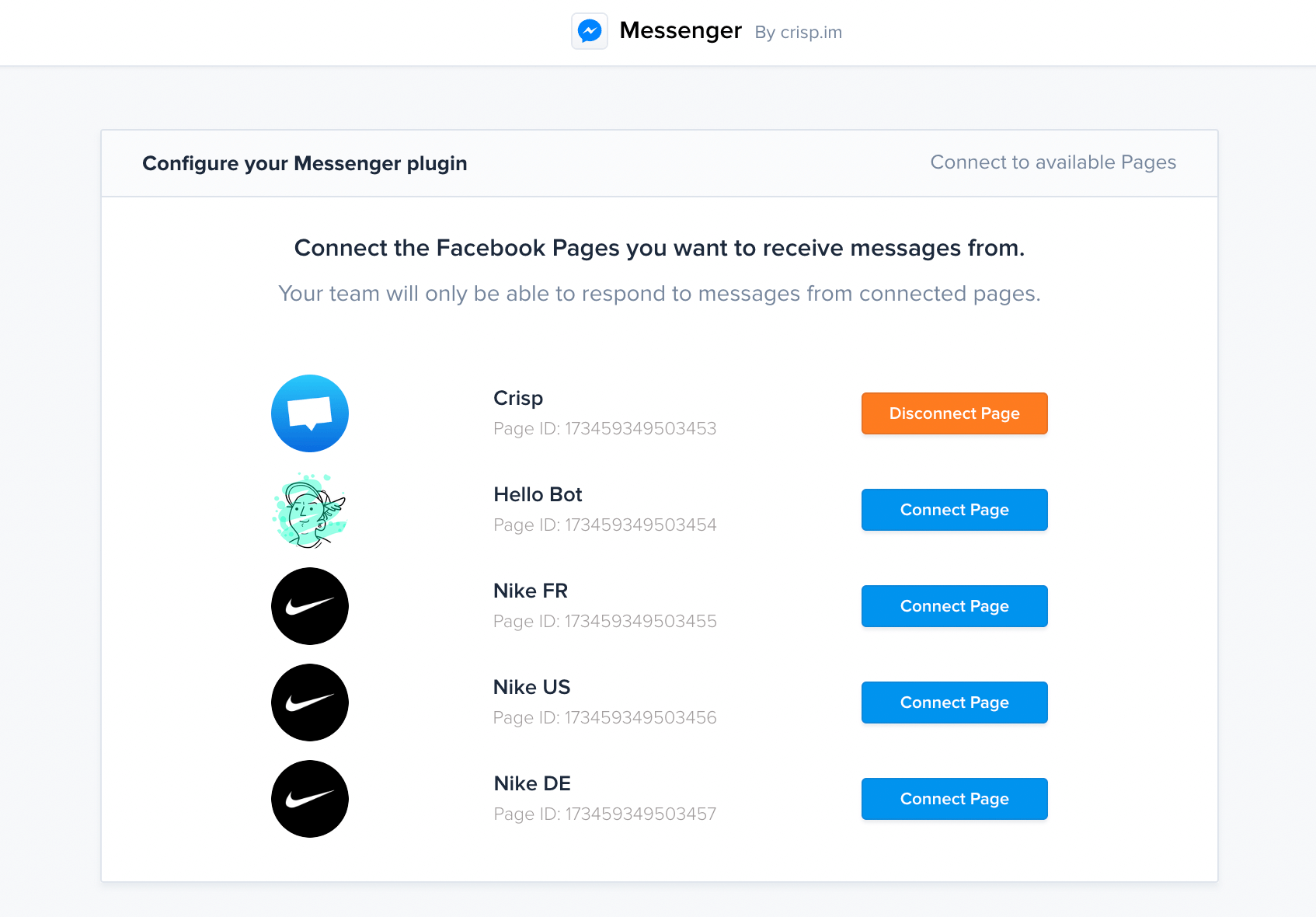 Connect Crisp with multiple Facebook Messenger pages →
Sync notes and labels from Aircall phone calls 📞
Thanks to feedback from our customers and the Aircall team, our Aircall integration just got better! For every Aircall conversation, labels and notes created in Aircall are now synced to the ongoing Crisp conversation. Making it even easier to see everything related to the conversation itself. We even search for user details within Crisp Contacts to match the phone number with existing records.
For each Aircall conversation, you'll also get, in Crisp, a recording of the phone call as an audio message.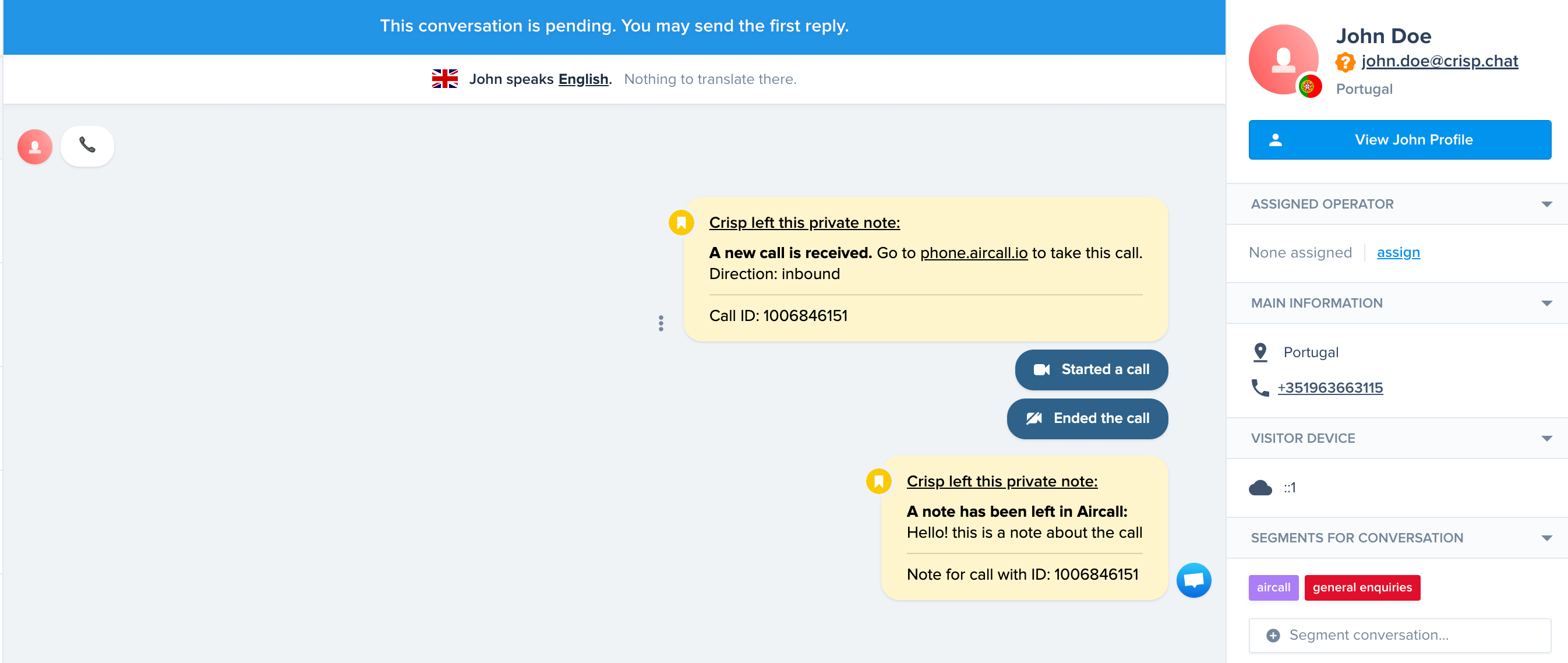 Benefit from a Postman collection through the Crisp API 🖲
By clicking on the Postman button available in the Crisp REST API Reference or in the Marketplace dashboard, it imports all the routes in your Postman. Allowing you to easily play with the Crisp REST API!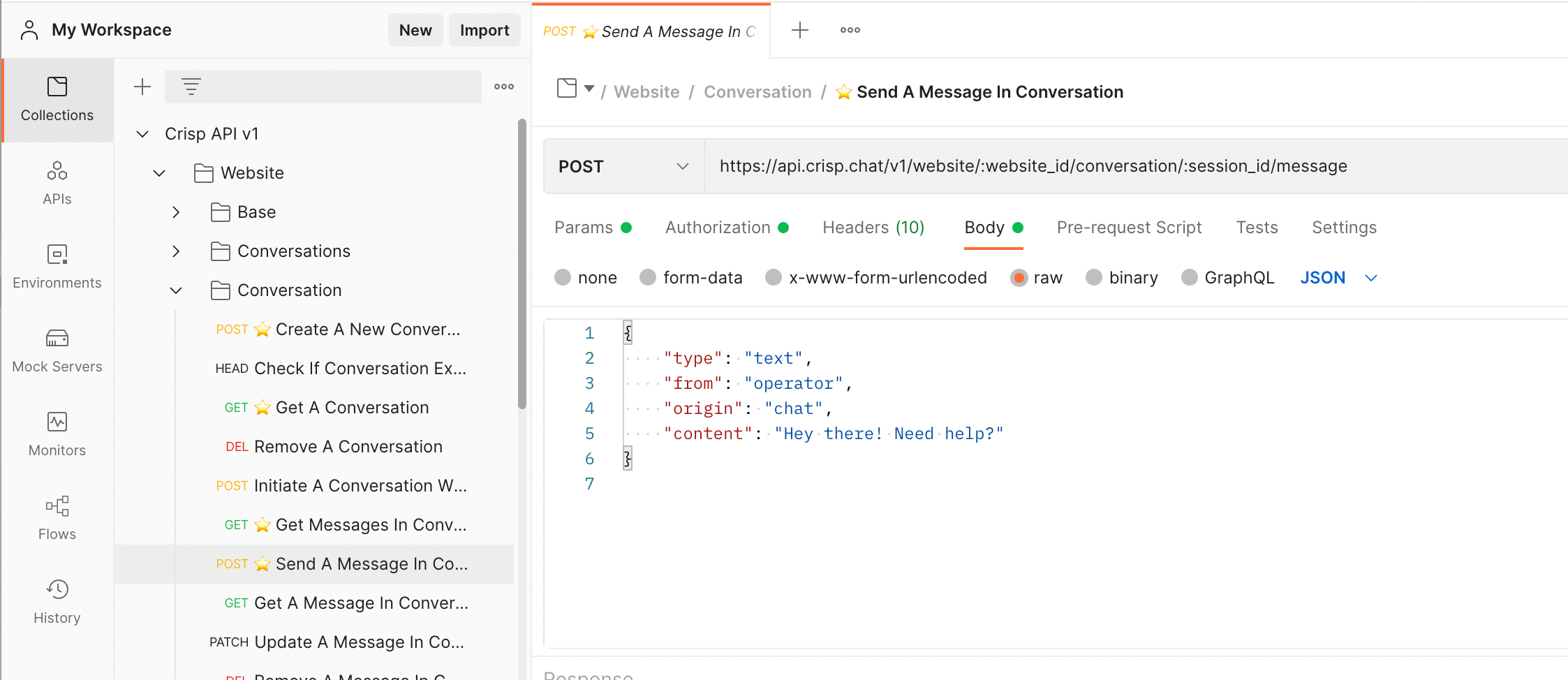 Start building with Crisp APIs →
Make your teams more productive by building personalized quick links 🏎💨
A new plugin has been built on top of our platform: Quicklinks. This 3rd party app is built to help your team save time by creating smart links for your common tools or queries. It builds one-click access to your beloved tools: Stripe, Salesforce, Segments, Slack… More than bookmarks, you can bring in dynamic data within each of the links to access the right data in a wink.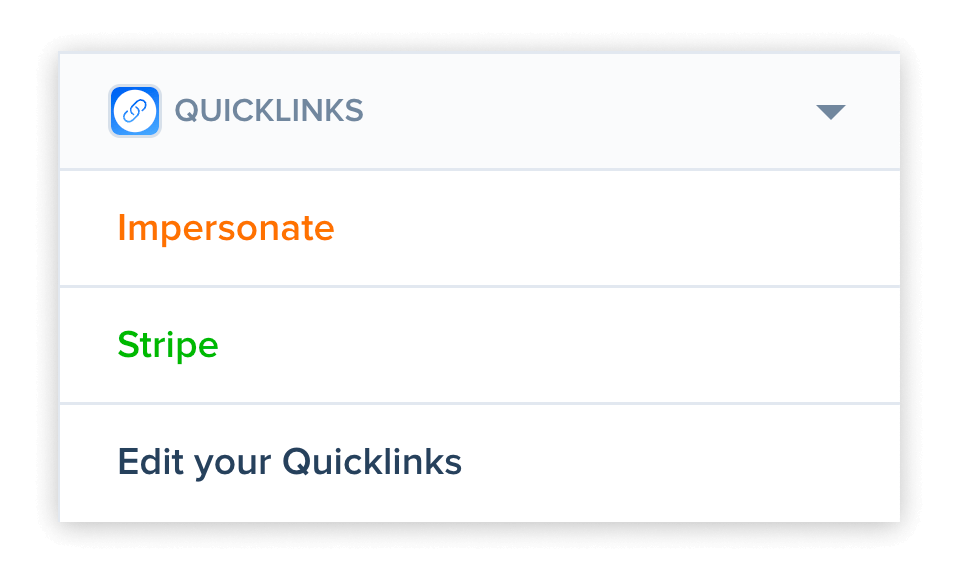 Enable Quicklinks in your Crisp Inbox (free) →
Grab data from Crisp and push it to your data warehouse with the Freshpaint integration 🏪
Freshpaint helps product, data, and growth teams to set up the customer behavioral data they need to build a better product, drive engagement, and improve retention. This free integration allows you to sync customer support interaction with your customer data platform.
Enable Crisp as a data source in Freshpaint →
Builders are gaining momentum on Crisp, give them a try 🙏🏼
Over a year ago, we created a Marketplace that allows any agency, entrepreneur, or micro-saas builder to benefit from Crisp customers to create, market, and sell specific apps. Here are the most successful ones:
Operators Analytics: A simple yet super powerful analytics on agents' efficiency. Get detailed data such as time to resolution, ratings per agent, or total agents' login time. The bonus? It's fully customizable to fit your KPIs.
Rating Fish: A powerful NPS & CSAT survey tool for businesses around the world. Capture crucial CSAT and NPS to know how the customer really felt. The bonus? You get an advanced view of customer satisfaction for each agent.
Bug fixes & improvements 💪🏼
Inbox: it now shows a preview before sending files (no file will be sent until the message is submitted)
Inbox: emails forwarded from HubSpot are now correctly displayed
Messenger: we now support Markdown formatting, especially regarding images and links
WhatsApp: we now sync customers' language correctly based on phone numbers, and markdown images and formatting are correctly handled
Instagram: we now sync all messages coming from Instagram correctly, we added an option to bypass conversations started on Instagram by the agent and another option to auto-resolve conversations if the operator responds from Instagram
Ringover: lots of improvements and fixes have been done
Hubspot: custom data set in Hubspot will now sync to custom data in Crisp
Jira: it is now possible to fill in custom fields when creating an issue
Jira: a note is now sent to the related Crisp conversation when the issue's status changes
Stripe: multiple payment methods are now supported (previously only cards and bank accounts) alongside displaying all kinds of charges and ongoing disputed payments
Trello: cards in any "Done" column are now shown at the bottom of the list in the related conversation
Segment: a bug has been fixed when pushing custom data to Crisp (some data were not being pushed due to format errors)
Zapier: it is now possible to create conversations as an action from a Zap
Developers: alert emails are now sent when you reach 75% and 90% of your plugin token quota
Developers: widgets modals can now be minimized in the Crisp Inbox
Developers: a full-screen code editor is now available in the Marketplace
Developers: a new web SDK has been released which allows the inclusion of the chatbox as an NPM package
iOS mobile app: few bugs have been fixed
Helpdesk Updates 📚
Link Crisp inbox to multiple Facebook Messenger pages 📚
Willing to add more Facebook Messenger pages to your Crisp Inbox? Follow the article and add them without a single line of code.
Add more Messenger pages to your Crisp Inbox→
Link Crisp inbox to Instagram Direct Messages 📚
Willing to connect your Instagram DMs to your Crisp Inbox? Here is a simple article that will guide you through.
Connect Instagram DM to your Crisp Inbox→
Teasing next releases 💥
Android Mobile App (beta available via the Play Store)
WYSIWYG Editor
Chatbox and Helpdesk UI revamp
Webhooks for Marketplace plugins