8 tips to build the best Facebook autoresponder
Over the years, social media has become an important channel in terms of customer messaging. Companies have seen the rise of social media customer service and thus, the need to answer automatically customers or leads on these new channels.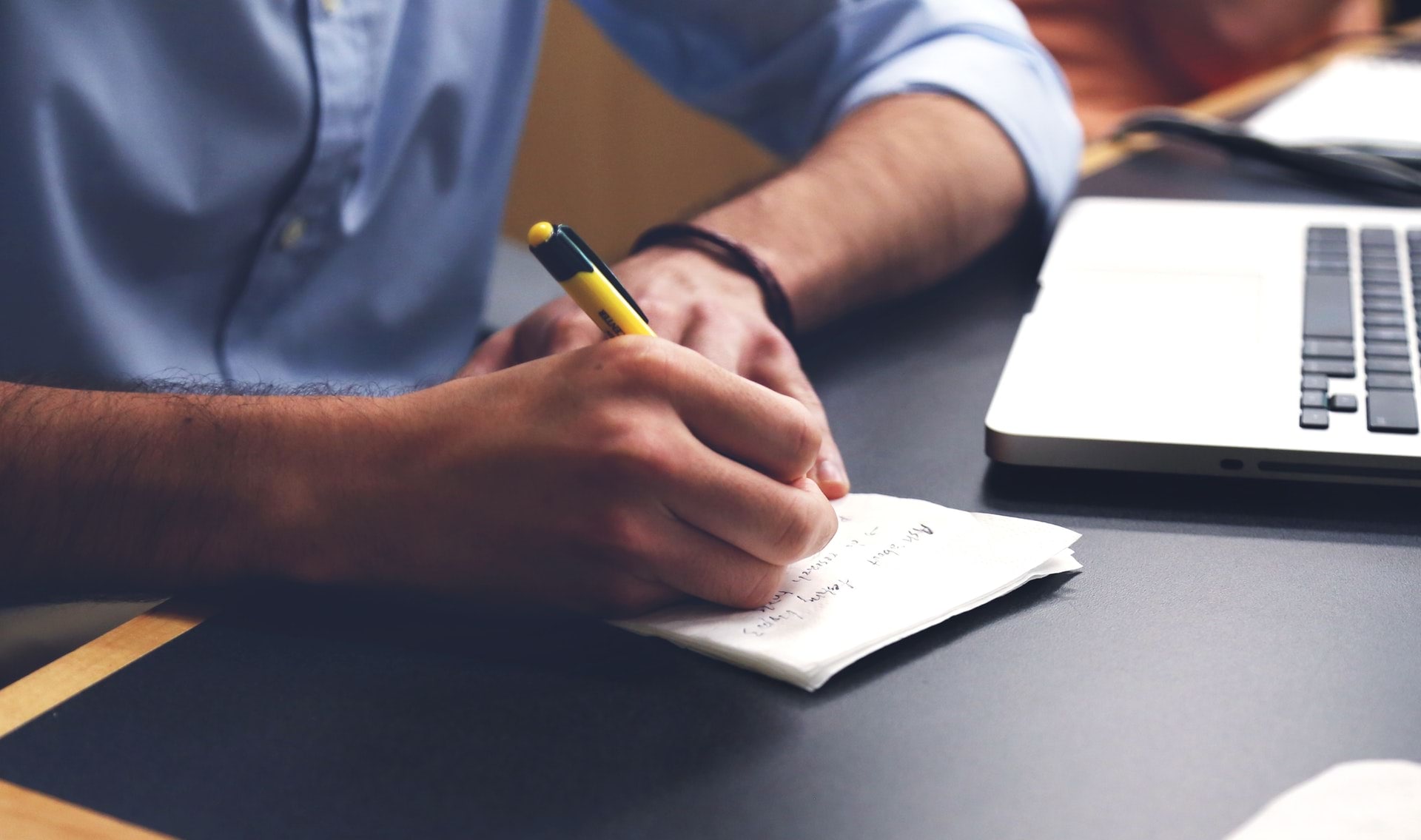 Over the years, social media has become an important channel in terms of customer messaging. Companies have seen the rise of social media customer service and thus, the need to answer customers or leads on these new channels.
Some companies may even feel they need to be always connected to offer good customer service. To swiftly deal with customer service and incoming queries from Facebook some solutions can help you automate repetitive tasks.
As Facebook is offering an auto-reply option for Messenger inbox, it might be a fair solution but it lacks some key features. In this article, we'll give you the best tips on building the best Facebook autoresponder.
Over this article you'll get:
A definition of what is an autoresponder 📚
Why your company should set up a Facebook autoresponder ✋🏼
How to set up a Facebook autoresponder ⚙
What is an autoresponder?
Nowadays, we see two different definitions of what an autoresponder is. Traditionally, an autoresponder is a tool that can answer automatically to emails as mentioned in Wikipedia.
A modern view of what an auto-responder is would offer the ability to answer emails automatically, but also messaging channels such as text messages, WhatsApp, Facebook Messenger, Instagram or Telegram, and Line for example.
Autoresponders were initially used to notify a sender of an undeliverable email, but now they are often used to automate onboarding tasks or customer support queries.
Autoresponders can give you the ability to send a customer a pre-written message when a specified event takes place, such as a customer creating an account or reaching out to you over live chat or Facebook.
With the rise of messaging apps such as Facebook Messenger or WhatsApp, autoresponders have appeared over social inboxes to help business better scale their customer support. Now, automated messages are seen as a way to free up time to teams so they can focus on specific questions that require full attention. No matter the channel.
As almost companies have a brand page on Facebook, and therefore, are receiving messages over their Facebook inbox, we thought it'd interesting to offer our readers advice about building a Facebook autoresponder.
Why should your company have a Facebook autoresponder?
Automate answers from your Facebook inbox
With an autoresponder, you can automate answers from your Facebook inbox for each new incoming message. Here are a few things you could set for your social media strategy to become more efficient.
Present your company
Presenting your company at first is always a good idea. As you would introduce yourself when you meet someone new, businesses require the same.
This is a good strategy because it may help you to strengthen your proposition value in customers' minds.
Set expectations
As well as presenting your company, setting expectations is a crucial part of a great customer support experience.
For every new message that you receive, your Facebook autoresponder should also contain the average time your customers will get a real answer from your company.
Offer other contact channels
This advice is only good if you're not using a shared inbox.
If you don't know what this is, a shared inbox is a software that let you centralize all your communication channels into one software.
It means every message you receive from Facebook, Twitter, Line, or Telegram, as well as emails or chat messages, will be received inside the same inbox so your teams only have one tool to handle.
It's the best way for your team to improve customer support and increase customers satisfaction.
As stated above, autoresponders are now multichannel, it means from one shared inbox, you can set the same answer for multiple channels, which is a huge time saver!
Send the right content at the right time
One of the main advantages of autoresponders is that they can be triggered on specific keywords.
By mapping frequent questions and key expressions, your company will be able to send the right content at the right time.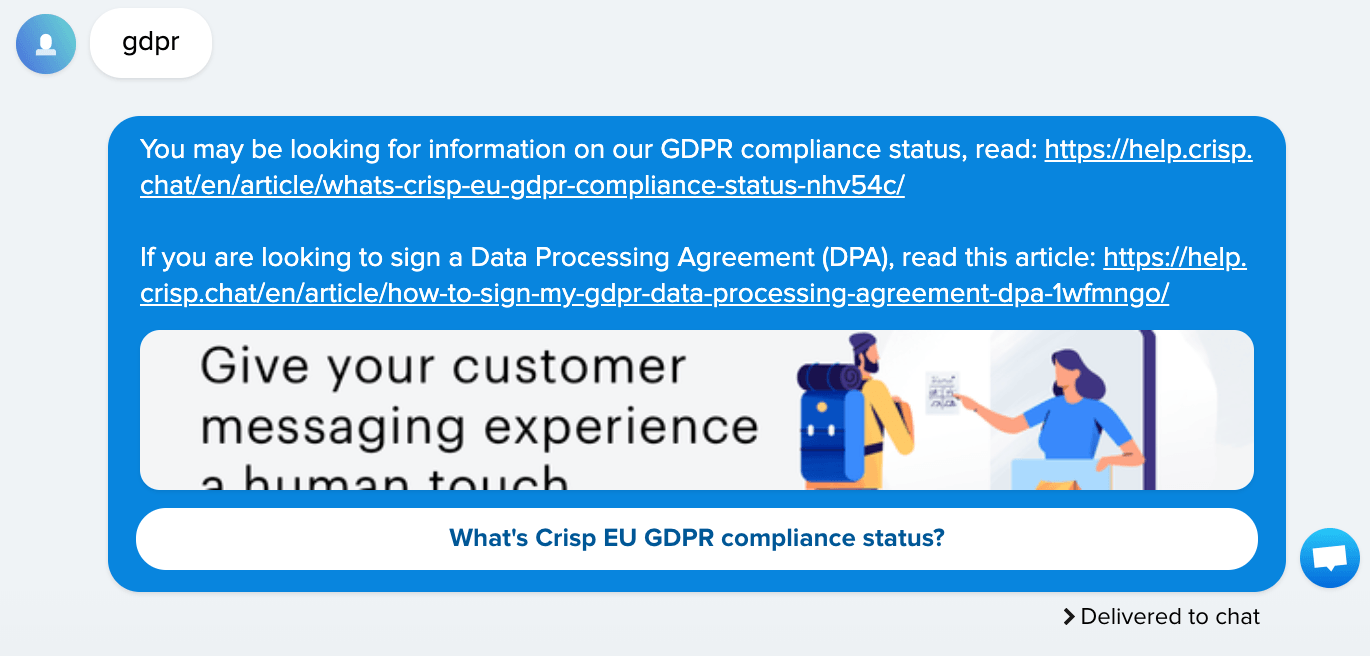 If you're able to combine an autoresponder with a knowledge base, your customer will even be much happier.
it's also working for sales teams as it is frequent to receive questions such as "how do you compare with x?" or "what is your pricing model?"
Based on these keywords, you can build automated answers that will let you scale your sales and marketing work.
Improve your mean response time
For a few years, Facebook has set up a widget that is showcasing the mean response time.

With a Facebook autoresponder, you are to improve your mean response time because it will let you answer automatically every new message that is coming through your Facebook messenger inbox, even if you're not available.
Increase internal collaboration
Using a Facebook autoresponder will also help you to increase internal collaboration. Once again, this is a benefit for your company if you're using a shared inbox. As for each new message, you can create internal notes.

This is an example of how personalized autoresponder interaction could be. Every time a user is sending a name that is related to someone from your team, he can get a mention over a private note.
This private not will send him a notification, inviting him to connect to the inbox to answer the customer.
It can also be done more naturally while messaging the customer in real-time.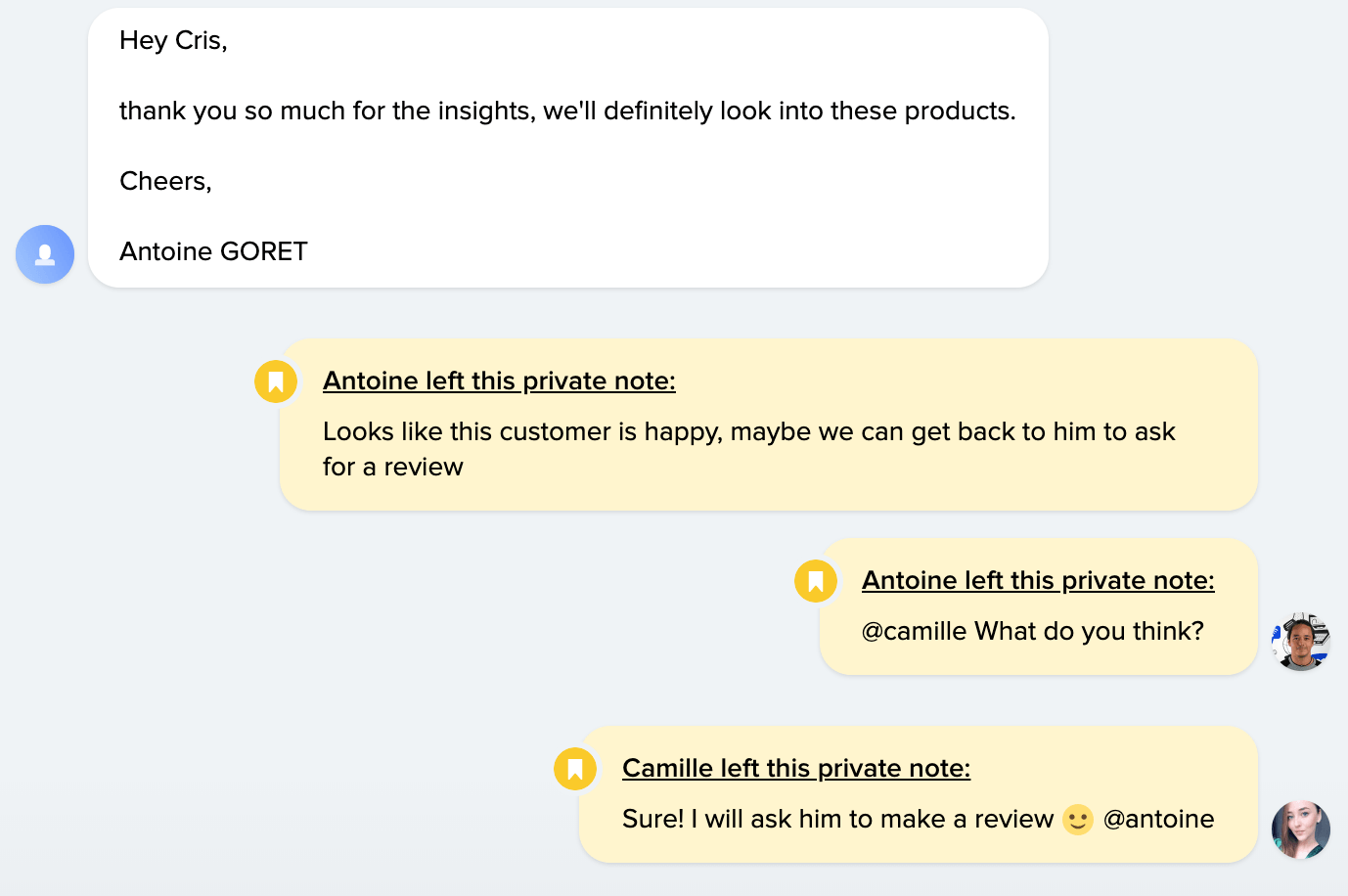 But, there is also a time when your teams need to relax and leave work. Here is the time when the autoresponder steps in another time.
Generate leads 24/7
An autoresponder is complementary to the human workforce as it is able to take the lead when employees are leaving the workplace.
Being available on multiple channels is great, but it also means being able to answer them, at any time.
With an autoresponder, you can set working hours so that when employees are not available anymore, your bot can take the lead and answer leads and customers' questions.

With this weekend responder example, you can see we invite users to leave their messages so we can follow up when we're available.
How to set up an autoresponder on Facebook?
Here is a quick guide that will show you how simple it is to connect your Facebook inbox with a multichannel autoresponder (aka a shared inbox).
We offer 14 day free trial so you can try it for free without adding any CCs.
Connect your Facebook page with Crisp
Go to app.crisp.chat
Go to plugins
Look for "Messenger" and activate the Messenger plugin
Connect with Messenger following the required process
Choose your page
If you can't succeed at doing this, here is a video that should help you:
Here is a dedicated guide that should better help you if you're having trouble: https://help.crisp.chat/en/article/how-to-link-crisp-with-facebook-messenger-1gbgm9d/
Activate the autoresponder plugin
Go to plugins
Look for autoresponder
Click on "view details"
Install the plugin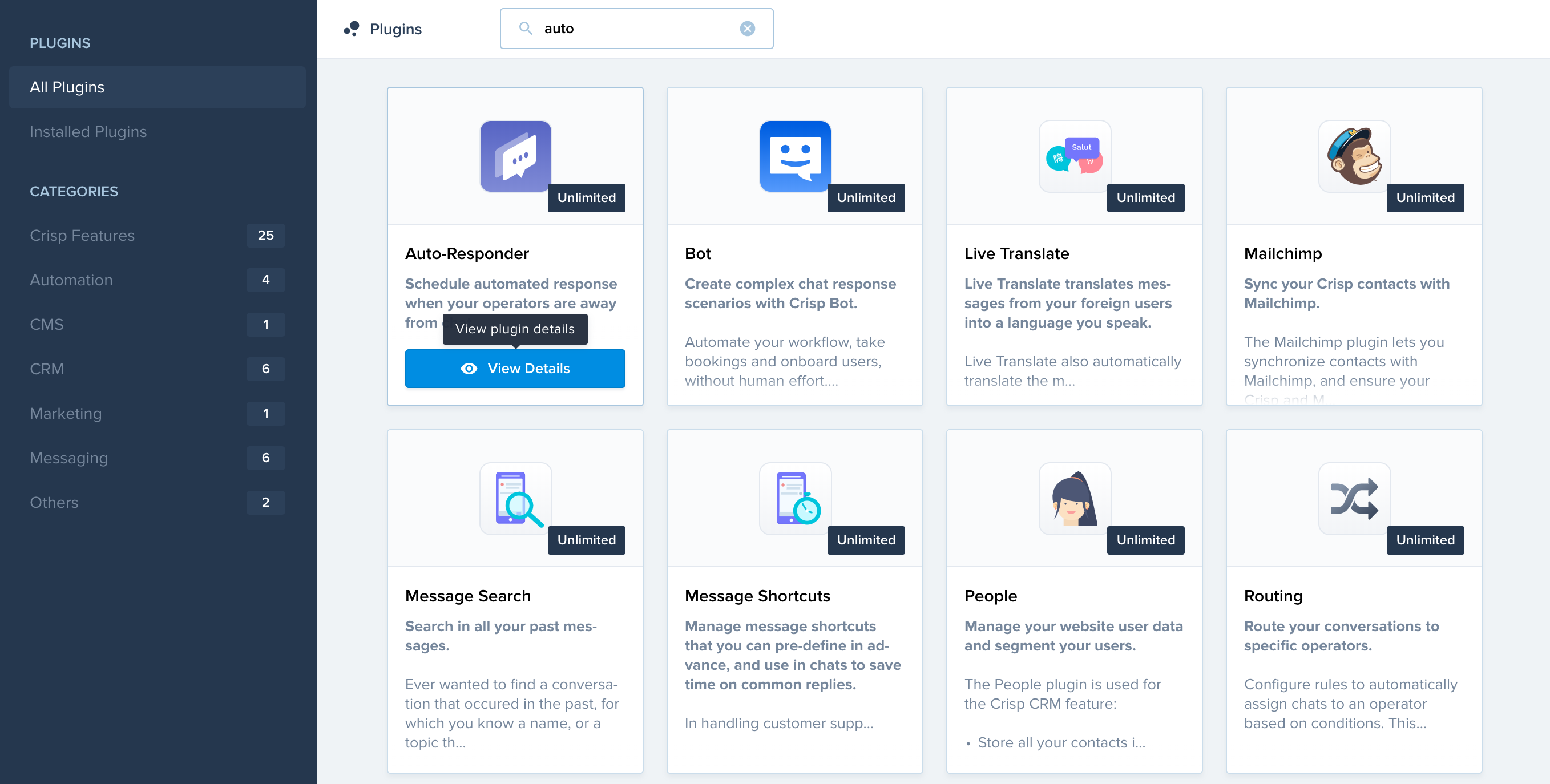 Define the channel on which you want to automate the answer
Following this guide, we only want to automate answers from Facebook so it can be done simply by selecting the "Facebook" channel.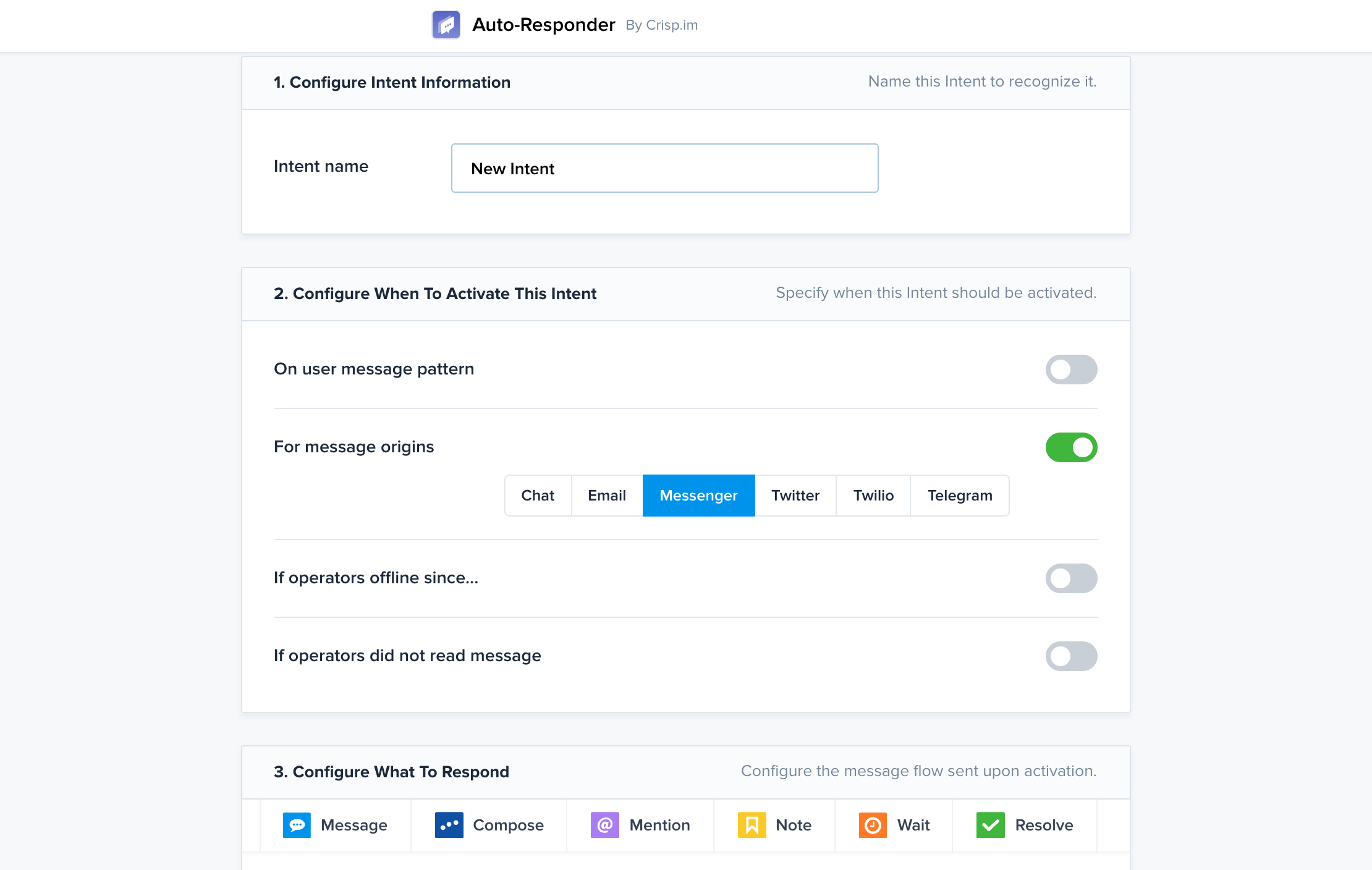 As you can see, you may also select other channels such as emails, Twitter, WhatsApp, Instagram, or Telegram.
Define the right keyword you'd like to automate
Following what we previously stated in this article, you should have already defined your key expression.
You just have to use the keyword and the stars so the responder will trigger every time it sees the keyword in the customer's sentence.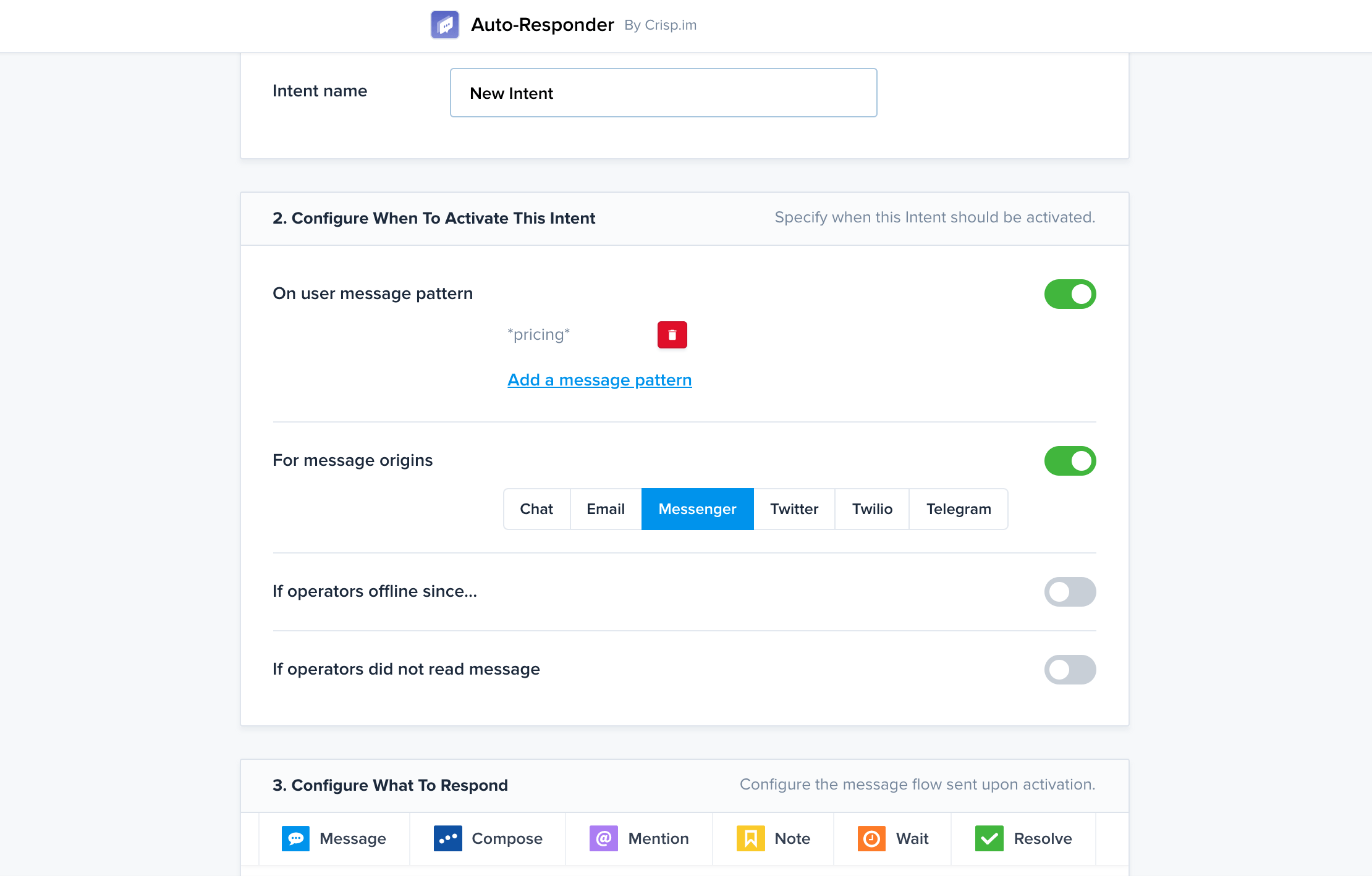 Add a human behavior to your answers
Humans talking with a robot can be sometimes annoying. To reduce friction, we always recommend adding some human behavior. In this case, you can fake a human typing on the keyboard.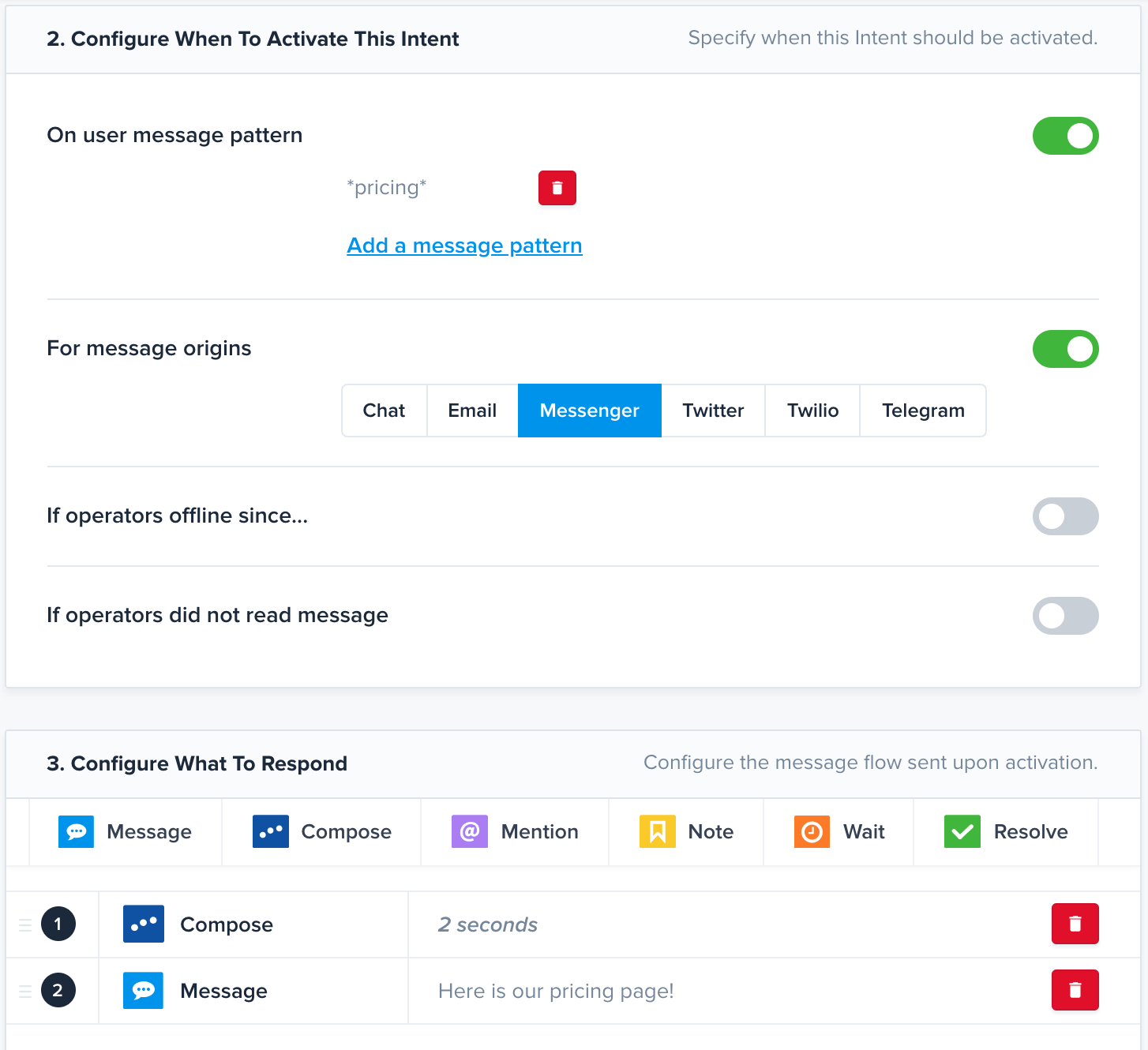 Fully guided video about Facebook autoresponder
Bonus tip: Make it multilingual
When composing your message, we offer the ability to make your bot multilingual so it can adapt to customers' language.
The more you personalize your experience, the better it is.
What you have to do now is simply to create your own facebook autoresponder to build the best customer experience.
If you have questions, feel free to get in touch with us using the chatbox on the right, there will always be someone answering your questions ;).