Knowledge Base: 16 tips to help you reduce customers support requests
At Crisp, we strongly believe that good customer support start by enabling customers to find the answer to their questions by themselves.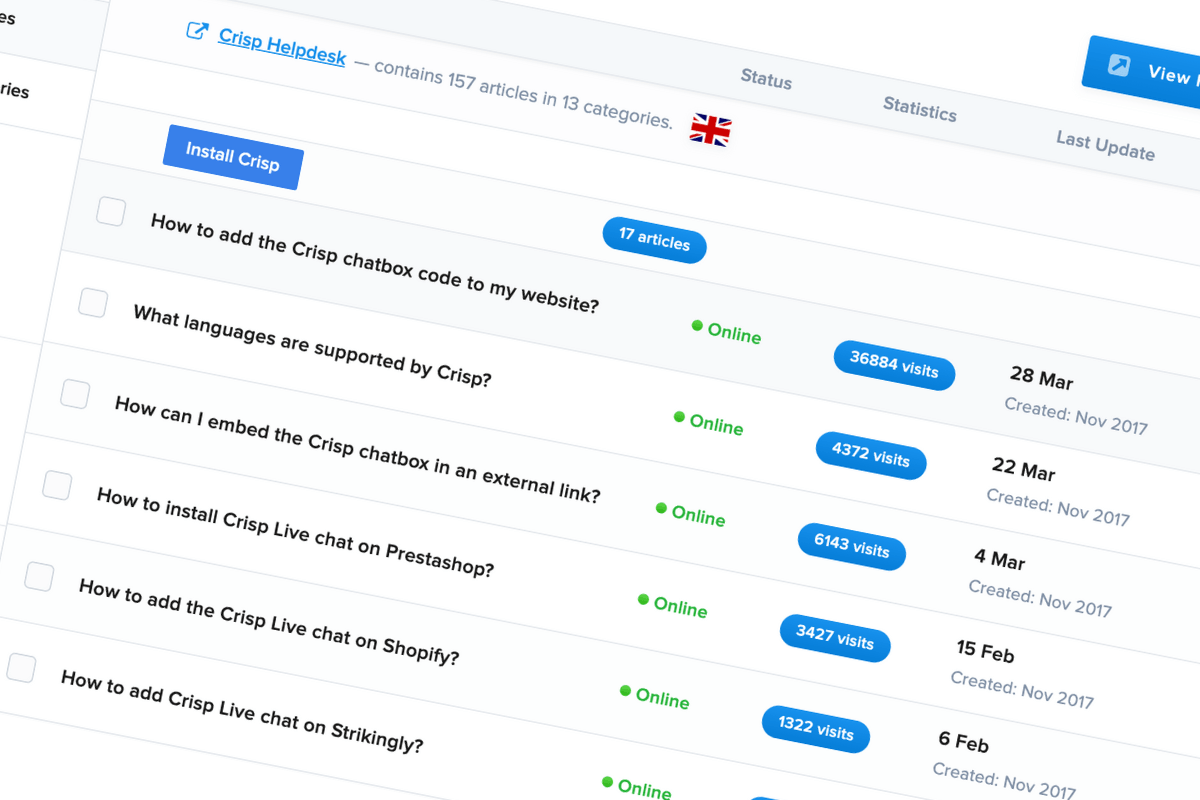 At Crisp, we strongly believe that good customer support starts by enabling customers to find the answer to their questions by themselves. That's why we have built a customer support strategy that is reactive and proactive. In order to help you build content that delights your customers, we have gathered our best tips in this article to help your company reduce your customer service request.
Through this article, we will have a look at how you can write a knowledge base and use it as a way to build proactive and reactive customer support.
87 percent of U.S. adults want to be contacted proactively by an organization or company.
But being proactive isn't always easy and simple, especially for small and medium companies that already thrive to offer a great product at scale with no compromise at the best price and quality.
So reducing your customer service request shouldn't be a final goal for your company because teams still need to understand customer's problem. In fact, you should better focus on customer satisfaction.
If you want to reduce your customer support requests significantly by improving your product it'll take time. What we advise first is to start an inverted strategy where you first focus on improving your proactive strategy by serving the right content at the right time.
Then, you want to use all of your available resources to start providing great customer service and focus on your customer satisfaction.
With Crisp, you have multiple features that are available to help your company be reactive and proactive enough to deliver a great customer service. Before going on a few tips for reducing customer support requests, let's have a look at how you can write great knowledge base articles.
Tips for Reducing Customer Support Requests With a Knowledge Base
Setting up a searchable knowledge base with relevant content inside will definitely reduce your customer support requests to some significant extent. At Crisp, we noticed a 40% decrease in customer support request after releasing our knowledge base.
Make sure your content is relevant
Your support center is only useful if it has the answers your customers need. For starters, keep a record of what questions your customers ask most often.  For example, you can tag conversations based on the request the user had to help you to create a data-driven knowledge base strategy.
This is a company-wide strategy so everyone has to be involved in the project.
Use these datas to create articles and other content that addresses these common support requests. FAQs, a knowledge base with detailed product information, community bulletin boards, and videos with step-by-step instructions for resolving a problem are all great ways to deliver self-support content.

If you're running an international business, you could also build a multilingual knowledge base to let your customers look for the right knowledge article based on their language.
Simplify access to your help center
Sounds like a no-brainer, but it's true: Your knowledge base can only be efficient if customers know it's there.
Self-service calls-to-actions are the way to go. The easiest way to do this is by placing links to your support center throughout your corporate website. And if your product is online, weave links into it, too. Make it as easy as possible for your customers to find your self-service offerings.

Widespread knowledge base usage
As we said before, building a knowledge base is a company-wide project. Everyone has to be part of it as it takes the whole company to answer customers questions. In order for your employees to use it and send your customers to the right content, make it easy for your users to use it too.

Let your knowledge base get indexed by search engines
By getting your help desk indexed by search engines you are creating a two-sided effect:
Enabling your customer to find their answer from search engines
Creating visibility for your product on keywords for your potential customers.
While creating your content, you should have an SEO approach to help you better scale your customer relationship and improve your search engine pages results.
If you are creating a knowledge base for internal needs, then think of how you could create a help desk for external needs.
Here are a few details to let you know if your knowledge base is optimized for search engines: https://help.crisp.chat/en/article/is-my-helpdesk-optimized-for-search-engines-seo-1ij16ma/
Get straight to the point
Skip useless intro. If your title is written in the form of a question then you can answer it like you are just continuing the conversation: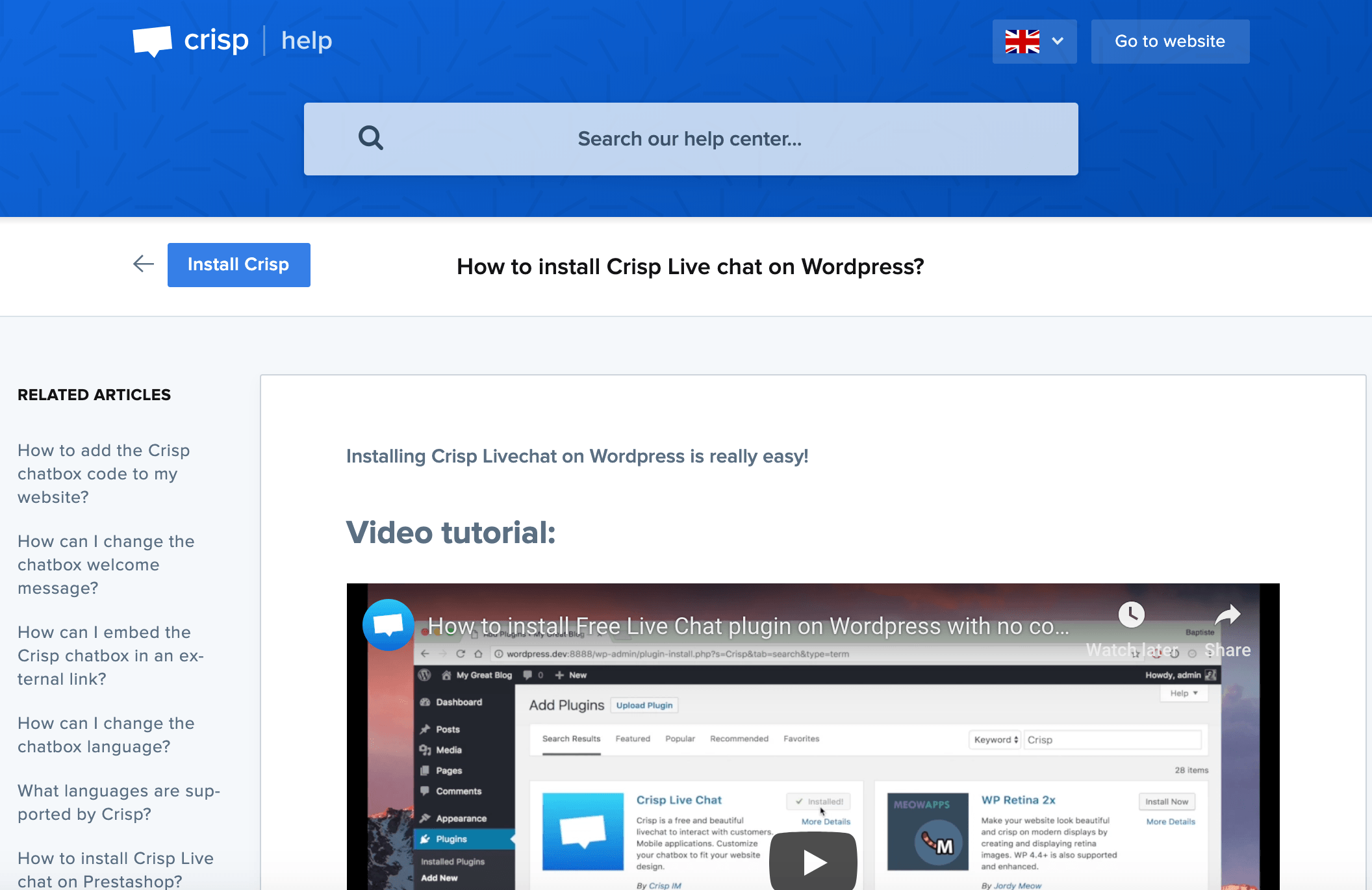 also, note that you can customize your knowledge base to make it fit with your brand identity.
Include visuals & videos
Even when you simplify your instructions on how to do something, your customers will still struggle with understanding your content. To ensure your users get what you mean as quickly as possible, you should include photos/videos showing them how to reach their goals.
In case you forgot it: Users are just looking through your knowledge base article to find their answer. If you offer them relevant pictures or videos, they might not need to read the written instructions and will interact with your website, which is great.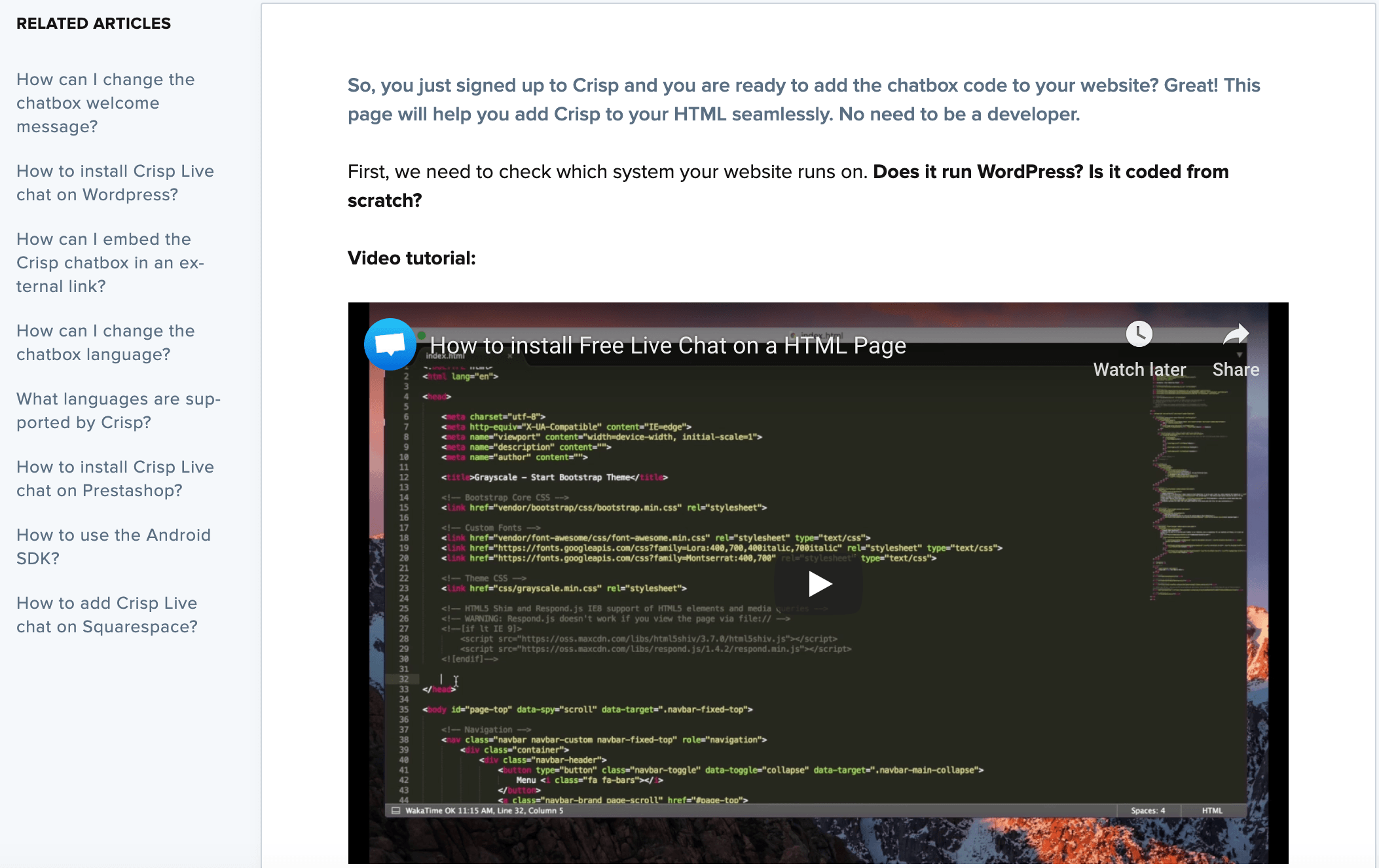 Here is a help desk article about how you can format content within Crisp knowledge base: https://help.crisp.chat/en/article/how-to-format-helpdesk-articles-oiurpj/
Offer an incredible search experience
Once you've filled your support center with great content, make sure it's easy for customers to find. Include a search bar, and make sure every topic and article is clearly labeled and properly tagged.
At Crisp, we just released a brand new search feature to let our customers enjoy the best search experience possible.
This will help customers find the content they need easily, whether they're casually browsing or searching via the search bar.

Create chat triggers to contextualize support messages
As you may know at Crisp, we deeply love automation and how technology can help us to be more efficient. That's where triggers step into the game.
Triggers are a way to boost website visitors and customer engagement based on user interactions.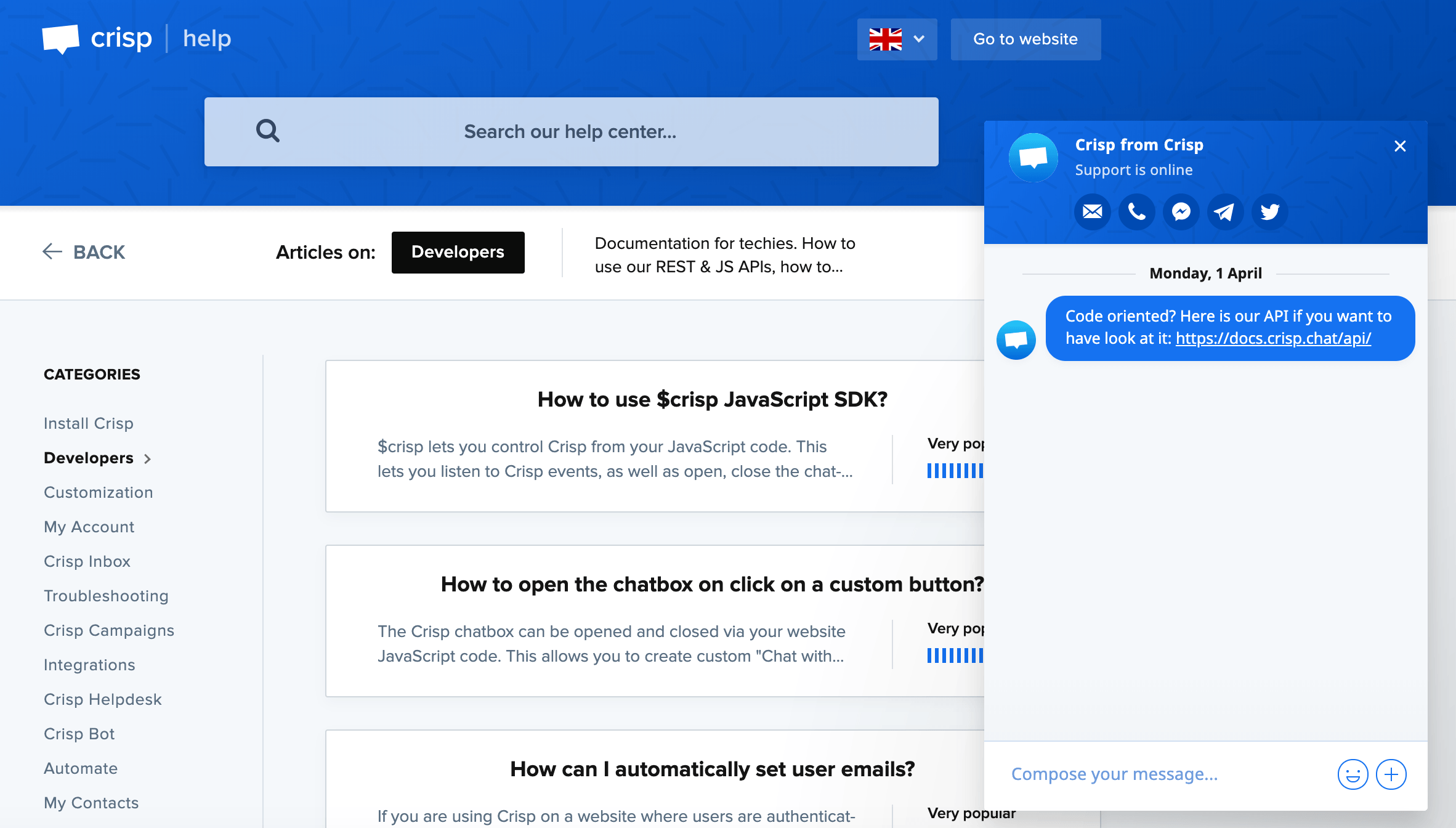 We already have written an article about how to optimize your website engagement thanks to Live Chat, check it out.
Improve your content with customer feedback
Building an article is great but sometimes you can be wrong about an article you believe is good but is not for your customer.
That's why this is vital to empower your knowledge with customer feedback for every article.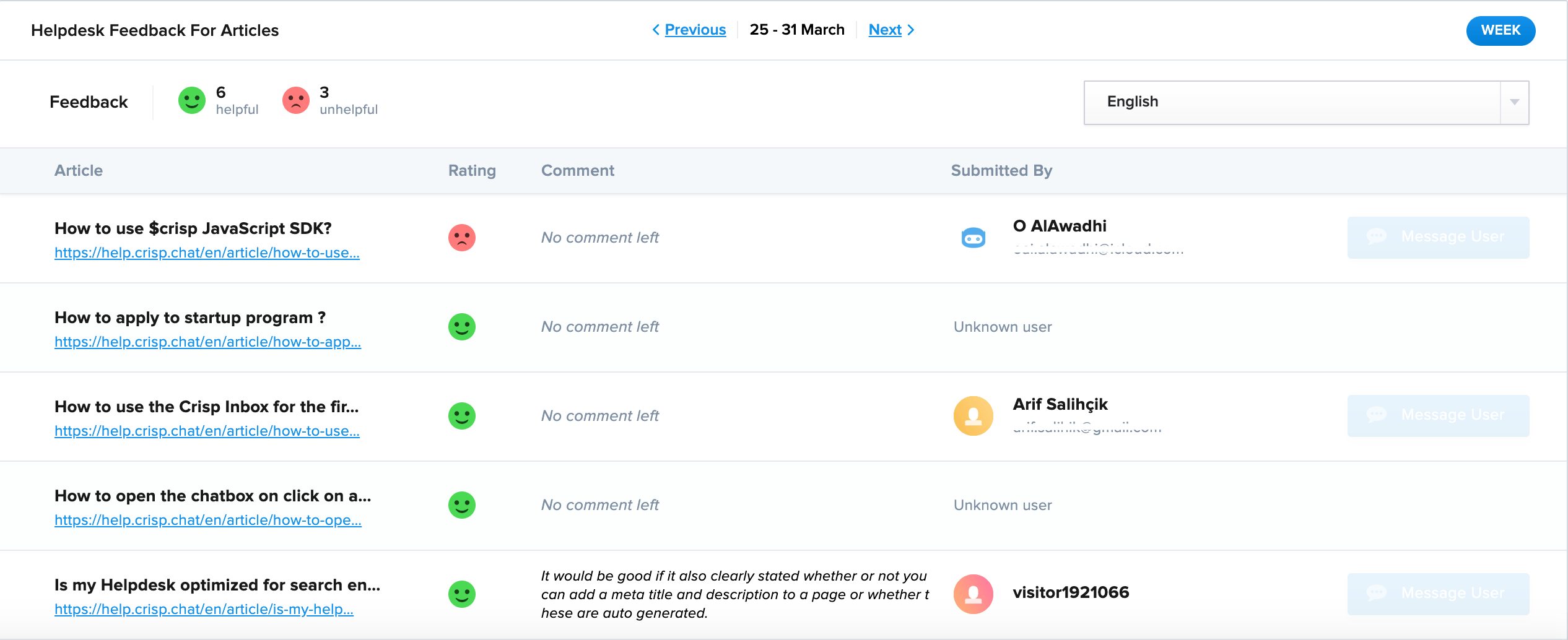 This is available from our brand new Analytics for Customer Support that is integrated within Crisp. We've written an article about it, check it out to see what you can measure.
K.P.I for measuring Knowledge Base Success
Bounce Rate
As you may have heard before, bounce rate has to be the highest as possible on your help desk article! Why? Because you are trying to make your customer take actions while reading your articles.
With a knowledge base strategy,  you need to have Higher bounce rate and lower average time spent on your articles because it means that it works – your users are finding their answers very quickly and are leaving your website.
You can even measure the in-depth scroll to external click link to customer feedback to determine what is the key information that led the user to leave the page and add a feedback and measure your knowledge base efficiency
Customer Support request
The average number of customer support request by days, weeks or months is a great way to measure customer efficiency but analyzing non aggregated data is a crime.
So if you want to deep dive within customer request statistics, you can also monitor:
First Response Time: Speed is a stable determinant for customer satisfaction . Your customers expect a smooth and efficient experience. Quickly answering your customers' requests is essential, as your competitor is only a mouse click away.
Even if the answer doesn't solve the problem, the customer will feel happy to see that his request has been taken into account.
Customer Retention Rate: Customer retention refers to a business' ability to keep a paying customer over a specific period of time. getting new customers is expensive, costing a business 5 to 25 times more than it takes to retain one.
You might get a lot of visitors to your website and convert them into paying customers, but how many time can you keep them using your software? The more they use your software, the more they are able to stay.
Bonus Tips For Knowledge Base Creation
Here are some of the tools we use to create our knowledge base content:
Google docs – to collaborate with multiple stakeholders
Crisp – as a knowledge base software
Quicktime – to record screencasts
Canva - To create great screenshots
Grammarly – to check the articles
Writing a knowledge base article – Checklist
To summarize, here are the steps you need to do to write a knowledge base article:
Finalize the topics that you need to cover
Structure the articles in a simple format
Write with the average user in mind
Add screenshots and videos especially when you explain something complex
Be broad as well as specific to help all kinds of users
Format your articles
Interlink articles
Get feedback from readers
Tag the right content
And that's it. You are now ready to write your knowledge base articles like a pro but remember, your knowledge which you are about to share matters the most. Don't hesitate to share it with us, too.