Intercom Vs Drift: Which tool is better?
Drift and Intercom are two super popular solutions for the business world. These tools have different purposes but are often compared so here is a quick comparison between Intercom and Drift.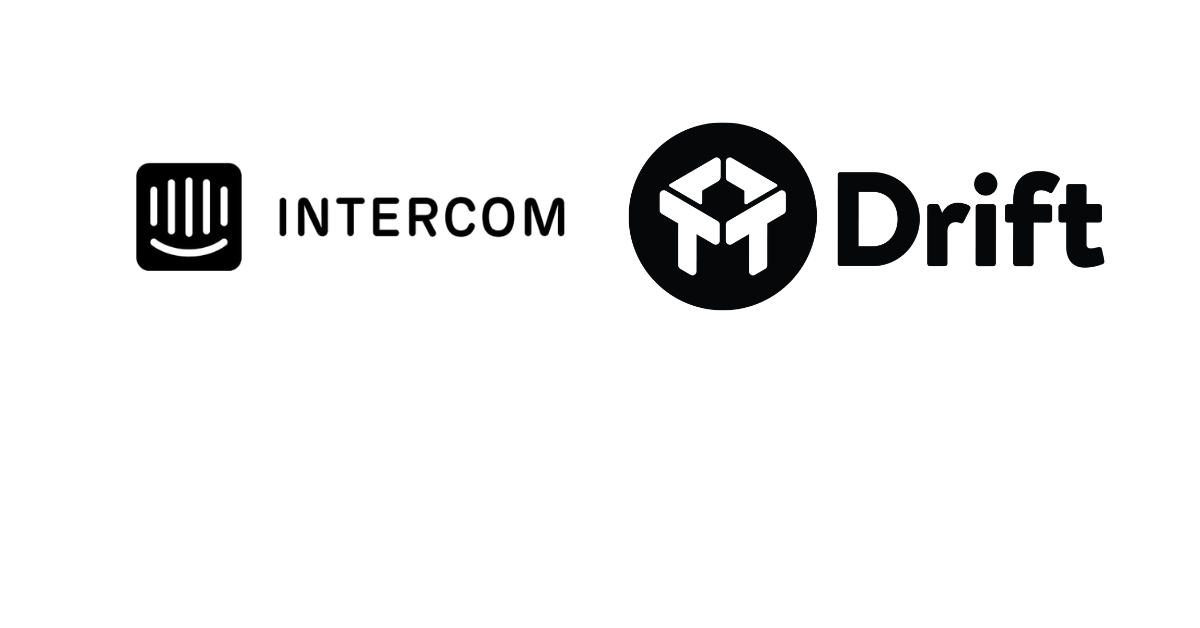 Drift and Intercom are two super popular solutions for the business world. These tools have different purposes but are often compared, so here is a quick comparison between Intercom and Drift. We hope it will help you better understand the differences so you can choose the best software for your business.
At first, let's have a closer look at Drift and Intercom.
What is Drift?
Drift was founded after Intercom in 2015 and created  "conversational marketing" category, which then grew into "conversational sales", and now "revenue acceleration." It helps to understand how the product markets itself. Drift is a powerful tool dedicated to sales and marketing teams.
Drift is a mobile and web messaging app for sales and marketing teams with a focus on live chat, emails, and in-app messaging along with a chatbot to streamline the customer experience and route questions to the right teams in your company.
Today, Drift helps to connect companies with buyers in real-time, or not, via chat, video, voice, or email to build trust and accelerate the customers' lifecycle.
Drift was founded by David Cancel, former chief product officer at Hubspot.
What is Intercom?
Intercom was founded in 2011 in San Francisco by 4 Irish designers and engineers.
Initially, Intercom was a simple live chat aimed at helping businesses get closer to their buyers.
The company evolved a lot during the past years to become a business messaging app for companies around the world, centralizing channels and improving internal collaboration within companies.
Marketing itself as a conversational platform for sales, marketing, and support, Intercom is one of the most used solutions worldwide, with 9% of market shares.
Intercom Vs Drift: Comparison
Now that you better understand Drift or Intercom, it is interesting to have a look at how they compare.
For this comparison, we're going to compare Intercom and Drift on different points. To make it short, we've summarized a quick comparison in the table below. For an in-depth analysis, please scroll down the article.
Intercom
Drift
Features

Shared inbox
Knowledge base (Articles)
Marketing automation (Intercom Series)
Live chat
Chatbots
Product Tours
Mobile SDKs
Javascript SDKs
Product Tours

Shared inbox
Knowledge base (Drift help)
Email management software (Drift Sequence)
Live chat
Lead recognition (Drift Intel)
Chatbots
Video chat (Drift Video)
Mobile SDKs
Javascript SDKs
Meeting scheduler(Drift Meetings)
Offline forms

Free Trial

14 days trial
Credit card required

All-in-one starts at
G2 Rating
Intercom Live Chat Vs Drift Live Chat
First, let's have an introductory look at features regarding Intercom & Drift. At first hand, they offer some identical features concerning the live chat they provide.
It is interesting to have at the live chat software because they originally built their company around this product.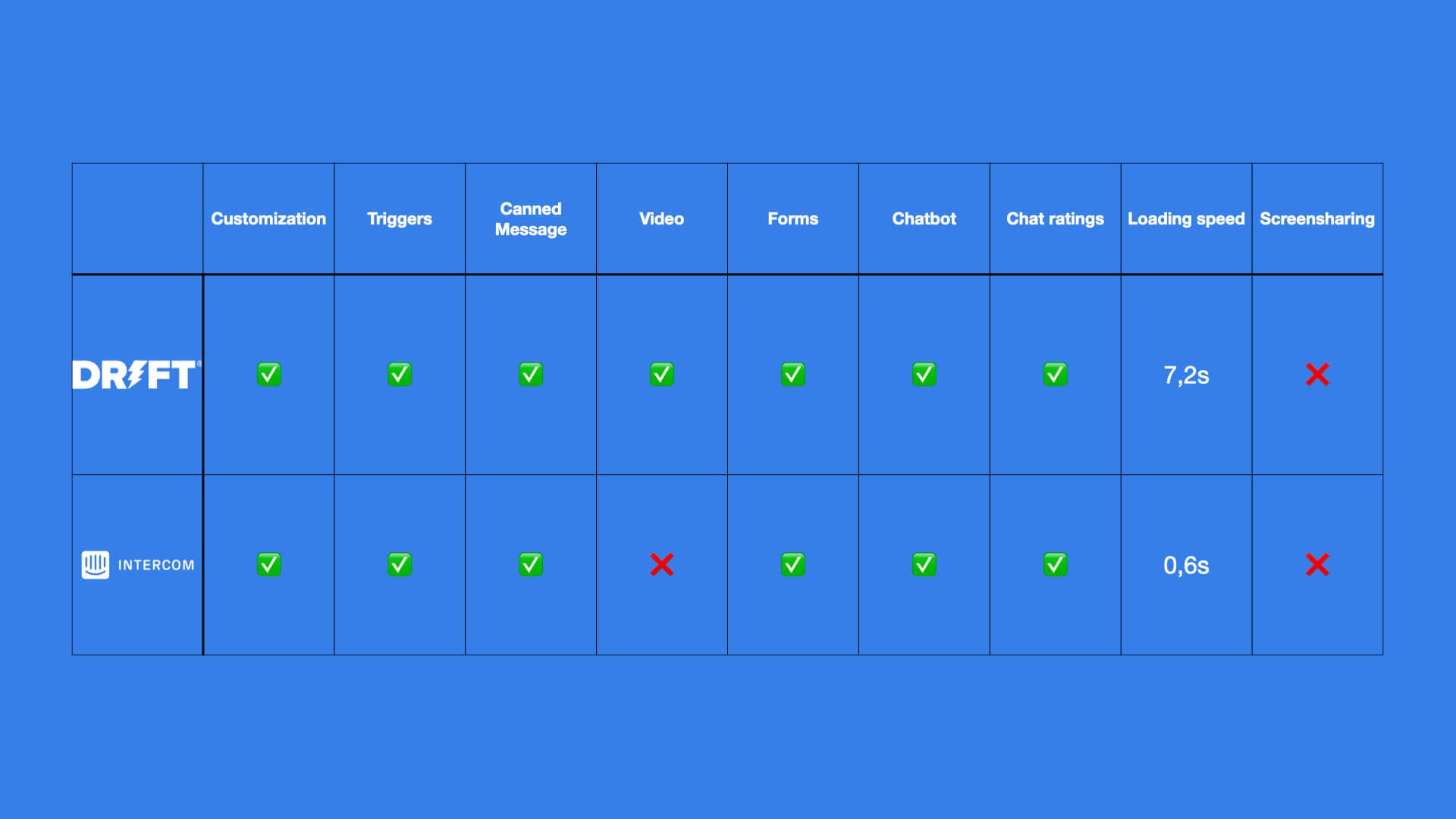 Here are the details concerning the comparison we just shared above:
Customization: The ability to customize the live chat.
Triggers: The ability to push a proactive chat message from the live chat, based on specific behaviors.
Canned message: The ability for agents and team members to use pre-existing message sent semi-automatically.
Video: The ability to start a video chat from the live chat itself without any additional plugin.
Forms: The ability to build forms within the live chat itself
Chatbot: The ability to run a chatbot for some specific use-cases.
Chat ratings: The ability to request the customer to share a satisfaction score.
Loading speed: The speed at which the chat widget is fully loaded. Method available here.
Screen sharing: The ability for a user or an agent to share his screen through the live chat
Intercom Vs Drift: Customer support features comparison
Let's focus on the features available for customer support and customer service available within each software.
Let's have a look at the features they provide for this use case and how they are different.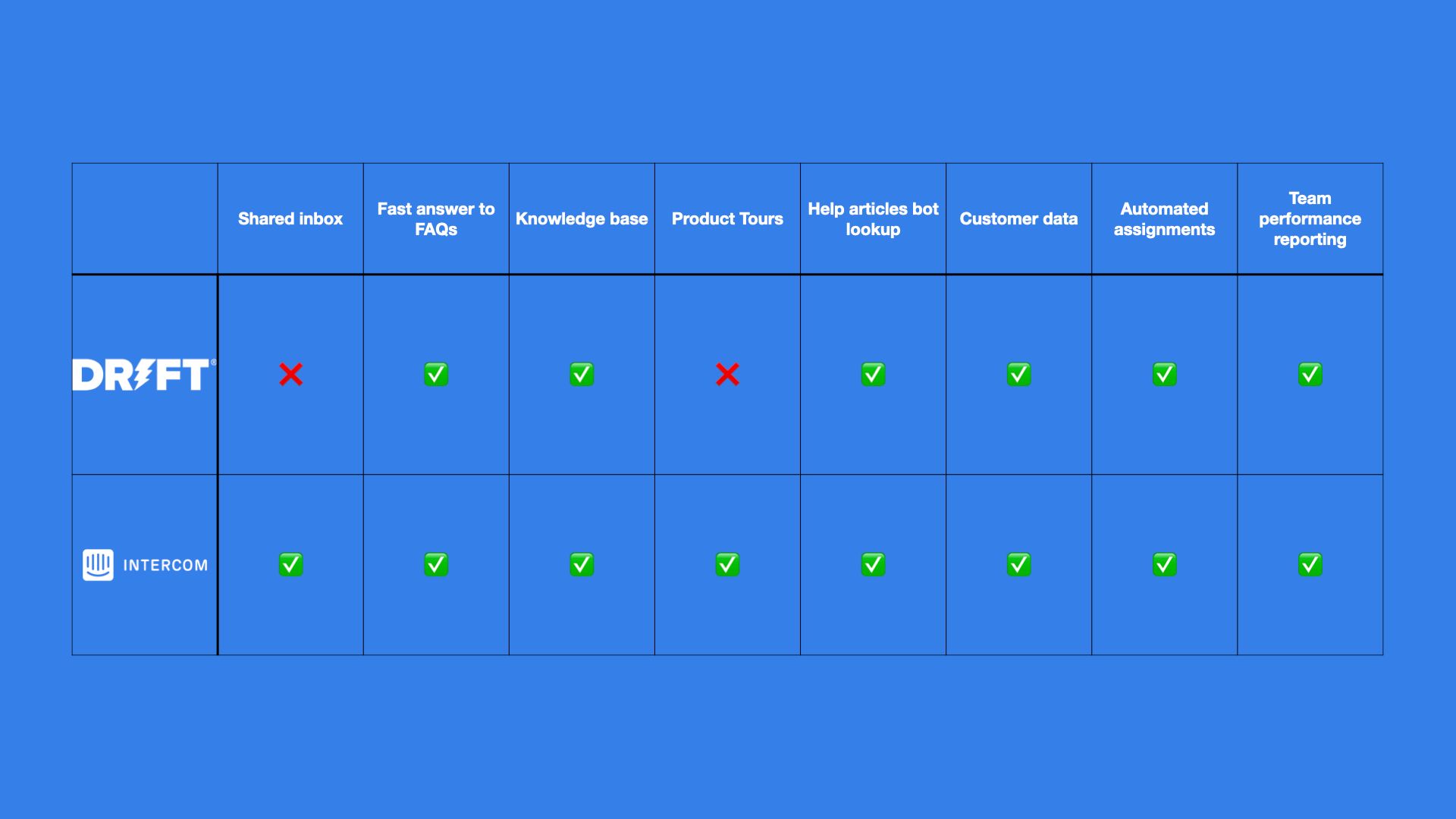 Here are the details concerning the comparison we just shared above:
Shared Inbox: The ability for an agent to see teams' conversations and step into it if needed.
Fast answer to FAQs: The ability to search for knowledge base articles from the inbox.
Knowledge base: The ability to build a knowledge base within the software.
Product tours: The ability to build a sequence of pop-ups to guide a user within a tool.
Help article bot lookup: The ability for a bot to search within the list of articles within the knowledge base.
Customer data: The ability to see customer data within the inbox.
Automated assignments: The ability to create rules that guide conversations to the right groups of people in your inbox.
Team performance reporting: The ability to assess the efficiency of teams within the inbox.
Intercom Vs Drift: Marketing features comparison
Let's have a look at the comparison between Intercom and Drift when talking about marketing.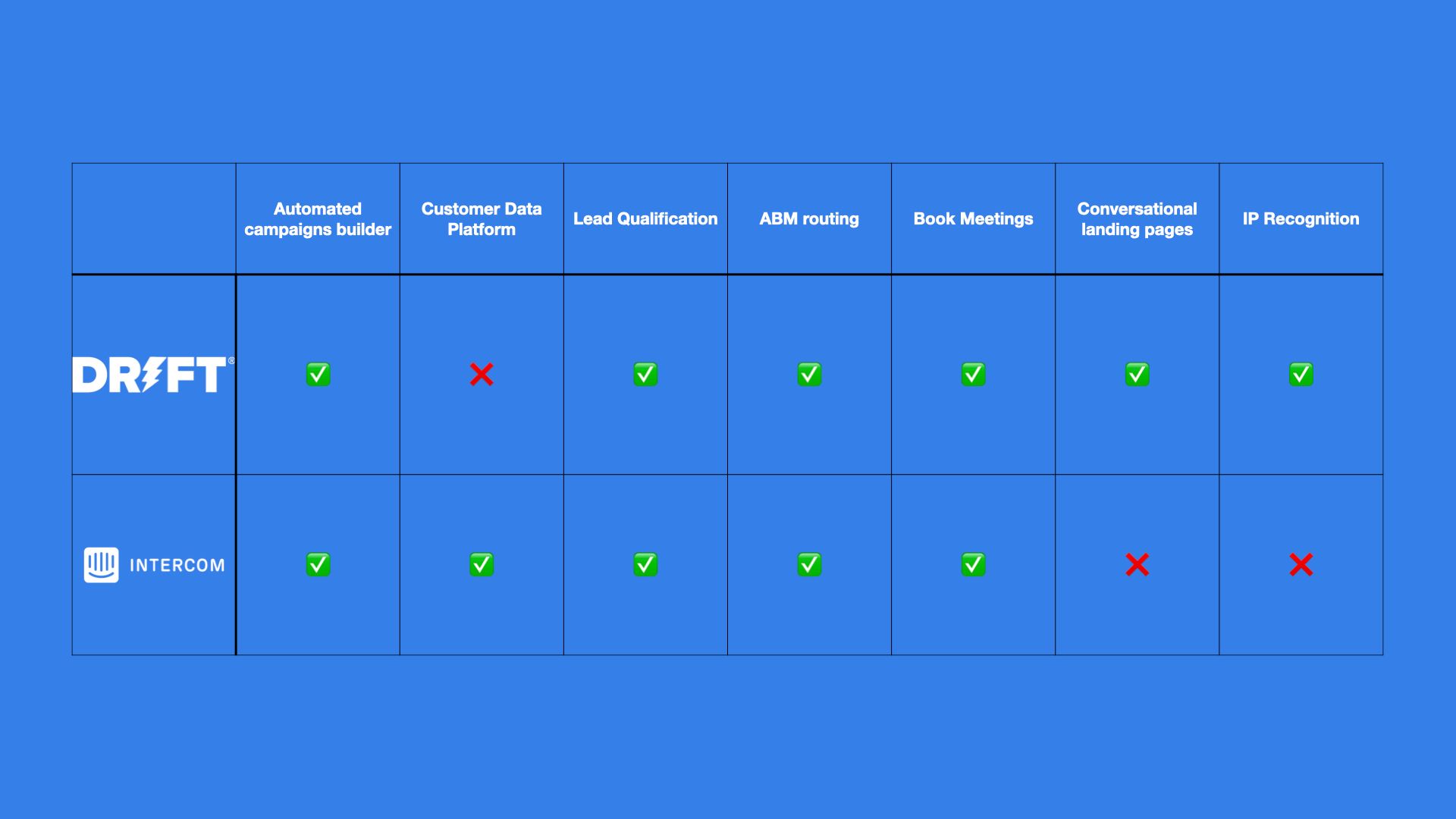 Automated campaigns builder: The ability to trigger a sequence of messages from a chat or email perspective
Customer data platform: The ability to centralize customer data inside the platform
Lead qualification: The ability to qualify leads automatically through their lifecycle.
ABM Routing: The ability to route messages containing contextualized data.
Book Meetings: The ability to book meeting from within the conversational experience
Conversational landing page: The ability to create dedicated landing pages for each key accounts.
IP recognition: The ability to detect the IP of a company and enrich the data.
Drift Vs Intercom: Sales features comparison
Let's have a look at the comparison between Intercom and Drift when talking from a sales perspective.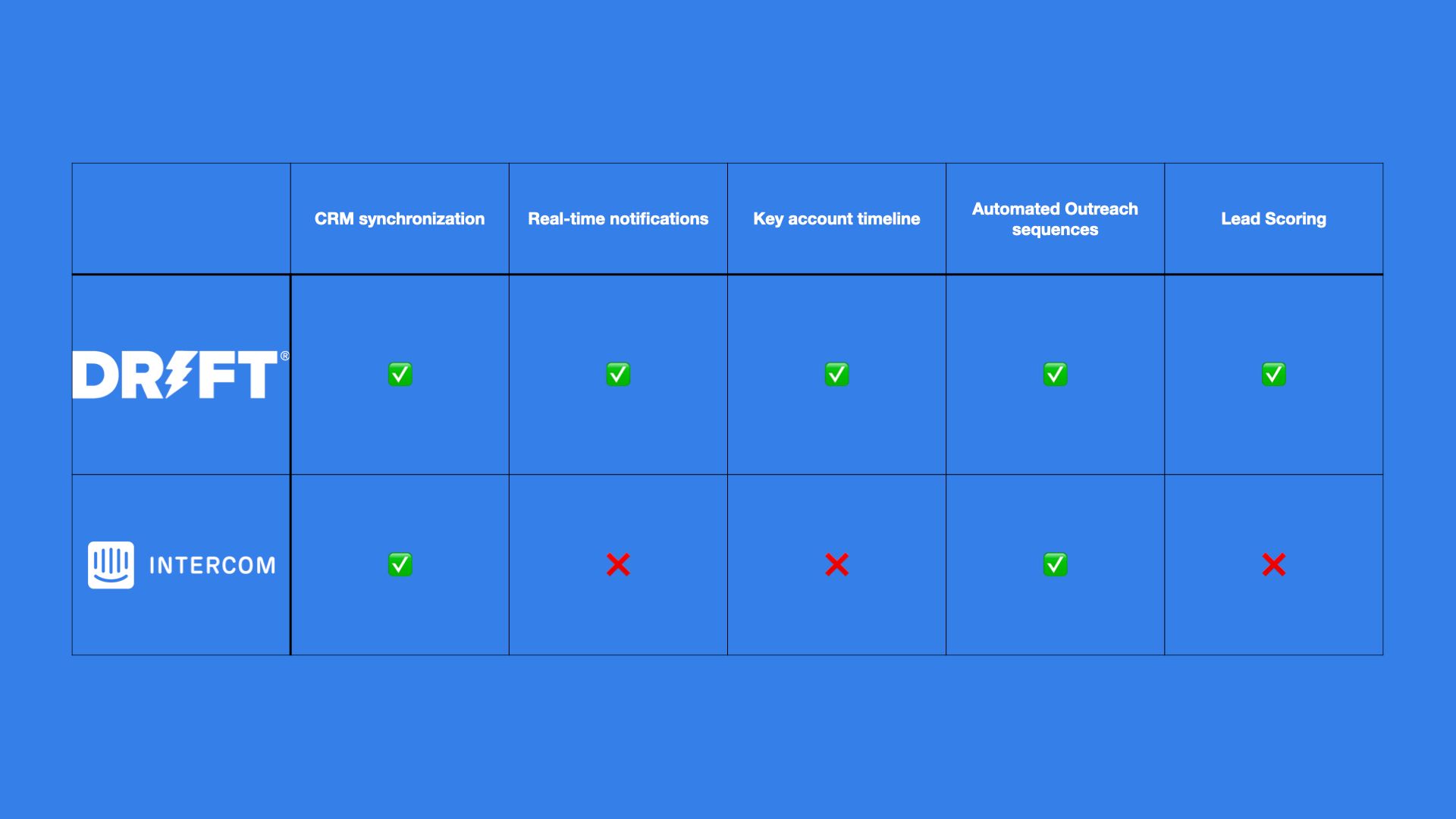 CRM synchronization: The ability to synchronize data with leading CRM in the market
Real-time notifications: The ability to receive real-time notifications when a key account is browsing your website.
Key account timeline: The ability to see what are the latest key interactions of each key account your reps are assigned
Automated outreach sequences: The ability to add a lead to an automated outreach sequences
Lead Scoring: The ability to score the engagement of a key account based on his interactions.
Intercom Vs Drift: Pricing comparison
At first glance, it might seem that Intercom offers some more affordable subscription plans compared to Drift. But that's until you remember that it charges for your active contacts. And that bots and product tours are also separate products with separate invoices.
Basically, the Starter subscription for 10 agent seats with 1,000 contacts which includes a live chat, knowledge base, and chatbot, will cost you at least $468/mo with the product tour enabled.
The thing is Intercom charges its customers for additional contacts. So, the more you grow, the more money you have to pay. In other words, 1,000 contacts are included in the Grow package but for every 1,000 additional people reached you must give another $50 per month.
About Drift, the pricing isn't shown on the pricing page which suggest super specific pricing based on customers' requirements.
Check Intercom Pricing page
Check Drift pricing page
Why don't you give Crisp a try?
At Crisp, we provide an all-in-one customer messaging app for sales, support, and marketing.
You can check things out here:
All in all, Crisp offers a 14 days free trial, a simple and transparent pricing that is flat and isn't usage-based and a set of features that has nothing to envy to Intercom or Drift.
It's made so you can keep on growing without worrying about your next bill.
Give it a try, or have a chat with us to better understand how we can help your business!