Closing 52% of deals in 3 years
After dealing with hundreds of sales meetings, it's time to share our learnings and the future about it!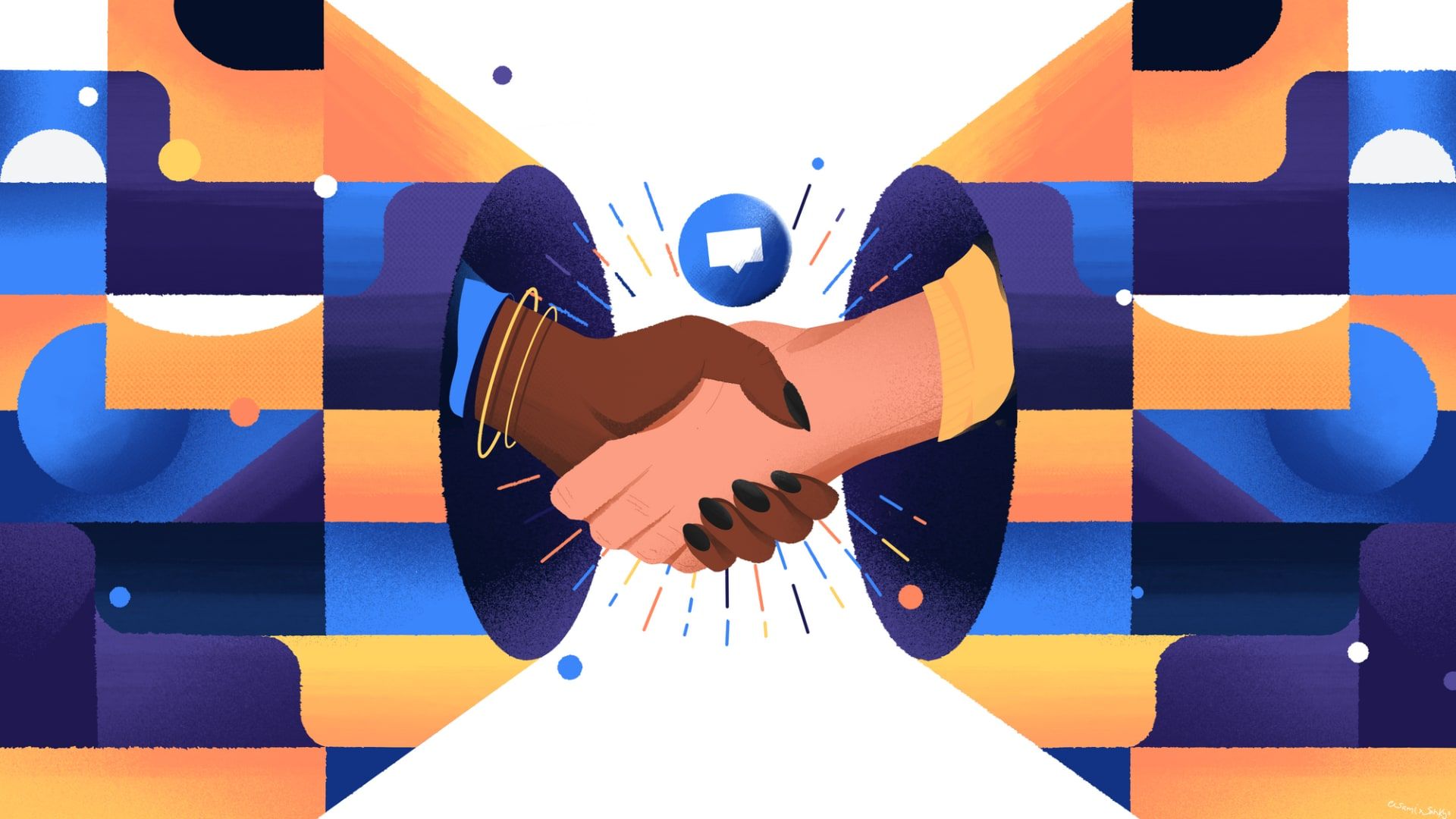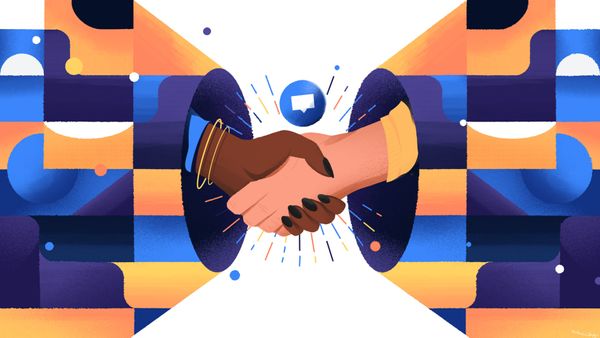 Back 3 years ago, I've built the sales and marketing department at Crisp and structured the process of doing a demo of the product itself.
Prior to Crisp, I used to sell services such as in agencies or through the startup accelerator I was leading.
At the time I'm writing this article, my calendar is fully booked each week, on Tuesday and Thursday for 7 meetings each day. It's even often already booked for the next 2 weeks ahead of the current week. (Yes, I am losing opportunities at the moment).
After pitching more than 1000 times Crisp to companies around the world, I feel like it's great to share what I've learned and how I've done things so we are set for scale and growth.
The result seems pretty good following the feedback I've had from other sales managers in the SaaS industry: I've closed 58% of my deals over the past 3 years. The first-year closing rate was even 65% but went down as I increased the number of demos and traffic grew up a lot.
The beginning: Building the sales process
Starting at Crisp, Baptiste, the CEO was the one handling demos erratically, no CRMs, no backlog, and activities, and no clear sales process was set.
Stepping into the sales process
So I began handling erratic demo requests that came through the chat available on our website. It was my second day at Crisp. Baptiste told me:" Antoine, you're going to handle it"
Looking back at it right now, it was a good decision because I could immediately understand what was customers' questions and improve my marketing strategy along the way.
⚠️ At this stage, it was 2 afternoons/week, Tuesday and Thursday. ️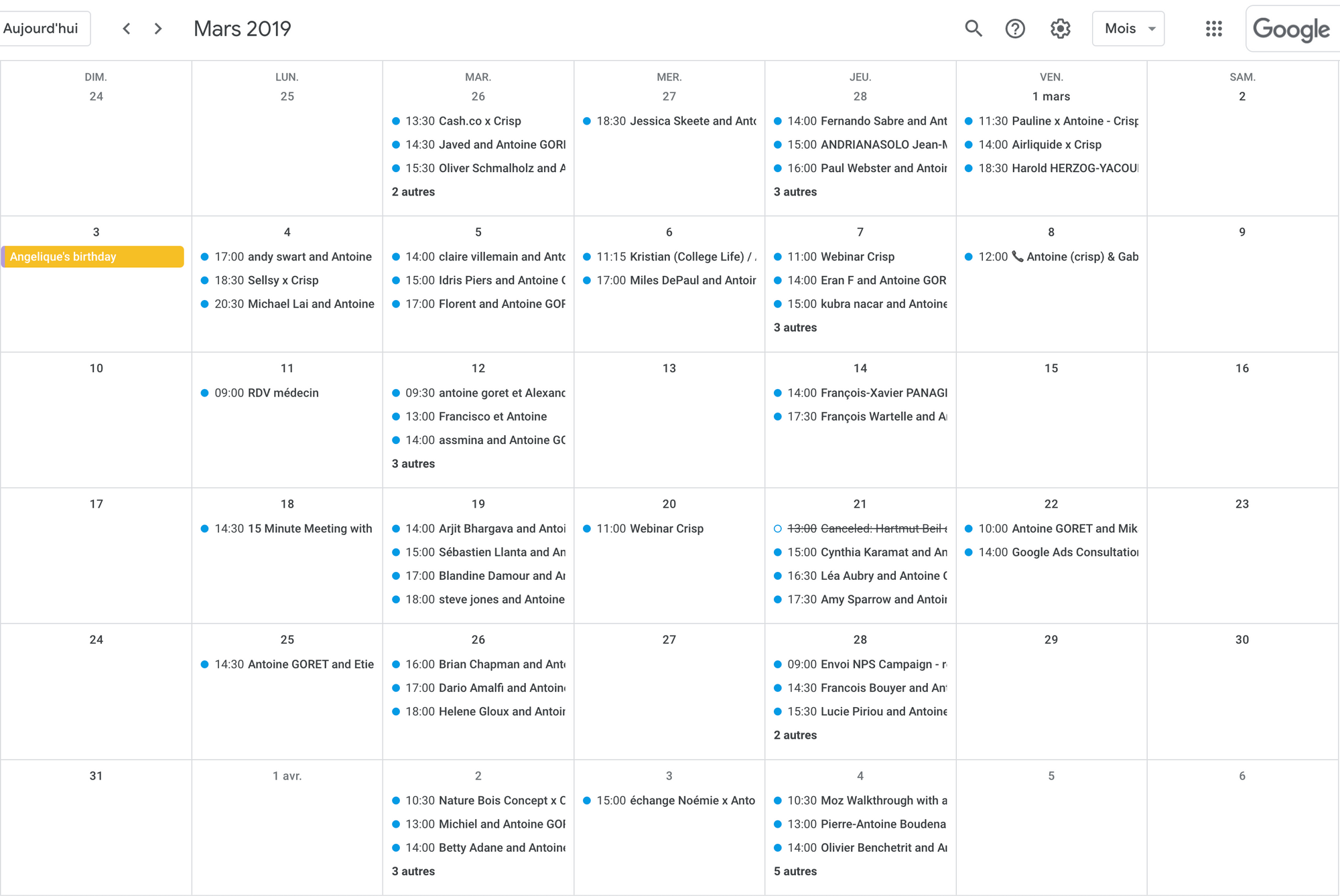 However, nothing was explained on the website that demos were available. I decided to add a "request a demo" button on the website. We validated with Baptiste that it would only be available at the bottom of the website so we make sure website visitors' intent was a bit better. (Do you see how lead scoring was made? 😂).

This helped us to improve the number of demo requests we made in an easy way but we needed to scale it.
Scaling the demo request process
When clicking on the button "request a demo" it triggered the bot that was asking few details about the customers' profile but it was very basic.
I was losing a lot of time to:
Gather customer data in one central place
Find common availabilities between leads and myself
This is where Crisp, Calendly, and Zapier step in!

And here is what it looked like inside my world-class CRM: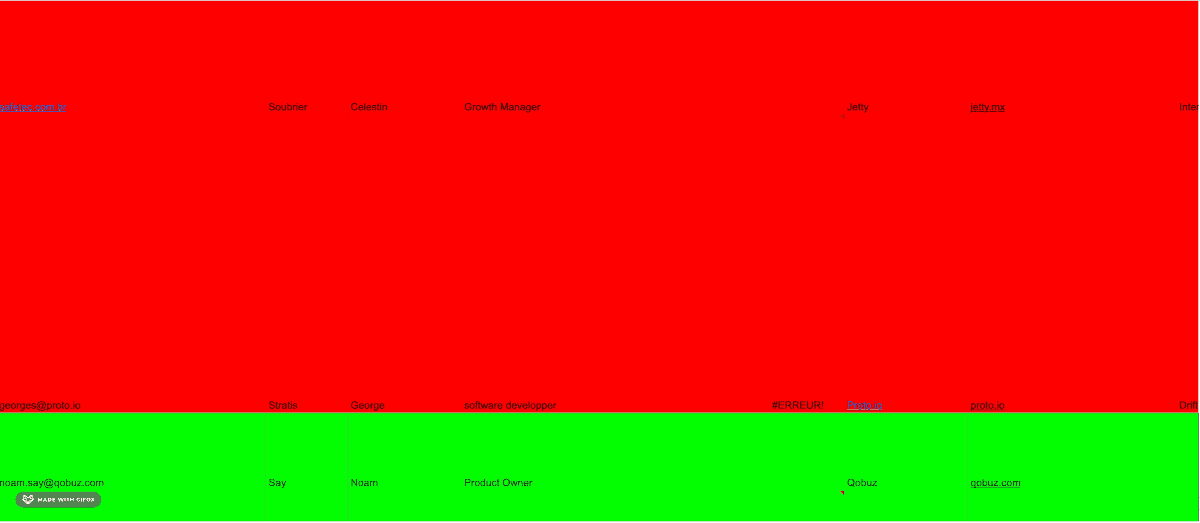 I added colors for win/lost opportunities and added my notes alongside activities.
Almost everything was manual at this stage. Here is what the early global workflow looked like: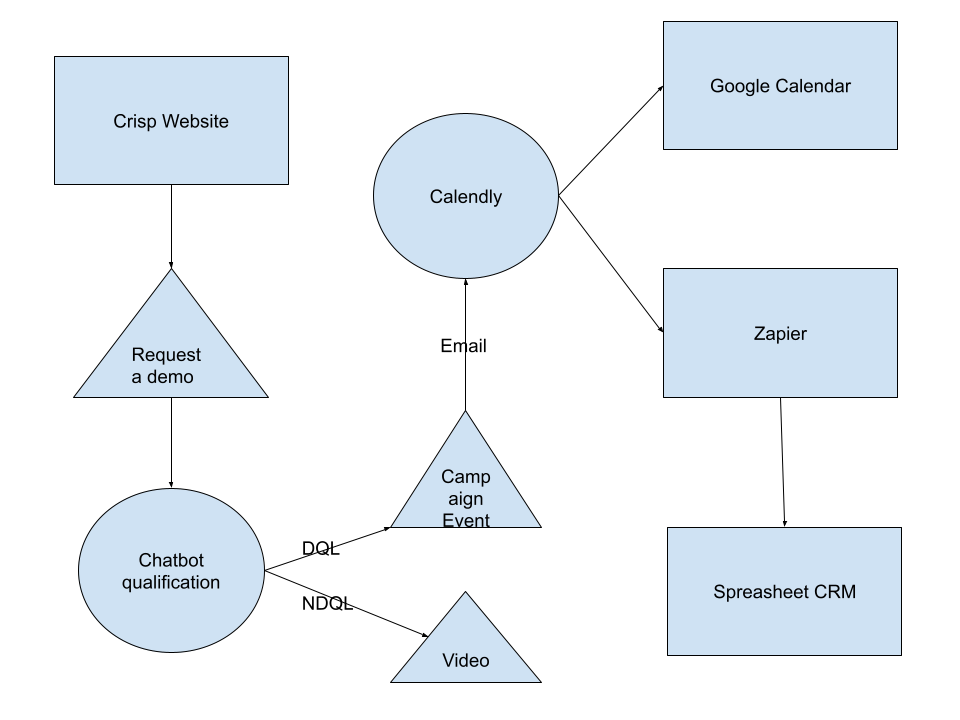 Quick Note:
DQL= Demo Qualified Lead
NDQL= Not Demo Qualified Lead
It was great because it was fully automated, with 100% inbound leads, no cold phone calls, no cold emails, no physical meetings, only calls powered by whereby.com.
I knew the people I was meeting were qualified to meet me.
At the time scheduled by the customer, I just had to connect and share the strength, love, and vision we all share at Crisp with our customers.
At the end of 2019, I did 320 meetings for a close rate of 65% and only 24 no-shows which is super low for the SaaS industry.
Getting started with professional tools.
By the end of 2019, I had my sales script up and running, and was improving my pitch, whether it was in English or in French.
My sales script was pretty simple:
Can you please introduce yourself and tell me how you think I can help you?
What are the channels you're using to get in touch with your customers?
What are the features you're interested in?
Are you using an existing customer support software?
These 4 questions were enough for me to personalize the meeting and present the features that are the most important to the customer.
The thing that was the most time-consuming was the follow-up process which happens post-meeting.
Here is what I've found to be the most efficient and time-effective process while remaining manual.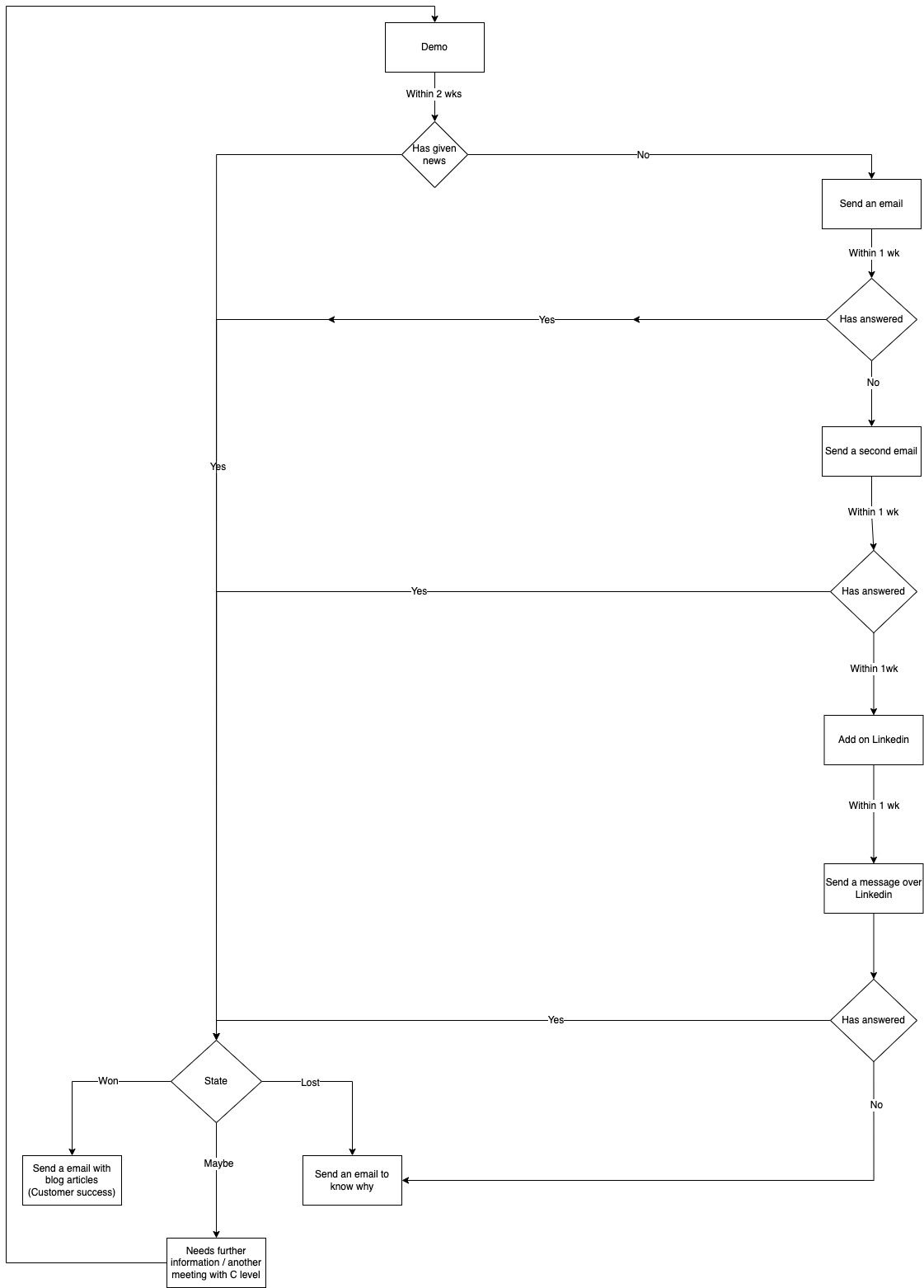 And yes, I do one and only one meeting, most of the time. Crisp is only for closers guys. 😎
Alongside mastering this process, I've started to use professional tools: Pipedrive for example has been a key tool in my ability to scale the number of meetings I had to handle.
Because yes, from 2019 when I handled 320 meetings, to 2021, the number of DQL increased to 445. We could go way higher but I'm the only one that does product tours for DQL. That's why it's pretty limited because on the other side, have to handle the marketing at Crisp, which is what I love to do so I wanted to keep some time to focus on it.
At the end of 2020, I kept on improving the process and did more and more meetings. As an example, I had 564 meetings planned for 390 meetings done.
I worked on my Zapier workflow to liberate myself from the boring stuff and start to have better insights through Pipedrive.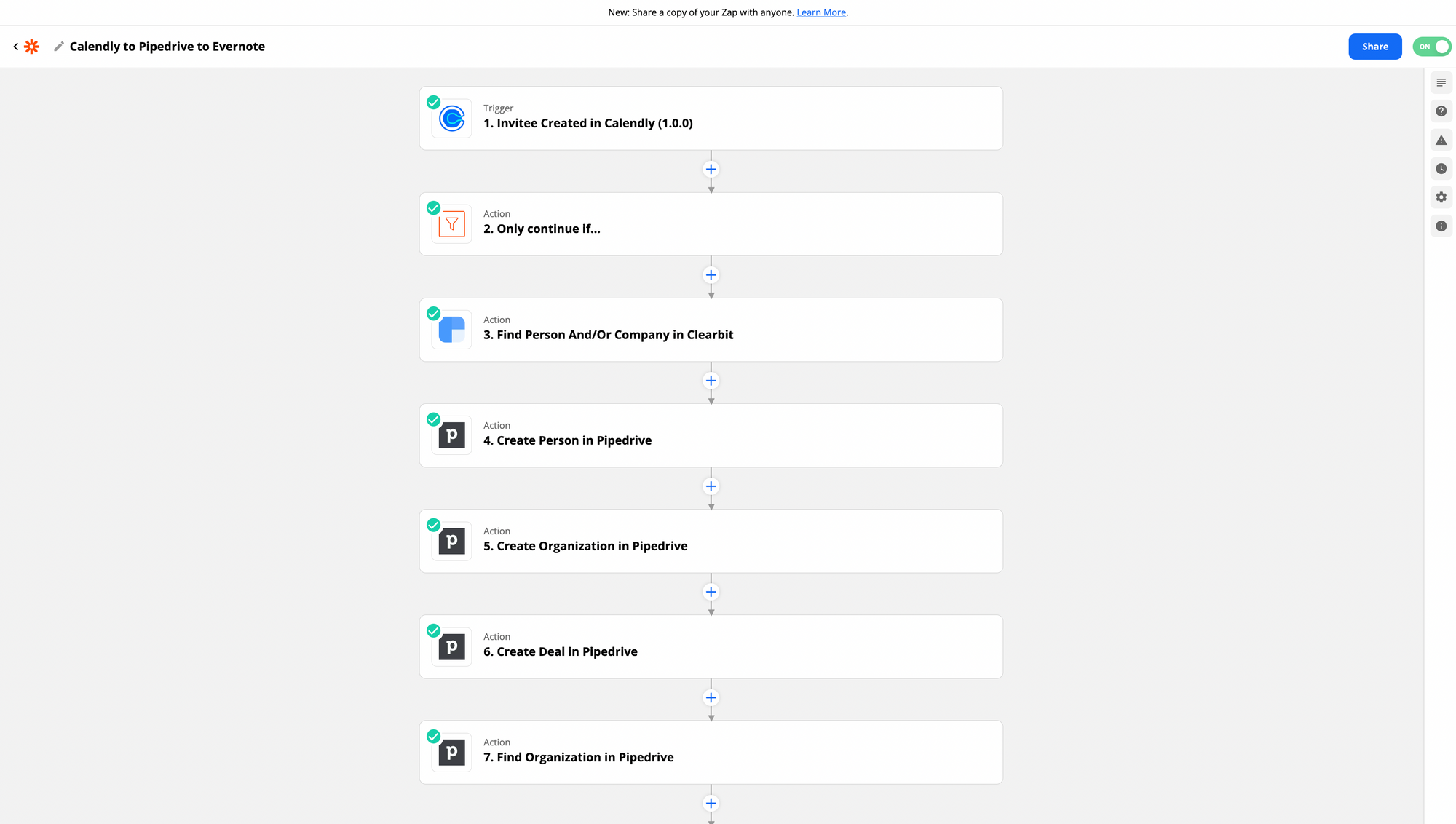 About Pipedrive, here is what my pipeline looked like at the end of 2020:

With these 3 stages, I was able to follow up and monitor my performance super easily.
Moving to bigger deals
2021 has been a decisive year as we've seen more and more mid-market enterprises coming to Crisp for details and demo requests.
This is where I've seen some limitations on my model, because it was super effective on the SMB's model, but not on bigger companies.
So I started to learn back again. In the meantime, Pedro has stepped into the team. He now handles sales meetings for Spanish 🇪🇸 speaking countries and Brazilian 🇧🇷 opportunities.
In the meantime, we signed our first customized SLA with a leading french scale-up which is great, helping us to 5X the MRR compared to the ARPA (average revenue per account).
We also started to sell services such as dedicated account managers and trainings to help our customers make the most out of our product.
Everything here is still an iterative process that is made possible alongside the work of Camille, Pedro, and the rest of the team.
Starting in 2022, we decided to hire a head of sales to handle the process we're going to take upon bigger deals. This is a decision we've taken as I've seen my limits, both in terms of availability and performance. Now, I want to focus 100% on marketing to reach the goals we're thinking about.
The product is also evolving, following our vision.
We're working on a dynamic pricing model for mid-market and enterprise companies with the same spirit in mind: we'll never bill based on your usage.
Don't get me wrong, our ultimate goal is to be the all-in-one solution for SMBs around the world. The Unlimited plan will remain the best solution for 95% of customers around the world.
But yes, we're creating an offer for bigger companies and they'll still remain as lower as 5% of our customer base.
Thoughts on the sales process of a fast-growing Saas Software
As a 100% inbound product-led company with a super competitive pricing model, the sales process has been full of learnings throughout these 3 years at Crisp.
Here are the key takeaways I'd like to share with you:
You can sell with only one meeting, you just need to make sure you're generating qualitative traffic that is educated enough.  That is why it is super important that Marketing is aligned with sales. In that case, I've been lucky because I'm the one that handles marketing too 😁.
SDRs are not needed when you have qualitative traffic coming to your website. SDRs is a job that shouldn't exist in an inbound company as the contact you're generating and the actions you're pushing should be based on customers' lifecycle. At the moment, we haven't added heavy user scoring model on Crisp but this is something that will allow us to fulfill our vision of an international SaaS software.
Following up is painful when you don't have much time to do it but the key is personalization. The higher was my personalization for the follow-up after the demo meeting, the higher was my reply rate. I used an internal tool to check upon activation, invited members, or features activation to see how I could make sure I'd get a reply. Note that form some countries, whatever you do, you'll always be ghosted 👻
Sales are hard, why do you make it painful? I'm now working on automating the boring stuff. I mean the follow-up process after a demo. I want it to be fully automated so the future head of sales doesn't have to worry about it and can focus on bigger deals.
Scaling demo is totally possible by using webinars as a sales tool. It doesn't need to be an ever-growing number of salespeople that are handling it. My recent tests have shown a 50% closing rate on people who attended a webinar, pretty good results!