The secret of modern teamwork: Step by step guide
Teamwork is changing, even more since the covid-19 crisis the world is going through. Discover how teams can reinvent themselves based on the most efficient companies.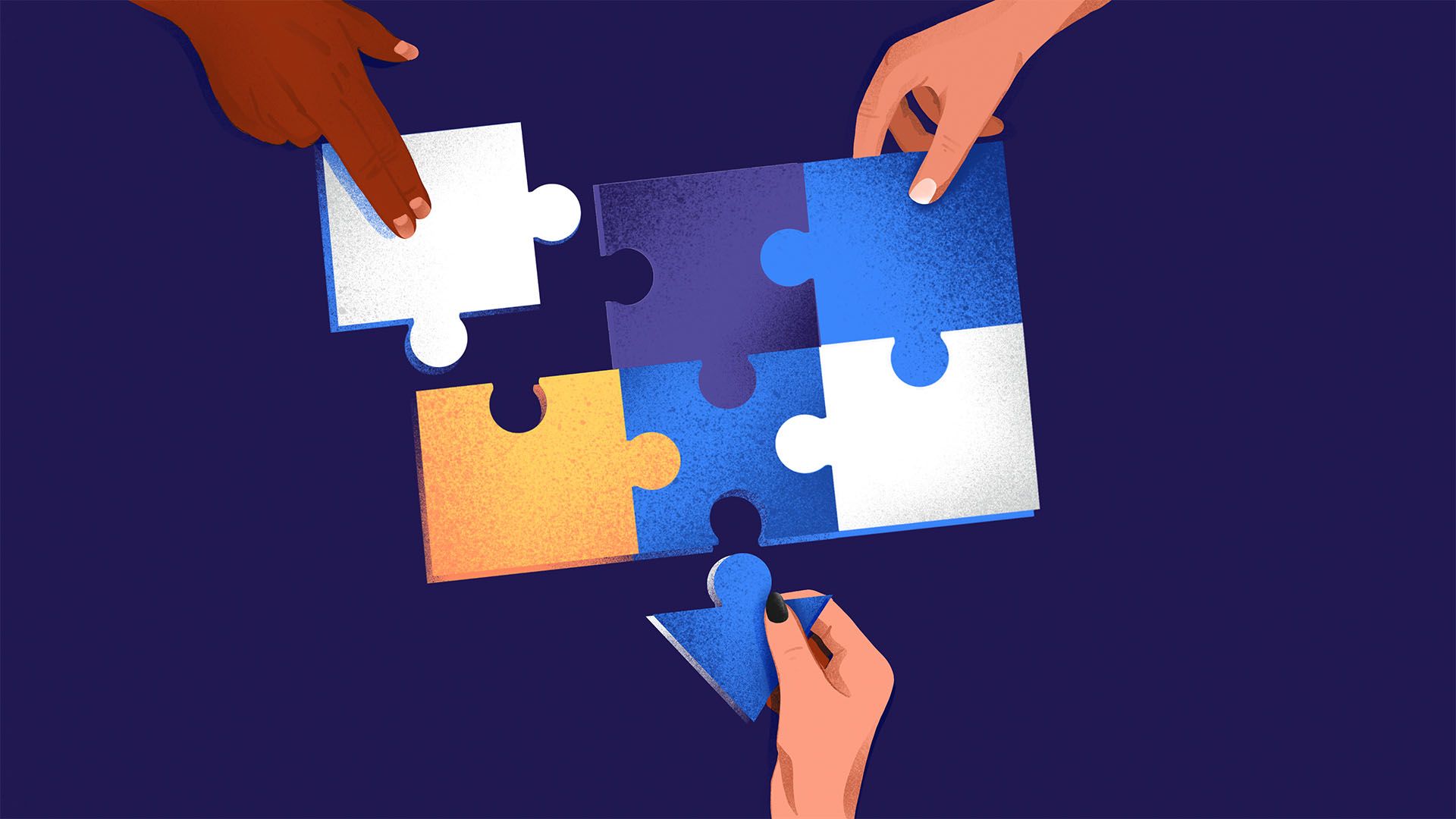 Teamwork is changing, even more since the COVID-19 crisis, the world is going through.
Teams are more diverse, dispersed, digital, and dynamic (people are not afraid of changing their job every 2 years).
Over the past decades, lots of new companies have defined a new model of internal collaboration inside their organizational system.
Since technology and especially the internet has brought much more effectiveness to teams, HBR stated that what matters the most for collaboration is a compelling direction, a strong structure, and a supportive context.
Modern teams are also endangered by two specific problems that tend to impact the level of information that are shared among companies.
Successful modern companies are the ones that can overcome those problems thanks to a better organizational structure, linked to diversity and positivity.
But more than all those soft skills, hardly specific software is required to support intensive growth.
Hard skills vs soft skills
In the workplace, we often hear words about employers looking for people that can bring soft and hard skills in your company, while being newly hired.
Hard skills are about getting great at a specific job. It comes with training, appropriate tools, and experience.
Three hard skills you can find in modern companies are SEO, live chat support, or drinking beers.
Soft skills are about your personality as a human being. It can be learned through books, relationships, or education.
Three soft skills examples are multicultural teamwork, leadership, or communication.
Hard skills for global teamwork
At a time when technology is impacting all of our society, from groundworkers to finance and nurses, there are multiple hard skills that modern companies have been able to gather to succeed at deploying their products or service on a global scale.
Specialization
The first thing we see that makes a global organization successful is specialization. All the big players in the digital economy have been able to master at least one or two distributions channel.
Thanks to the help of their technical specialization – programming language – they've been able to master personalization, at scale. Impacting each department of the company.
That has helped the customer experience, a lot. Because being able to personalize means being able to have specific attention to each of those customers.
Note that it may depend on the size of the company as if it's an early stage, some skills might be shared among the employees to face the small resources.
Software
As stated by Andreessen Horowitz, "software is eating the world" and therefore, companies that have nailed their objectives are the ones that are mastering software.
As seen by many growth specialists, tools and software can create a competitive advantage thanks to the productivity those tools bring to the company.
For example, to help teams work faster together, the email provider Mailjet has developed a toolkit of innovative features designed for teams to collaborate effectively on email.
As you can see, there are so many different solutions for an identical subject that it can be confusing. However, companies within which teams are actively looking at new tools and can try them quickly is good for the company itself because:
Teams keep on learning new tools and technologies
Teams are up to date with the latest technologies
Teams are surrounded by cultural changes and technological breakthrough
Soft skills for global teamwork
Ownership
Ownership means the ability to take full responsibility for a task that you're doing. It means being able to be accountable for any results and outcomes related to the action you're doing.
It's a key skill at modern companies because they embrace the power of responsibility and therefore, encourage people to make the most out of it.
By offering full ownership, employees, and therefore teamwork, is improved, especially within global teamwork. People do not have to wait for the people in Japan to give feedback about a strategy that will happen in the US.
Self-improvement
Self-improvement is the ability to be better each thanks to your day-to-day activity. Modern teamwork includes innovation and therefore, adaptation.
Global teamwork needs employees that are able to adapt themselves to a fast-changing environment.
When talking about self-improvement, you can also consider curiosity as an important skill.
All those concerns help modern companies to be better at handling internationalization from day 1.
Once you think your employees, your team, or your colleagues have those skills, it's time to set up the proper workflow to make your own company even more efficient.
Building core process for modern teamwork 💥
At Crisp, we're able to serve more than 200 000 customers, from all around the world, with a team of 9 people.
From day 1, we've been able to think globally and internationally.
Here, we're going to share some of our best advice to improve teamwork within a global company.
At Crisp, we provide a shared-inbox that helps businesses to improve their team collaboration, on a global basis.
Step 1: Centralize all your messages 📬
Over the last few years, conversational experience has become a norm that multiple companies haven't fully embraced yet.
one challenge is to be able to centralize all these messages over one central inbox, whether it's email, chat, social media, or any other channel.
A global organization needs transparency and shareable knowledge among multiple time zones.
It means that everyone within the team, at Crisp, has to be able to understand what went on previously.
The first thing you should build, to improve internal collaboration is a shared inbox because it's the tool that will let your company craft better internal communication.
Step 2: Improve collaboration over customer message 🧠
Collaboration is at the heart of global communication for modern teams. At Crisp, we have to handle some customer support requests from a timezone to another one.
Sometimes, some cases might be very complex to understand and there is a lot to read to fully understand the use case.
That's where customer notes come in.
What are customer notes?
Customer note is an internal message that is shared internally. it concerns a customer or a lead. it is a private conversation that will help teams to better answer questions.
At Crisp, we use it a lot to transfer information from a shift to another.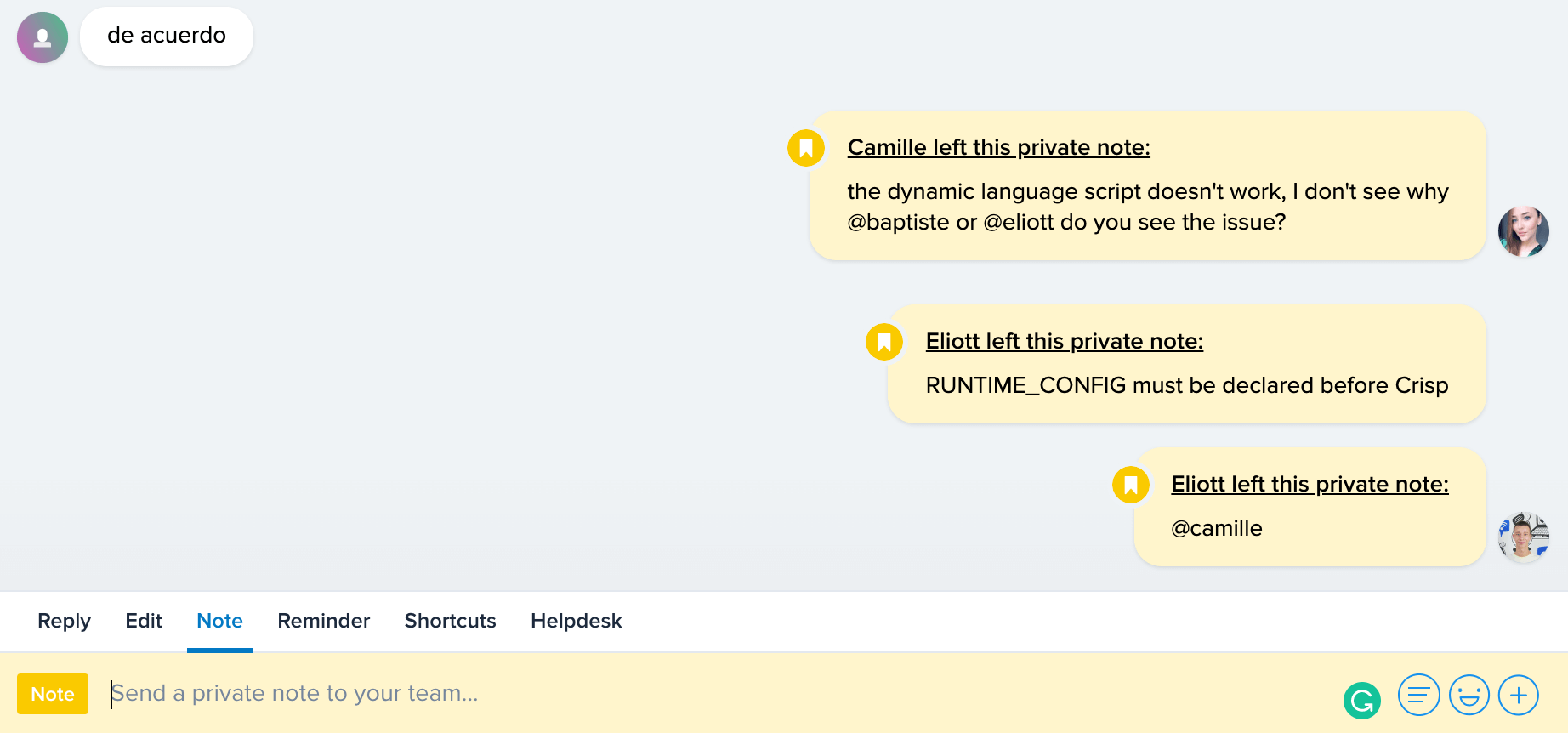 Also known as email notes, because they help to prevent companies from unfinishable email threads where the world is CCd, internal notes helps modern companies, a lot.
Thanks to these key features, companies can improve teamwork around one specific thread, gathering the whole around customer's requests.
It gives a competitive edge in terms of response time, quality and therefore, customer satisfaction
Response time⏰ : Thanks to the ability to collaborate in real-time over multiple discussions, you can access immediate information and quickly answer.
Quality👌🏼: Thanks to the shared inbox, you can mention the right team member and get the best answer possible regarding the specific problem.
Customer satisfaction: Quality + Good response time = 💙
Step 3: Get customers' data straight in
As we just said, a shared inbox is even more powerful when combined to customer notes.
It's also a great place to have users' data immediately at the beginning of the conversation.
Being able to know who you're speaking with is a key asset when building global relationships.
Each customer wants to feel unique. With uniqueness, comes personalization and that's where customers' data steps in.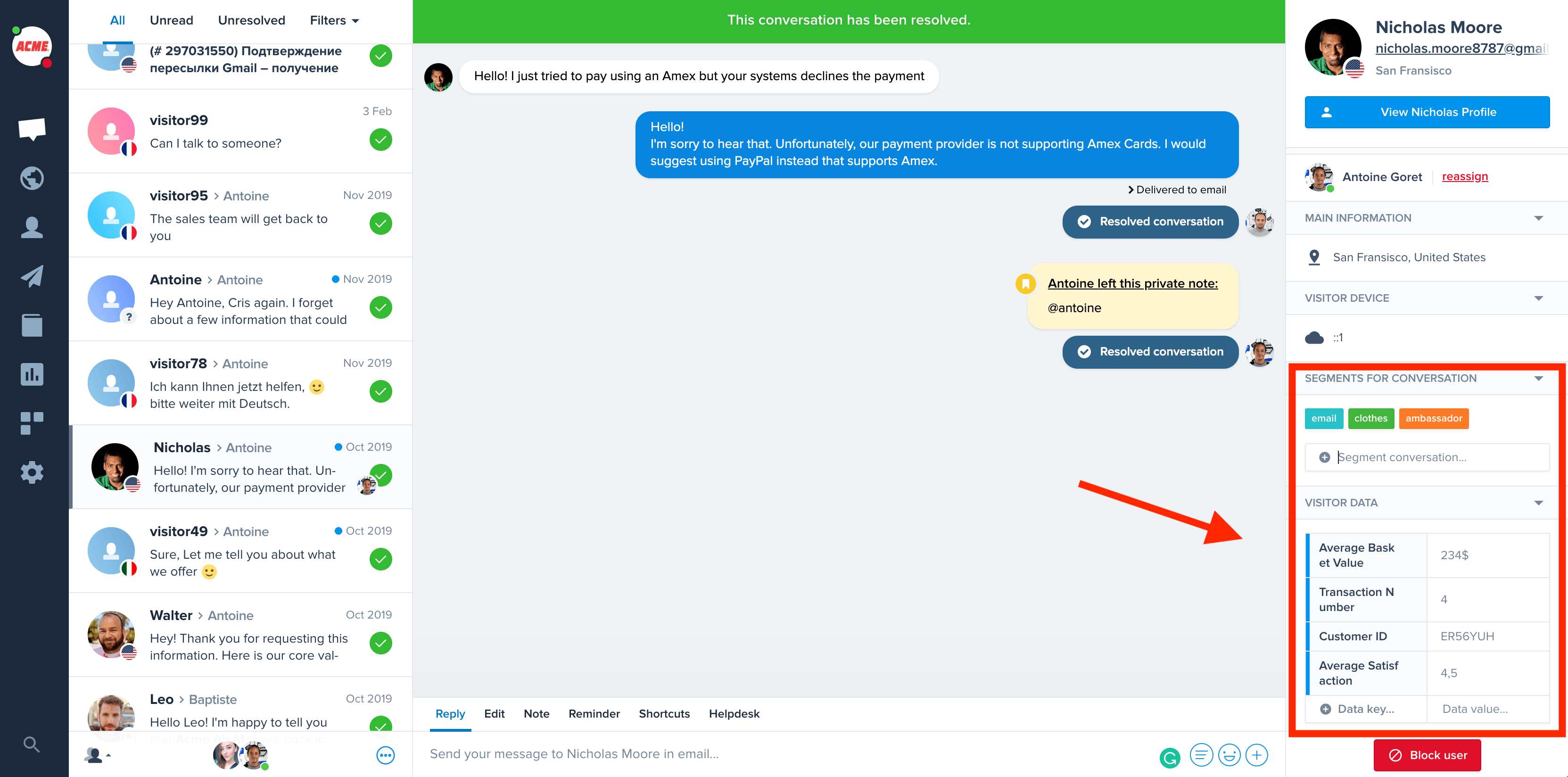 These data are really important for your team as they are engaging on a day-to-day basis with different customers.
As again, having this information lets your agents engage with personalized messages.
There are multiple other steps you could take into consideration to build better teamwork.
However, starting with these devices will already help a lot for your company.