Targeted messages for Live chat
The best part of targeted messages is the positive impact on your sales figures. The worst part of this strategy is a bad perception of your brand because of unwanted, badly targeted, aggressive messages. Discover how you can nail it thanks to live chat.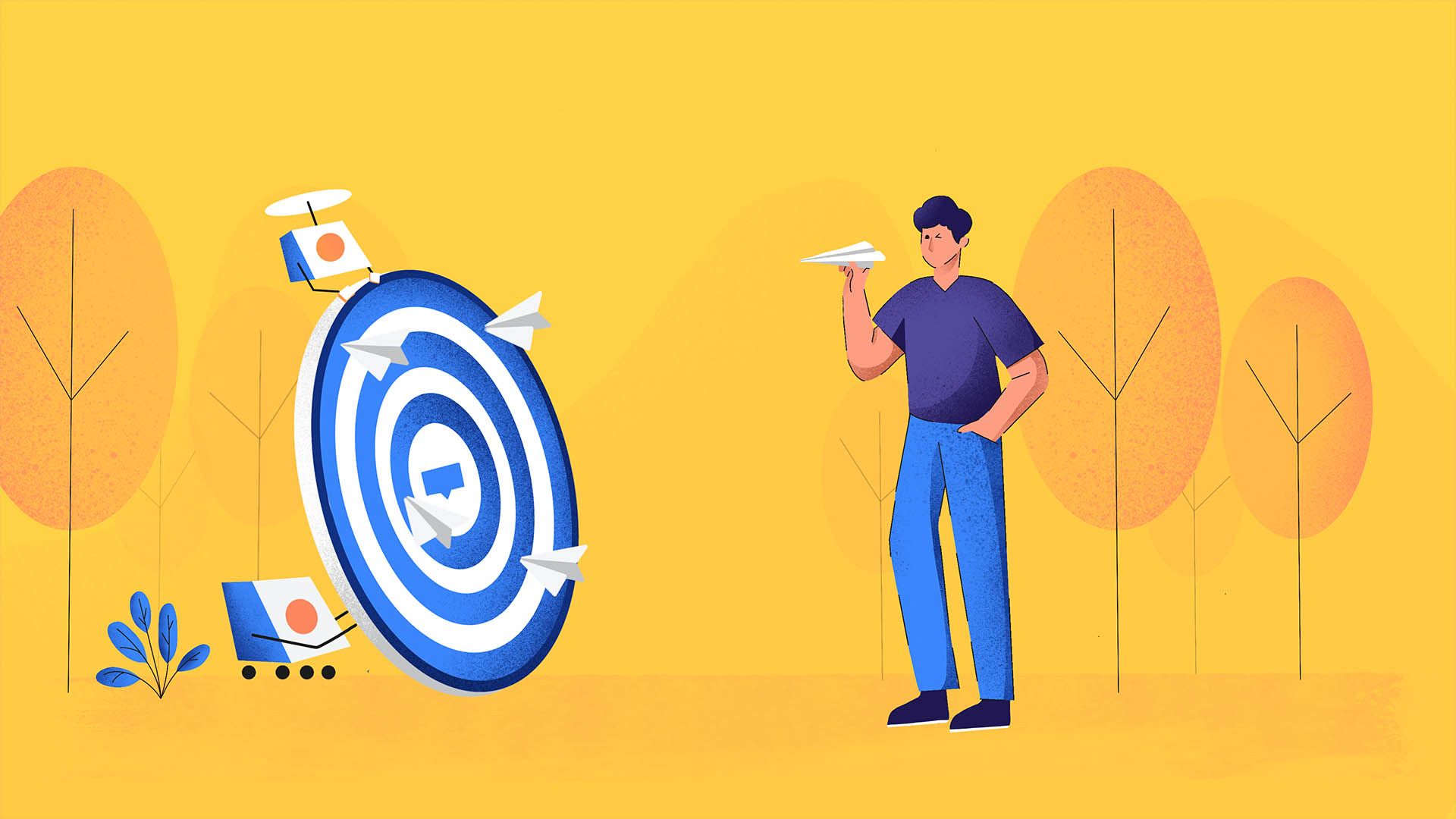 Targeted messages is an old practice that tends to send the right message to the right people at the right time.
The best part of this strategy is the positive impact on your sales figures. The worst part of this strategy is a bad perception of your brand because of unwanted, badly targeted, aggressive messages.
There are many use cases where chat widget software can be useful for targeted messages. Live chat is powerful when interacting in real-time with your website visitors, mobile app users or software customers.
"53% of buyers are more likely to buy from a business they can message"
Whether you're targeting using segments, locations, or IP, your targeted messaging strategy should try to create a comprehensive message, for each group of users that you're willing to have as customers. From emails to chat, PPC, or social posts, everything should be common.
What are targeted messages?
Sending targeted messages is at the heart of great customer experience. From the first telegraph sent over the US to the first phone call and the recent email you received from this god damn B2B company, everything is trying to be targeted.
Targeted messages are your brand spirit, they contain words, images, tons, emojis, and everything that can make your brand feel special.
Especially when it comes to businesses.
Over the last years, conversational experiences have moved to messaging apps such as website chat widgets, social networks, or even chatbots.
That's why more and more customers are expecting from your business to have one-to-one conversations.
That said, let's look at why targeted messages are important.
Why targeted messages are important for your business?
Whatever the message, brands need to be sure that they are sending the right message, to the right person at the right time.
Targeted messages are how businesses make sure they target the right people when talking to their customer base. It's made to improve user engagement.
Targeted messages are about being able to know users, what they do, where they spend their time, and how they like to be reached out.
Many sources can help you to better understand how customers and leads operate.
For example, you could look at the following data, available over your different platforms:
Conversational data: Using Crisp or any other platform, you're able to gather data regarding messages sent and received and use machine learning to build better interactions with your leads and customers.
Social Network Analytics: Whether it's Twitter, Facebook, Instagram, or TikTok, they all have analytics that you can use to better understand how users are reacting to your messages.
Website Analytics: Lots of websites have now access to behavioral analytics and more. Using website analytics will let you better understand what your website browsers are looking at and how they behave with it.
How to combine targeted messages and live chat?
Still, a few companies offer instant support through live chat on their website. Those businesses are right, this is one of the main use cases, however, chat widgets can be two ways and companies often forget that customer support can also be proactive and not only reactive.
Chat has to be seen as a channel to reach customers
Being proactive means being able to send a message, automatically, before the user gets in touch with your company.
Setting automated targeted messages over your chat widget will let you engage in real-time with your users or your website visitors.
Targeting over the chat software works differently, users are already here, on your website, or your mobile app. Sending automated messages is based on behavior, page visited, time spent, referrer, language, and users' data.
Consider sending different messages to first time visitor and repeating visitors
Proactive live chat
When a visitor lands on your page for the first time, make him feel like he is the one you care about.
Sending proactive chat messages will make sure that he knows you can get back to him whenever he wants.
Here are a few good engaging chat messages you can craft:
Welcome! Can I point you in the right direction?
Hi! Let me know if you have any questions while you're looking around.
What brings you here? We're here to help if needed!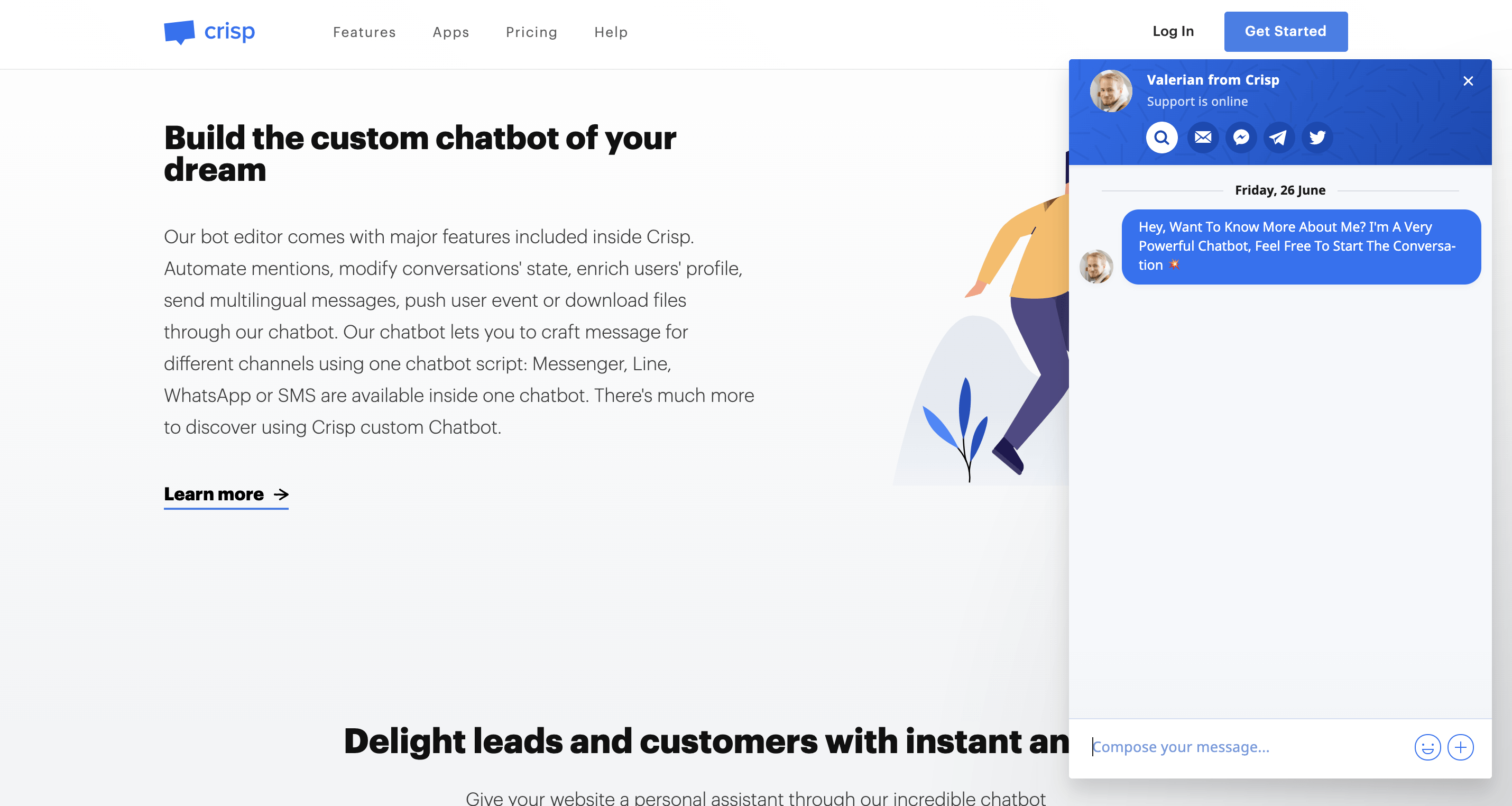 Qualify leads
Native chatbots serve different purposes and part of them is the ability to qualify leads and route the conversation to the right team.
Here is one of our pricing page bot that engages over the pricing page only which is a high-intent page.
At first, the bot asks for details about the needs of the users and then, based on the answers, the bot sends a targeted message that's answering leads' question.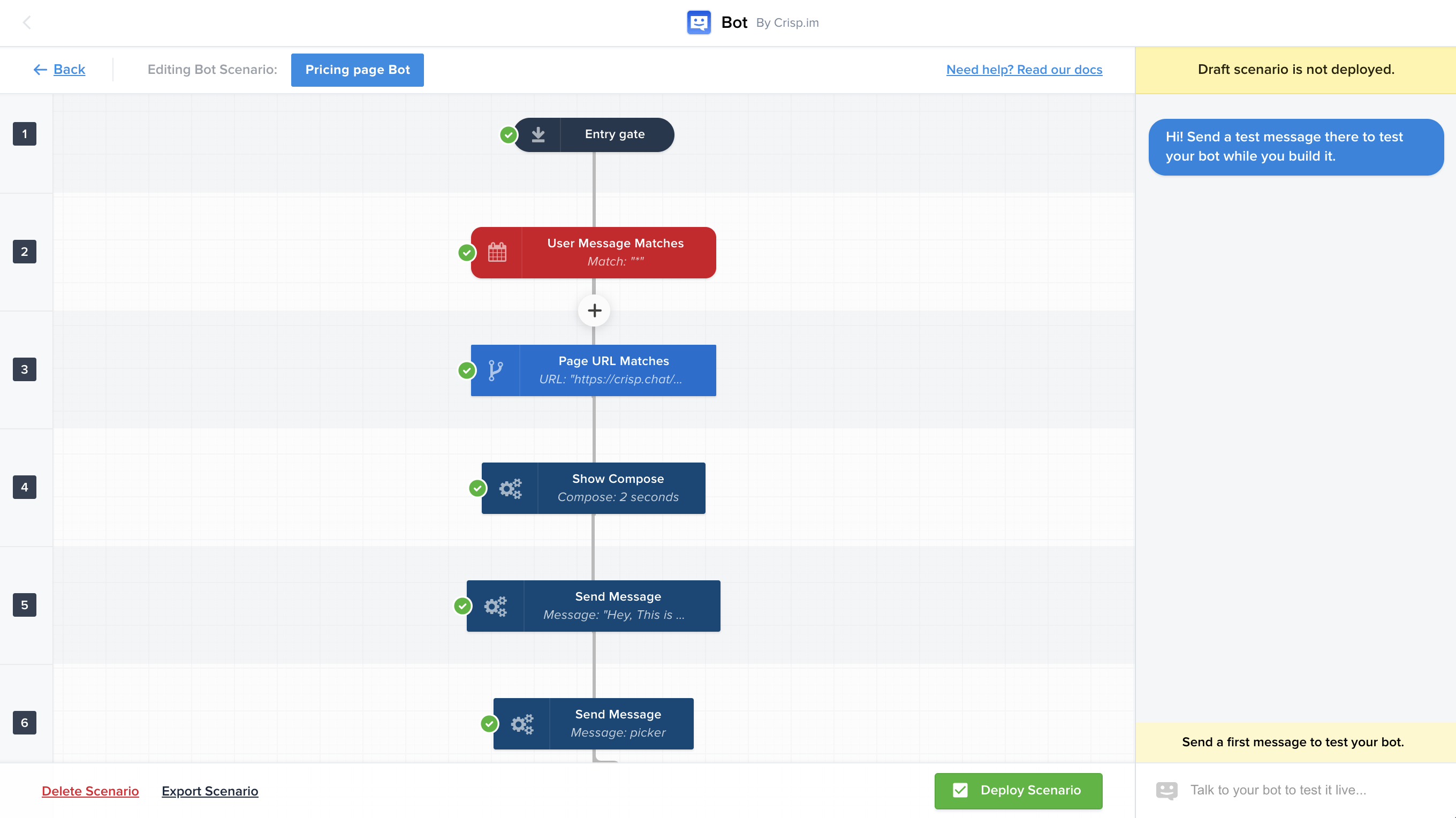 Promotional chat marketing
When high-value visitors land on your site, coming from your ads or your last marketing campaign, it's important to optimize your ROI.
As these campaigns might be costly, you have to make sure you make the best out of your strategy.
To do so, sending targeted chat messages based on the user's origin is a key factor of success.
Using URL inside which you'll set UTM tracking terms will let you craft unique targeted messages referring to the specific ads, keywords, or images the users clicked on.
For example, if you're offering a promotion on an external website such as ProductHunt, prompt a unique message to visitors coming in through this campaign.
Here's something you can copy: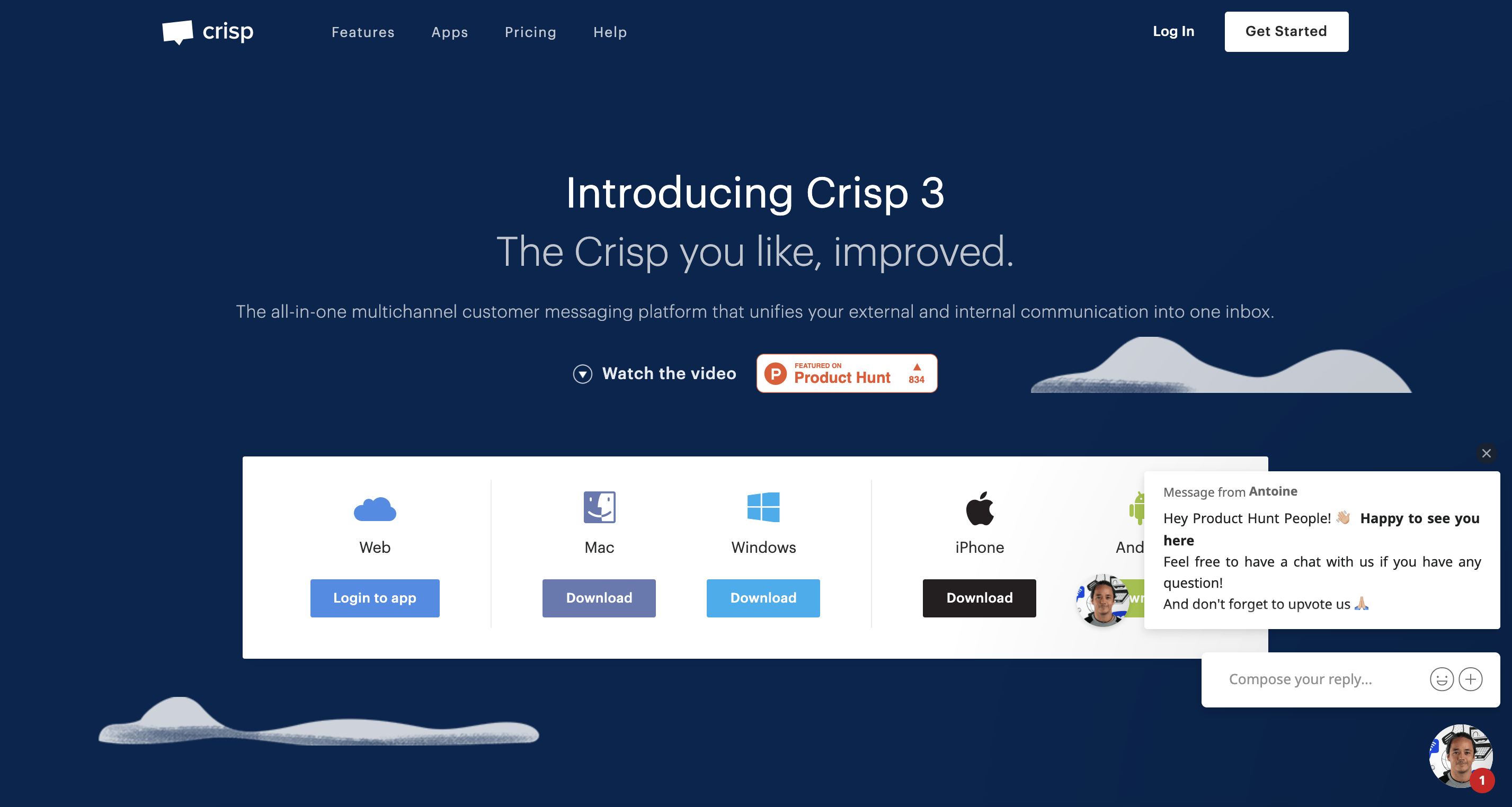 As you may know, there are multiple use cases that can be adapted to live chat. Targeted messages are a key part of your marketing and sales strategy. Always think about yourself receiving those messages: how would you react?
How to get started with targeted messages?
Targeted messages might be simple to your eyes but the truth is, it's not. From building the right routing bot to crafting the best chat messages that have the highest engagement ... Things are not that simple.
Brands need to step back and think about their targeted message strategy. As it requires context and the ability to map out where conversations need to happen and how to say the right thing at the right time to the right people.
Willing to give it a try? Test our solution and try chat widget software to send your first targeted messages through a live chat for free!