March 2021 - Product Update
Looking to see what's new this month at Crisp? Here are the latest release we've brought to the platform. Enjoy!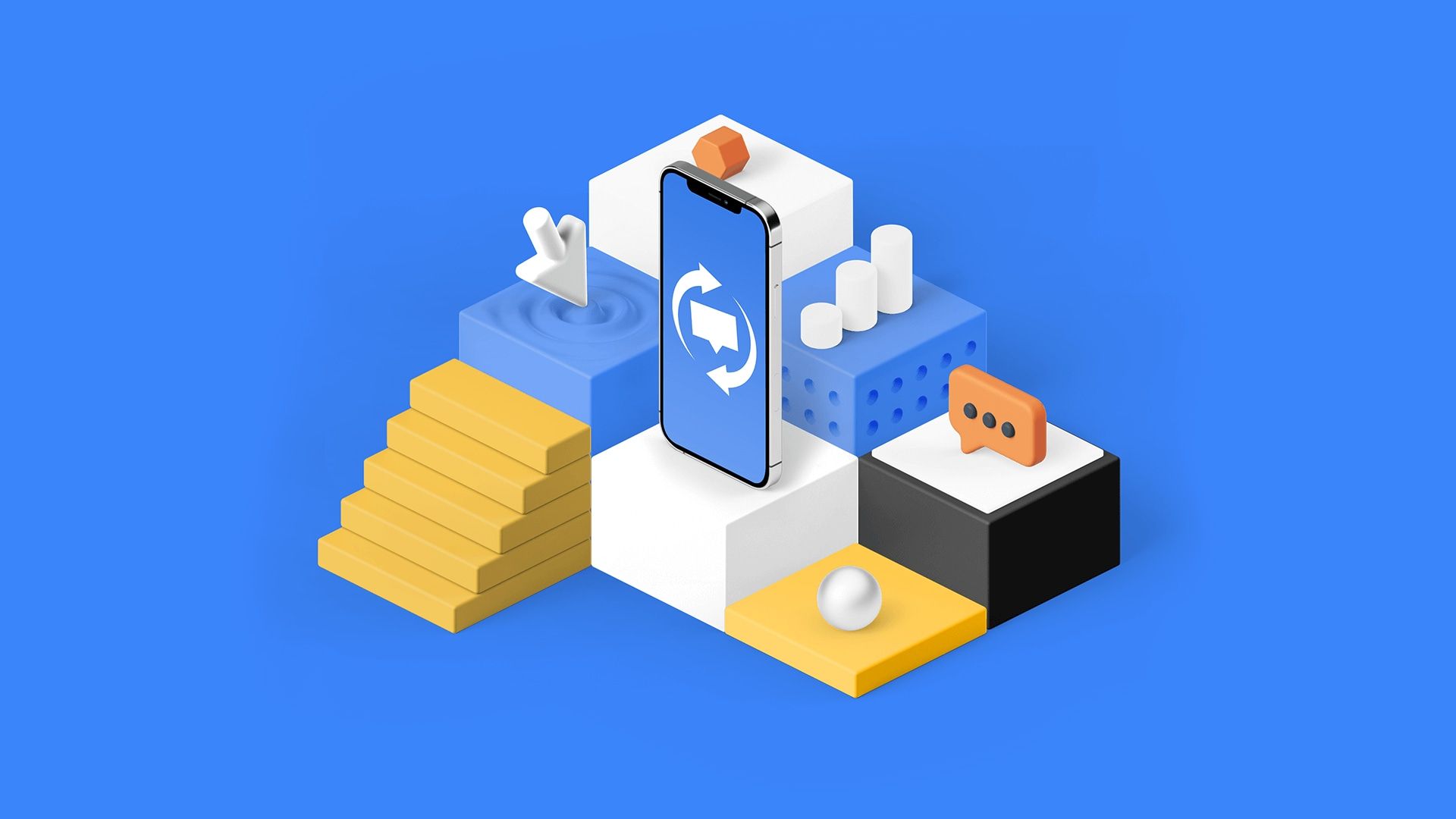 New features
All uploaded files are now verified through a dedicated antivirus 🕵️‍♀️
We now have an antivirus system, checking for unsafe uploaded files. This means users are now able to upload files such as .xls, .xslx, .doc, or .docx, as well as the full suite of PowerPoint extensions!
Discover what are the file extensions available through Crisp →
Send the chat transcript to external operators 👩‍💼👨‍💼
Receiving the details of a conversation was a bit complex for people that were outside Crisp (e.g. billing or finance department). You can now make them aware of everything!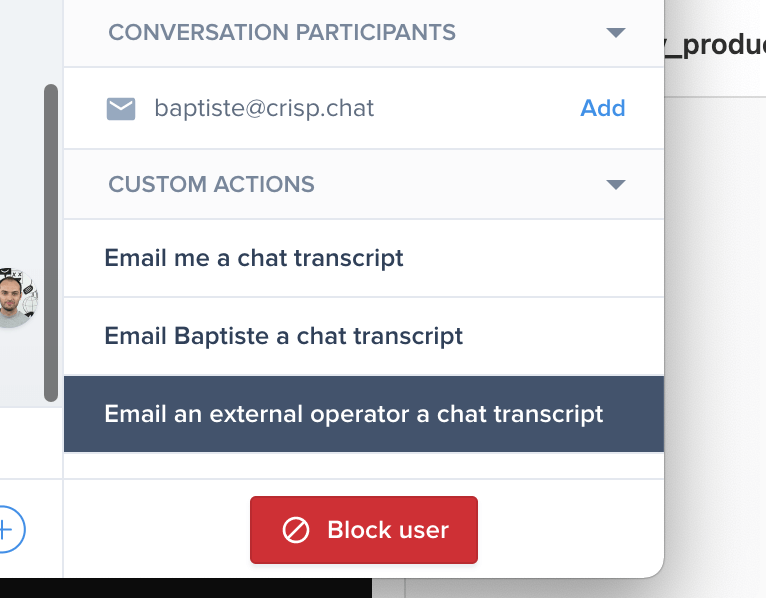 Discover our shared inbox software →
Create a new conversation from the user profile 🗣
Creating a conversation wasn't always easy and simple to find, so we made it even easier. You can now start a fresh new conversation with each of your customers, from their user profile.
Discover our contact management software →
Notes are now displayed inside the mention email 📧
Want to have a glimpse of the conversation you've just been mentioned in? Well, this is now possible! When someone mentions you in a conversation, we now embed the note message right in the notification email.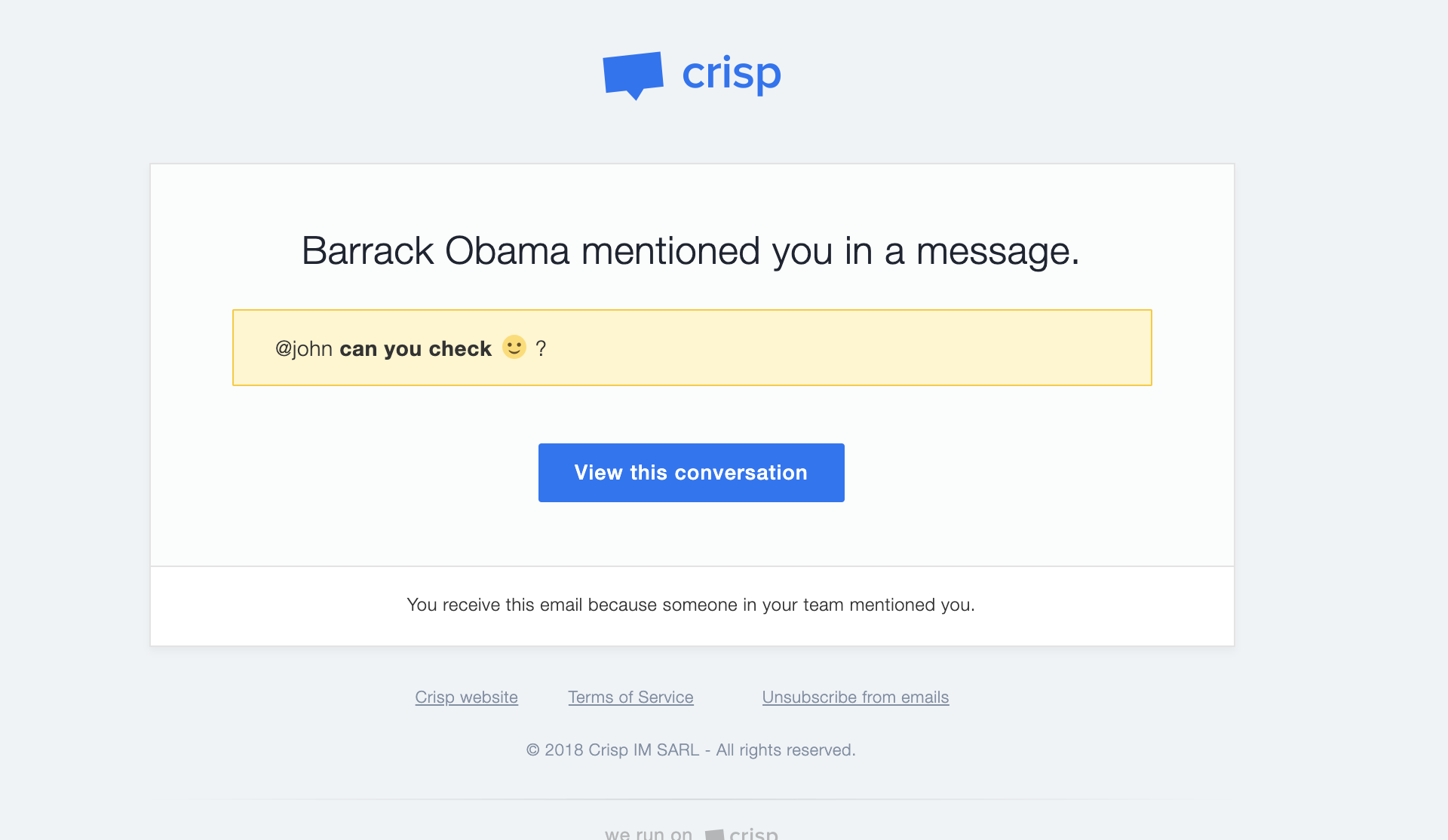 Learn more about the internal notes feature →
Bug fixes & improvements
Inbox: operator name is now available in canned / shortcuts responses
Inbox: choosing a custom date for a reminder has been made easier
Inbox: mentioning an operator will now automatically toggle the private note mode to avoid mistakes
Inbox & chatbox: uploaded GIFs are now animated
CRM: exact amount of skipped contacts is now displayed when importing a CSV file
MagicMap: the Visitors list is now much more reliable
WhatsApp: conversations now show the country the message is coming from
Customization: some chatbox colors have been improved for better text readability
Integrations: you can now find Crisp on Joomla Marketplace
Helpdesk updates 📚
How to connect a Dialogflow chatbot with Crisp?
You can now understand how to connect Crisp with Dialogflow to bring NLP to your AI chatbot using Crisp.
Discover how to connect Dialogflow to Crisp →
How to subscribe to a dedicated IP within Crisp?
For a few months now, you can subscribe to a dedicated IP to improve the deliverability of your emails within Crisp. Here's how it should be done. Discover how to subscribe to a dedicated IP →
How to create your first plugin using Crisp Marketplace?
While the Marketplace isn't officially launched, the most adventurous of you can already get started with it! This guided tutorial will help you to create your first plugin using our Marketplace.
Discover how to create a plugin using Crisp Marketplace →
Teasing next releases 💥
Marketplace beta (get in touch if you want to be part of it!)
Microsoft Teams Integration
Trello Integration
Jira Integration