Announcing our Helpdesk for Shopify online store.
We just released a powerful integration with Shopify so you can build a helpdesk for your online store. Check it out!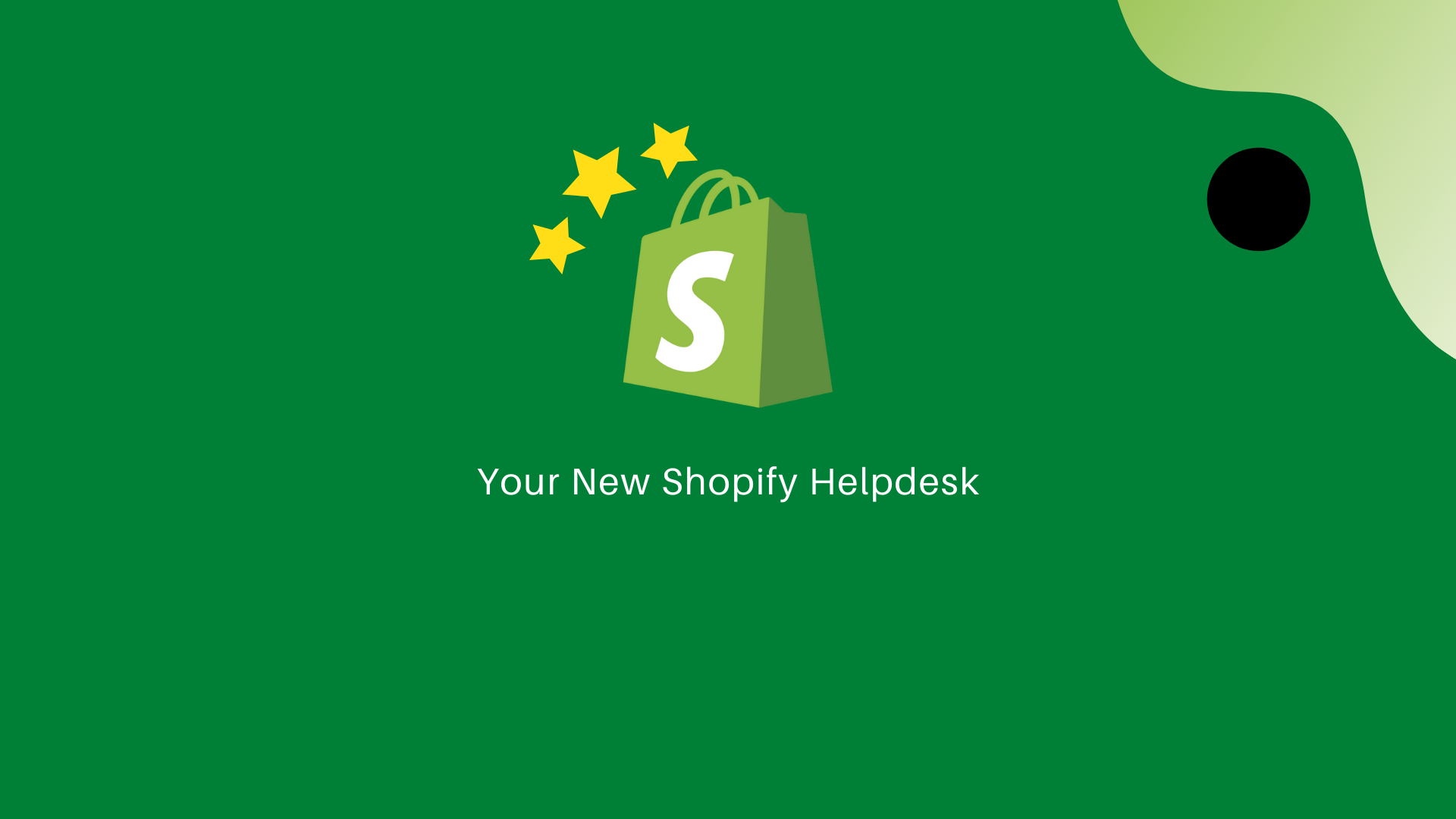 This announcement is an outstanding achievement for everyone on the team. It is such a milestone because it is showing the tremendous potential of the platform. It combines the new marketplace built by the team and its ability to connect Crisp with multiple environments.
From the earliest days at Crisp, customers required a tool that could centralize customers' data from the online store and conversations.
We made it possible.
This new plugin allows Shopify merchants to handle all their customer relationships from their Crisp inbox. As a result, they are making it easier than ever to manage orders and view user's carts in real-time from their team inbox.
Take advantage of Shopify data to delight your customers
Our integration lets you see what kind of customers you're facing. Crisp synchronizes itself automatically with your Shopify data, so when a customer engages in the conversation, you have immediate information about them.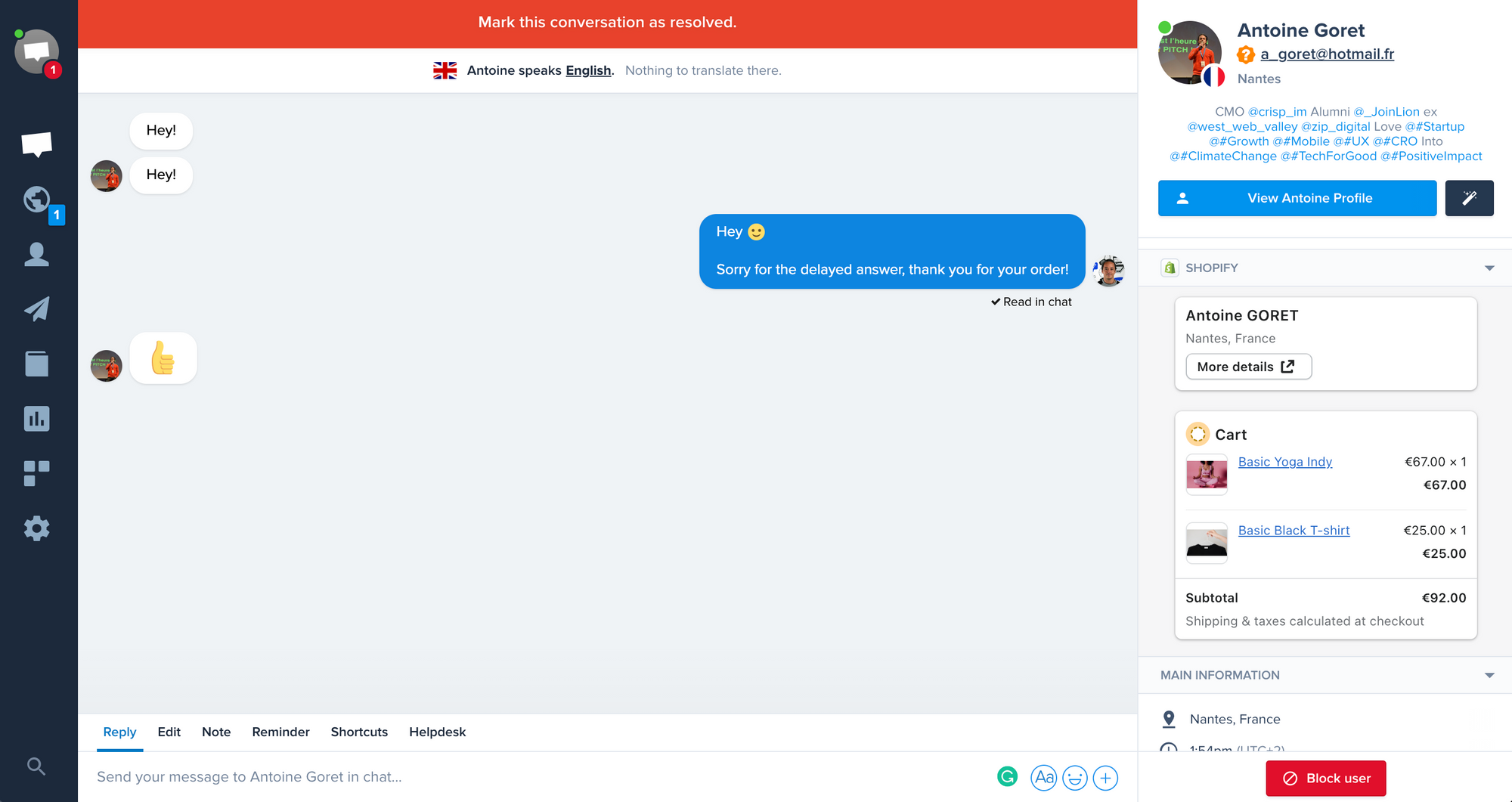 Looking for more information about your customers? We got your back. Here is an example of what you could see when accessing the order's detail.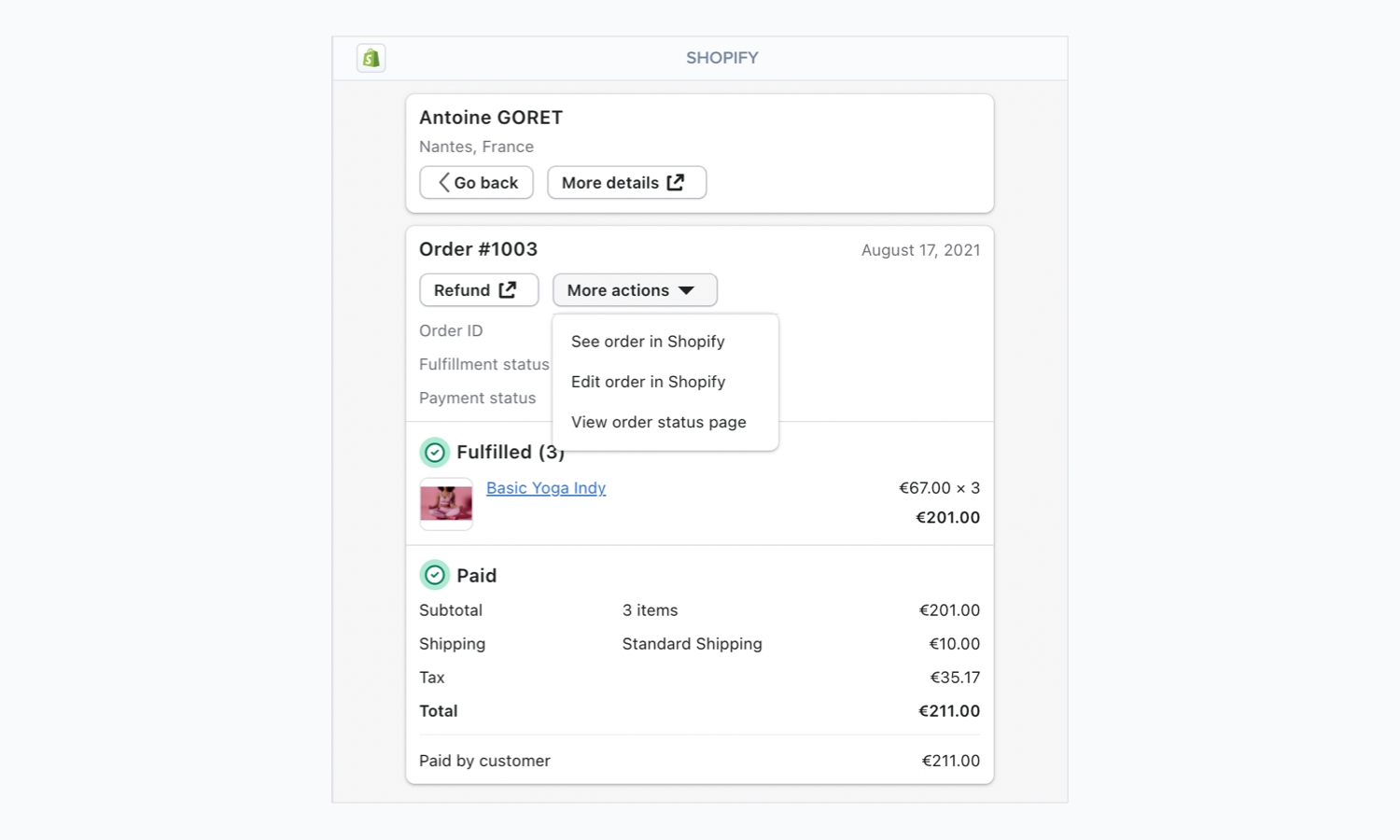 Simply put, here are the features you'll find when enabling the new helpdesk for Shopify merchants:
See the ongoing cart in real-time
Refund customers
Access customers' details in Shopify
See previous orders
Access orders' status page
⚠️ Click here to get started with the plugin ->
Enchanting customers is just the beginning
The helpdesk for Shopify stores doesn't come alone. As always, Crisp tries to offer the best price for value so you can support your leads and customers the best way. Here's what you get.
Fastest live chat
Chat with the people browsing your website using the fastest live chat to increase your website conversion rate. Very soon, you'll trigger live chat automated messages based on Shopify data such as average basket value, number of orders, or actual basket value.
Powerful shared inbox
Much more than a chat inbox, our customer support software for Shopify comes with a powerful shared inbox that lets you centralize multiple channels: Facebook Messenger, Emails, WhatsApp, Instagram, Line, Telegram, or even SMS can be integrated into your Crisp Inbox.
Our inbox comes with all the necessary features to make your life easier: routing rules, shortcuts, and macros.
Simple ticketing system
Our ticketing system is an extra add-on for your crisp inbox. However, it is deeply integrated into the Crisp inbox.
Deeply integrated knowledge base
An online helpdesk wouldn't be powerful without a strong knowledge base. That's why our online helpdesk for Shopify comes with a knowledge base. In addition, our knowledge base is multilingual and offers the ability to be fully customized.
Smart Chatbots
Finally, our customer service software for Shopify merchants brings bots so you can automate answers and questions. Create the perfect customer experience by creating 24/7 customer service on multiple channels. Our chatbots for Shopify can be triggered on all the media you connect to Crisp.
---
All in all, Crisp offers the perfect solution for Shopify online stores that are willing to improve their customer service.
The best things about it? It's totally free as we're still in beta mode.