Customer Service Email Templates: Simple tips to improve customer service
Combining emails, templates and customers is one of the principal way of success for modern companies that tend to make customer service as a major acquisition channel. Let's dive into the power of customer service email templates.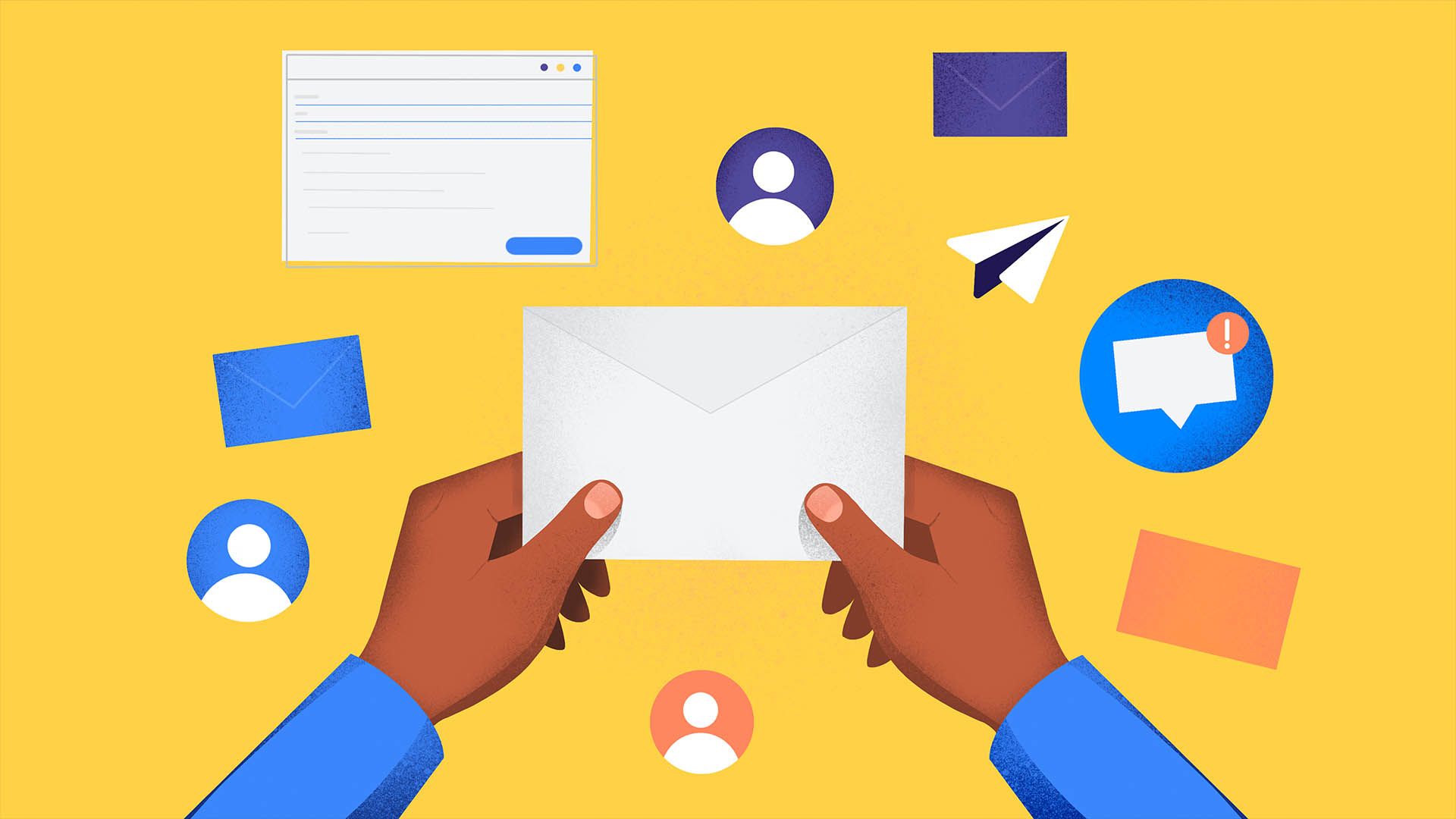 Customer service is becoming a competitive advantage for businesses that are willing to build sustainable growth.
From the past years, too few companies have been able to embrace customer support driven development strategies to nail their objectives.
However, building the perfect customer service is tough.
Setting up the right process, choosing the right channel of support, defining teams' availability in a global market, handling more and more real-time requests ...
All these challenges are new to companies and impact the way they behave regarding customer service.
Customers expect businesses to respond to their emails within an hour.
Forester
As one of the major conversational channels, email has always been a top choice in terms of customer service.
As of now, email is still seen as a go-to tool when building a customer service strategy.
But emails can be reluctant, long, and hard to read. Also, it's time-consuming as some of your customers might consider writing long messages. That's why, over the past years, email management has become a big part of C level concerns.
Emails can be seen as a pain: long to read, long to write, creating silos, avoiding collaboration between teams, can't be always seen or read (that filthy email junk box), and much more.
Recently, customer service tools released great features that can tackle this problem.
Here comes one of the most powerful tool from the past years regarding customer service efficiency: templates.
Combining emails, templates, and customers are one of the ways of success for modern companies that tend to make customer service a major acquisition channel.
Let's dive into the power of customer service email templates.
What is customer service?
Customer service is the help you bring to your customers or leads — both before and after they buy and use your products or services — that helps them have an easy and enjoyable experience with you.
Offering amazing customer support is important if you want to retain customers, gain market share, and grow your business through low acquisition costs.
Americans will pay 17% more to do business with firms with great reputations when it comes to customer service.
Today's customer service strategies go far beyond the traditional telephone or email support agent.
It's available via text message, social messaging, live chat and many other channels.
Many companies also provide self-service support, so customers can find their own answers at any time day or night.
Customer support is more than just providing answers and shouldn't be seen as a department only inside a company but rather a company culture.
What is email management?
As mentioned previously, email has always been a traditional channel for customer service. Therefore, companies have invested a lot in terms of email management because they wanted to improve the efficiency of this channel.
Throughout the development of emails in terms of volume, companies have had to adapt specific processes to fight back the negative aspect of it.
American workers will receive an average of 126 emails a day.
Email management is a systematic approach that tends to optimize the efficiency of email practices and minimize the bad effects that emails can have on companies' productivity and incomes.
That systematic approach is vital for companies if they don't want to lose productivity because of too many emails badly handled.
Email usage is predicted to grow by 2 to 3% each year from 2018 to 2023
As email is predicted to keep on growing for the next years, businesses have to be aware of it. They'll have to face special challenges to improve their customer service emails.
At first, let's see why email is important for customer service.
Why is email important for customer service?
As we said previously, email is still important and growing.
Email management is still something companies have to work on as 82% of workers are checking emails outside of normal business hours.
Email is still the most commonly used digital customer service channel — 54% of customers have used email customer service channels in the last year.
Sure, depending on your target, email might not be the best channel for Millenials.
Chat is the preferred support channel of Millennials.
But let's get back to our real concerns: email. Here are some of the best reason that makes email one of the best fit for customer service:
Email is asynchronous
It means that customers can send a message while your customer service team is not forced to answer straight away.
It lets one customer service reps handle multiple conversations at a time, multiplying productivity when phone calls are the contrary.
Email is personal
Even though some companies keep on sending emails that aren't personalized and humanized, email can be personal.
Using customers' data when answering customers' requests is one of the main asset emails can have.
How? Simply look at the pattern inside the email, it will let you create that special message that can make the difference.
Email is collaborative
Still wondering how an email can be collaborative? Well, you remember that last email you sent to your customer with the entire company as CCs?
Well, that's not the right behavior. Modern companies use shared inboxes to craft special experiences and build better customers' relationship through emails.
There are numerous reasons why email is great for customer service. The thing is, there's also lots of room for improvement regarding email management. Here are some of our advices.
How to improve email management?
Improving email management is complex and can affect customers' satisfaction. That's why email management has to be taken into consideration very seriously.
Since the traditional phone support, email has evolved and new channels have appeared.
Two key solutions can improve email management and decrease the number of emails you receive each day.
We already talk about the power of a shared inbox for customer service, that's why we won't talk about it anymore.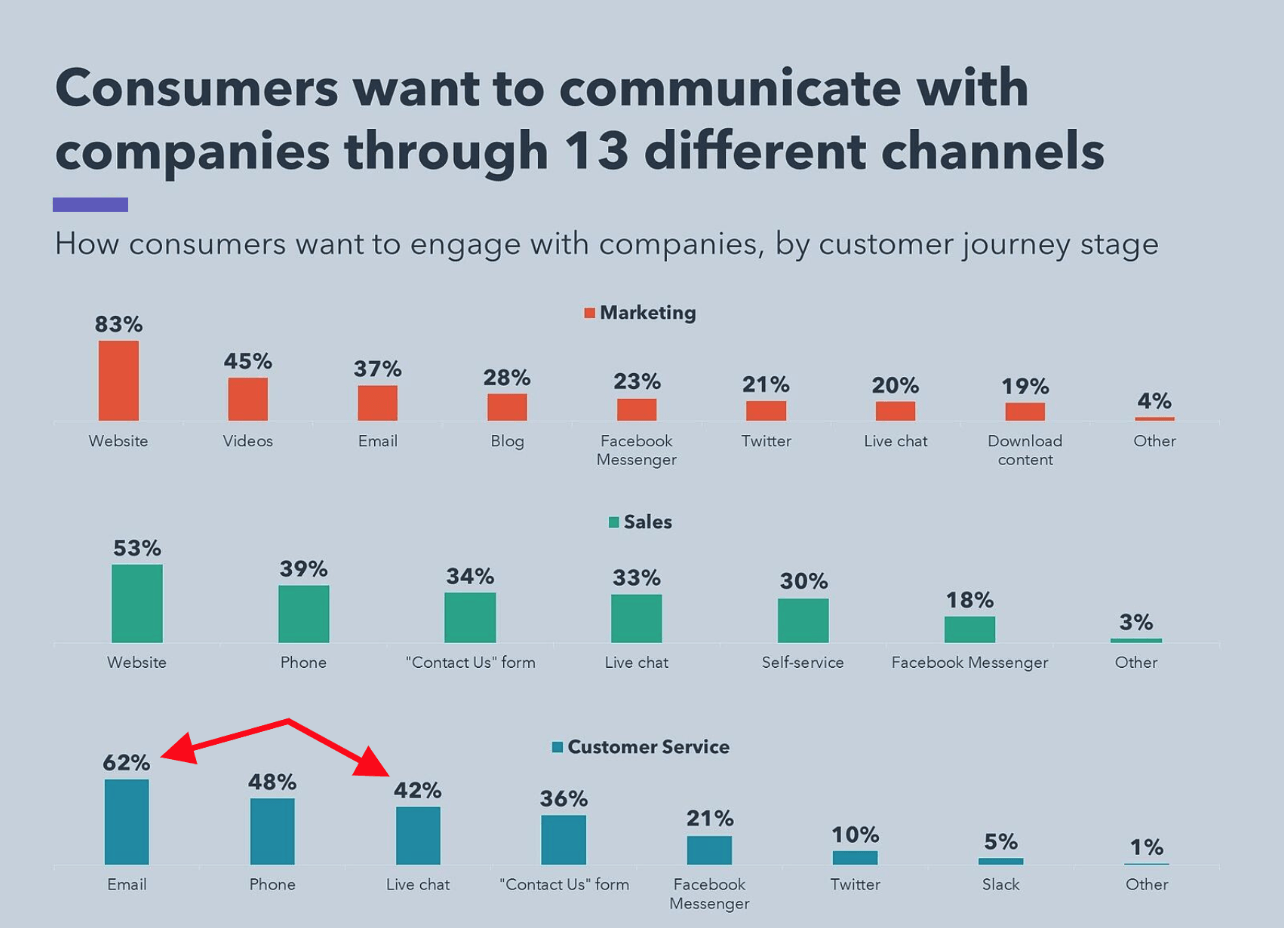 A Live chat to improve email management
Feeling surprised? Not that much in fact.
Live chat is the go-to tool when you want to decrease your email overload and impact the number of emails you receive each day.
It's because it lets you engage in real-time with users that are browsing your website.
People are not willing to send you an email anymore if you're willing to answer their questions immediately.
Worried about the fact the user will not see the answer? No problem, best chat tools have been able to work on live chat to email messages automatically.
Meaning if a user doesn't see the message within the first 10 minutes after it has been sent, the message is forwarded to the customers' email.
A Knowledge base to improve email management
Among self-service tools, the knowledge base is the one that is the most likely to please a customer when looking for an answer.
That is a great opportunity for your company to reduce the amount of email you receive each day because users can find answers by themselves.
Looking to decrease your email overload while making customers more satisfied?
Knowledge base is the tool you should look into. It's making customer service much more efficient.
Another great impact is the ability offered when combining shared inbox and knowledge base.
Nowadays, users can take advantage of knowledge articles because they are deeply integrated into their inbox.
It'll let your customer service team increase their first response time even more.
Although we are criticizing email as an unperfect tool, it's very useful in multiple situations.
Let's have a look at a specific use case when handling an angry customer over email and why it is a great channel to do so.
Why email is perfect when dealing with difficult customers?
As we already mentioned in this article, email is an asynchronous channel. It means it's not real-time.
Handling an angry customer is tough for customer service teams because it can impact the business, a lot. From a bad rating on customer feedback to bad reviews on public platforms such as G2.COM, it is dangerous.
Difficult customers have to be carefully handled with care and efficiency.
As we said, email is great at handling angry customers because it's not real-time, meaning customers can't spit all their angriness in real-time to the customer service team.
Angriness has (most of the time) a real reason that must be tackled. By emailing companies, people take the time to explain their problems carefully, adding images and all the context that is required.
Customer service teams have more time to answer because expectations of an answer on the email channel are different from the live chat channel for example.
Finally, modern companies, using a shared inbox can benefit from a specific feature that can bring a lot when handling a difficult customer: templated answer.
It'll make the first response time even faster and help your teams to set expectations faster so the customer can calm down.
Let's jump into customer service email templates.
What are customer service email templates?
We have to agree, there's nothing worse than automated messages that make your customers feel like they're just another number.
On the other hand, building an excellent customer service team, at scale is tough. Agents have to be able to improve first response time as they have more and more conversations to handle while keeping an excellent level of customer service.
However, hand-crafted, personalized messages exist, they're called canned-messages.
Canned-messages, also known as email templates, will let you craft semi-automated answers, that can be personalized automatically using macros.
Using customer service email templates will help your teams to improve the quality of their answers while decreasing the first response time.
Why are email templates interesting for customer service?
There's no secret: the way you write affects your customers and how they perceive your brand.
Answering various number of emails each day can be tough for customer service reps.
It's very simple for support reps to lose sight of the importance of each one of them.
Let's see how email templates can make your customer service smarter.
It can make your customer service more human while being efficient
Using email templates for customer service impact the way your teams are working. Gaining efficiency and productivity.
The key takeaway here is the ability for your reps to personalize your messages while sending templated messages.
Control the tone of your customer service brand
Writing existing answers can be a strong asset when sending semi-automated answers.
Email templates are very powerful because they can be totally controlled in terms of content, brand voice, and everything related to the template as itself such as the data that can be personalized.
Thanks to an email template, the customer service team can send answers without any worries, the content has been adapted, validated, and can be sent efficiently.
It's interesting because when handling customer requests, there is numerous use cases that requires specific answers.
Using customer service email templates will free off some thinkings and let your teams focus on what matters: the customers' problem.
It can be done for anything
Customer support requests can be pretty wide. from a simple follow-up message to a complex refund request, messages have to adapt all the time.
Email templates are great as they can be prepared for multiple use case.
Whether it's a simple follow-up or a more complex case, customer service agents can take advantage of those templated messages to earn more time to craft the best answer that will delight the customer.
---
As you've been reading this article, there are some things we couldn't cover and talk about.
Customer service is such a complex and intensive behavior that each use case has to be treated differently.
Customer service email is definitely and will be in the next few years a major channel in terms of conversational experience.
Companies can improve the way they deal with email management through multiple features and canned messages for customer service is only one of them.