Collecting customer satisfaction: The good and the bad
Thinking about customer feedback can be disturbing because gauging what the customer really feels about your brand or your product can leave with a lot of doubts and rooms for improvements.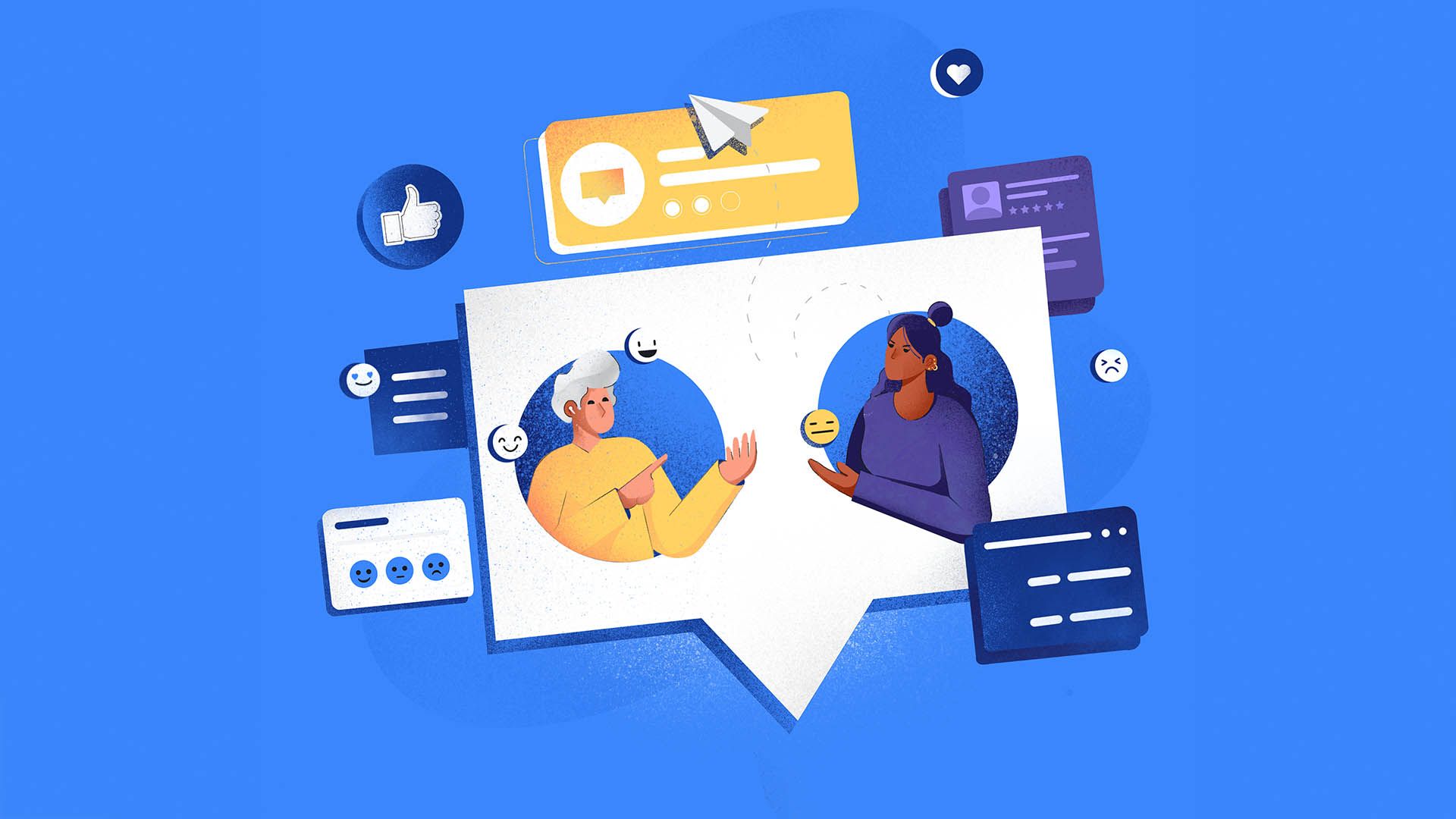 Customer feedback.
Thinking about it cannot be comforting.
Gauging what the customer feels about your brand or your product can leave many doubts and room for improvement.
Therefore collecting customer satisfaction can face multiple situations. It's not an easy job to push the right message.
Nor easy to create the right survey to give you the strength and power to get proper feedback.
Feedback is a powerful way to guide your company and give your team the right leadership.
From product to UX and customer support, customer feedback is one of the best ways to develop your company from the ground up.
On the other side, companies are pretty bad at asking for satisfaction. We've all been through those annoying moments.
Companies building automated sequences that request your feedback through multiple channels:
Infamous Voice Message
Annoying Pop-up request
Aggressive phone calls
As there's room for improvement, we prepared an article that will guide you through some Do's and Don'ts while collecting customer feedback.
What is customer feedback?
Customer feedback gathers all the data coming from interactions, insights, and conversations shared by your community about how they feel about your software or your company.
There are different ways of collecting customer satisfaction. The major ones are polls and surveys, interviews, or simple requests.
Feedback can also be gathered passively by providing a place in the user experience to provide comments, rate, and share their feelings.
Why is customer feedback valuable?
Getting customer feedback is like maple syrup on pancakes. It's vital. Feedback are important because it gives you a direct view of how your service or product is being used by your community.
Without knowing that, the whole company isn't able to create a concrete roadmap and won't know how to build that sustainable growth machine.
Recently, different strategies have arisen that tend to drive company growth through customer feedback.
It's called customer service driven development.
Now, you know why customer feedback is important. It can fuel your growth and make your customer happier.
That's that simple.
Now you see why you should start to collect customer feedback, it's time to discover how you should collect them.
What you should do to collect feedback
Collecting feedback at a high level isn't simple. That's why we've made more comfortable for you to get started with customer satisfaction.
Here are some of the dos' and don'ts regarding customer feedback.
Make it part of your product
Building a product and being able to get customer feedback is critical. On the other hand, getting valuable feedback is tough.
Your customer feedback strategy must be prepared. That's why, when collecting feedback, customer ratings should be part of your product.
Whether it's a pre-sales survey, post-purchase chat feedback, or a one-to-one meeting with a sturdy customer, getting reviews from your customers has to be prepared.
Customers must feel it's the natural flow that guides them to the moment they have to give you feedback.
Show how important it is
Most companies are asking for feedback and comments on their experience but never get back to any users when the product is improved.
That is the best way for you to never hear back from unhappy customers.
When asking for feedback, whether it's a negative or a positive one, always set clear expectations about how important it is for your company to share insights.
Centralize feedback
At Crisp, we have a Slack channel, over which we share insightful and positive feedback about our software.
Then, it's centralized over Trello, where we add more information and details about the feedback.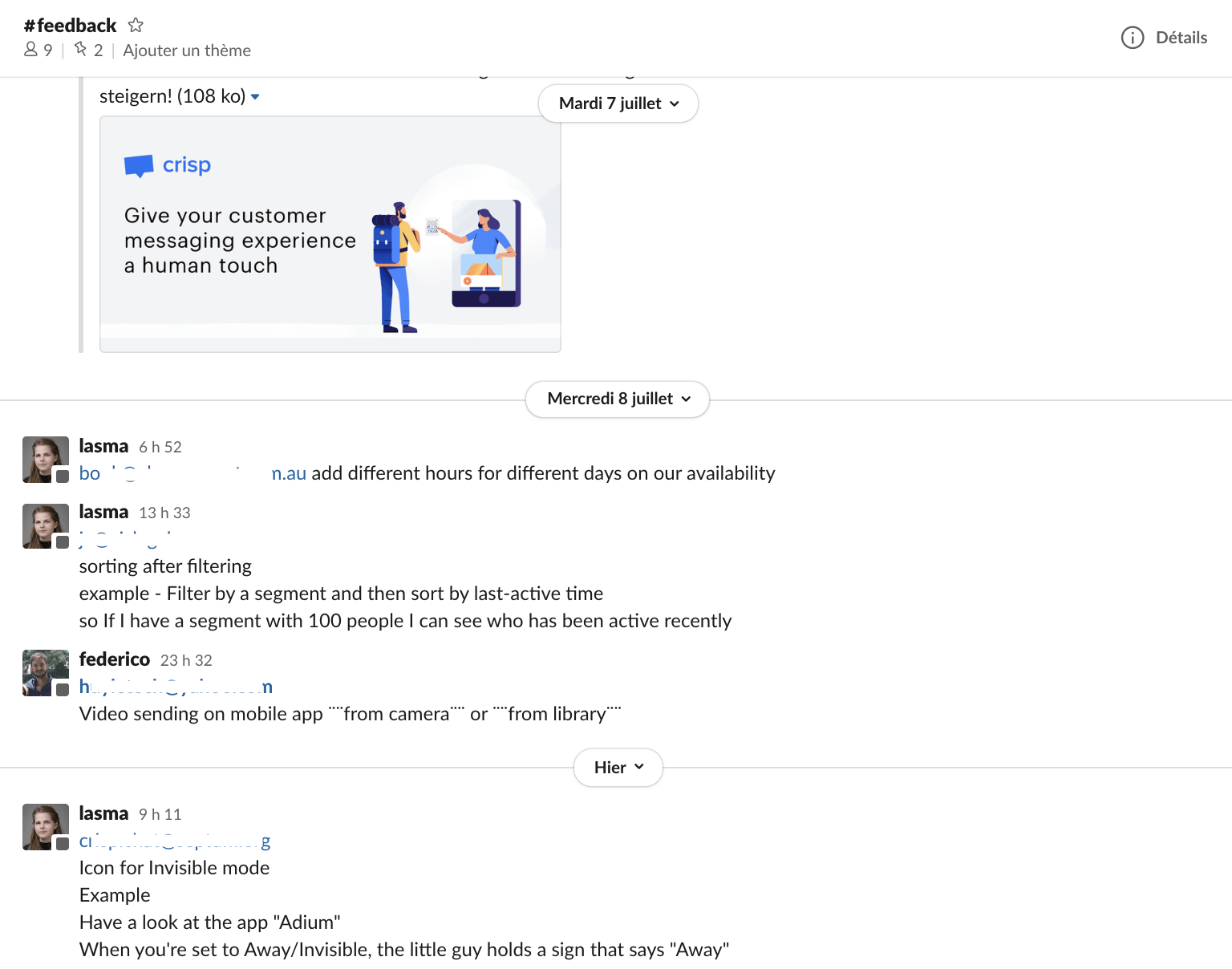 That kind of feedback is made on a human scale, meaning that every time a user asks for a feature that doesn't exist, we ask him if he wants us to submit it as a feature request.
Some requests may never happen for multiple reasons, but most of the time, they do.
Once it's shared over Slack, we add it to Trello and centralize them by features.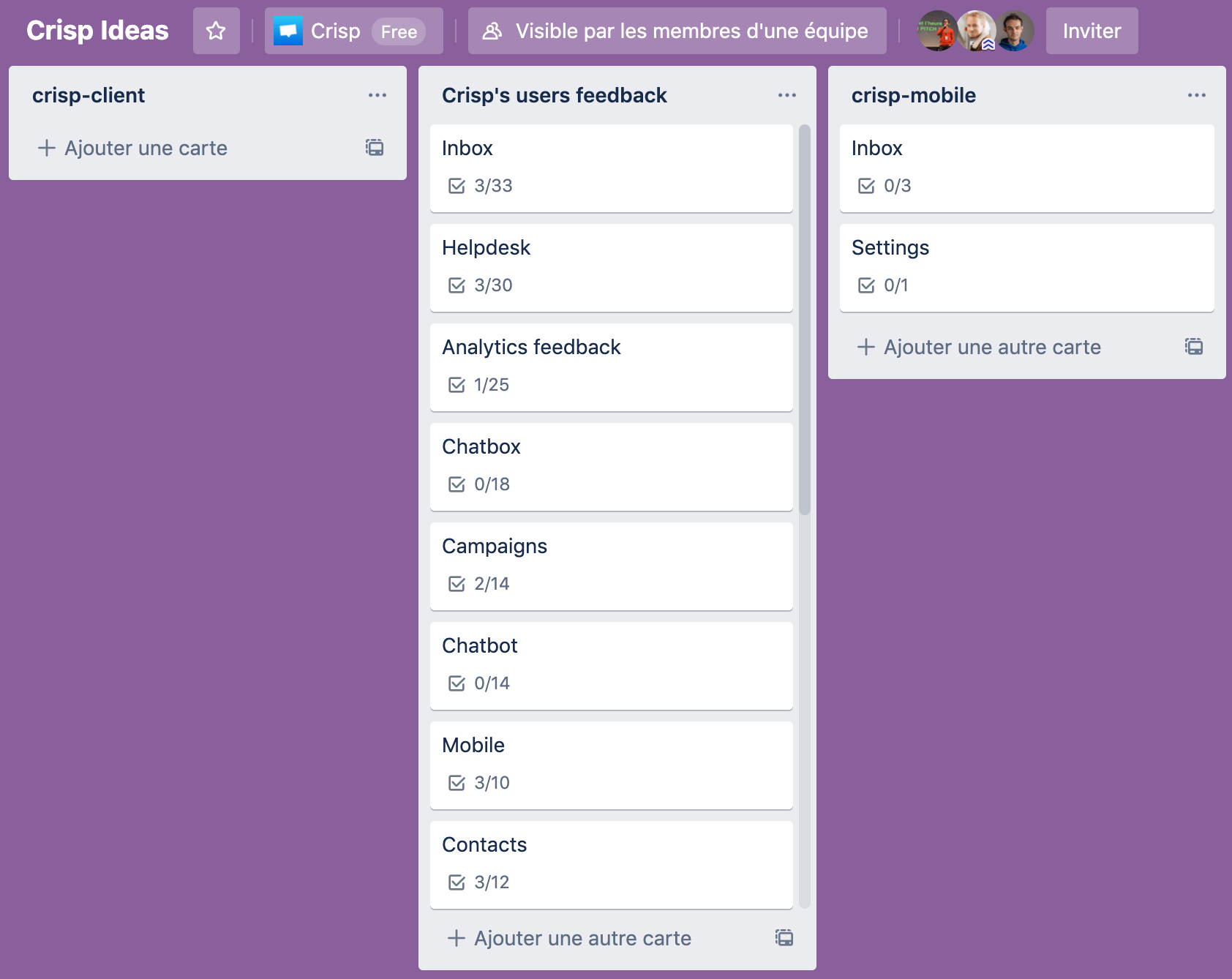 That is for the product part.
At Crisp, we also gather customer feedback regarding their satisfaction in two different ways:
Customer service satisfaction
Knowledge base articles quality
Here's how it's showcased
Get personal with users
Once you have your feedback, you have to be honest and get back to them, once their request has been fulfilled.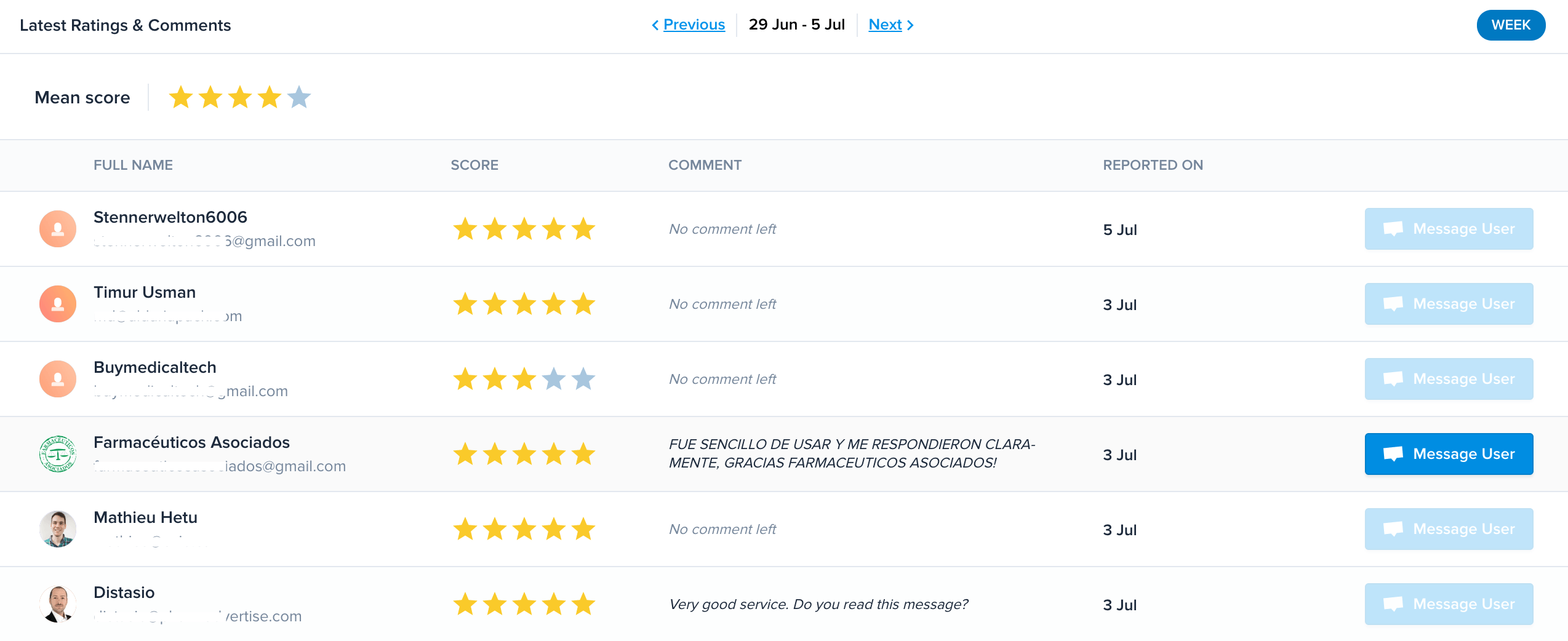 With Crisp, you can get back to users to thank them for their feedback and follow up on special requests.
What you should not do with customer feedback
Feedback is the heart of the customer experience. Without feedback, you can't grow, and many companies have been able to understand it.
However, some companies have failed to get valuable customer ratings.
Here is what you should not do when sending customer satisfaction surveys.
Don't ask for feedback too often
It can be quite interesting to have continuous surveys about everything the company does. The thing is, it can be quite annoying for your customers.
This is where response rates go down and answer quality decreases because customers are tired of your questions.
Instead of continually asking, get feedback smartly. Ask at the right time, using tools like Crisp, you can use the chat to survey customers.
Using triggers to ask for feedback at the right time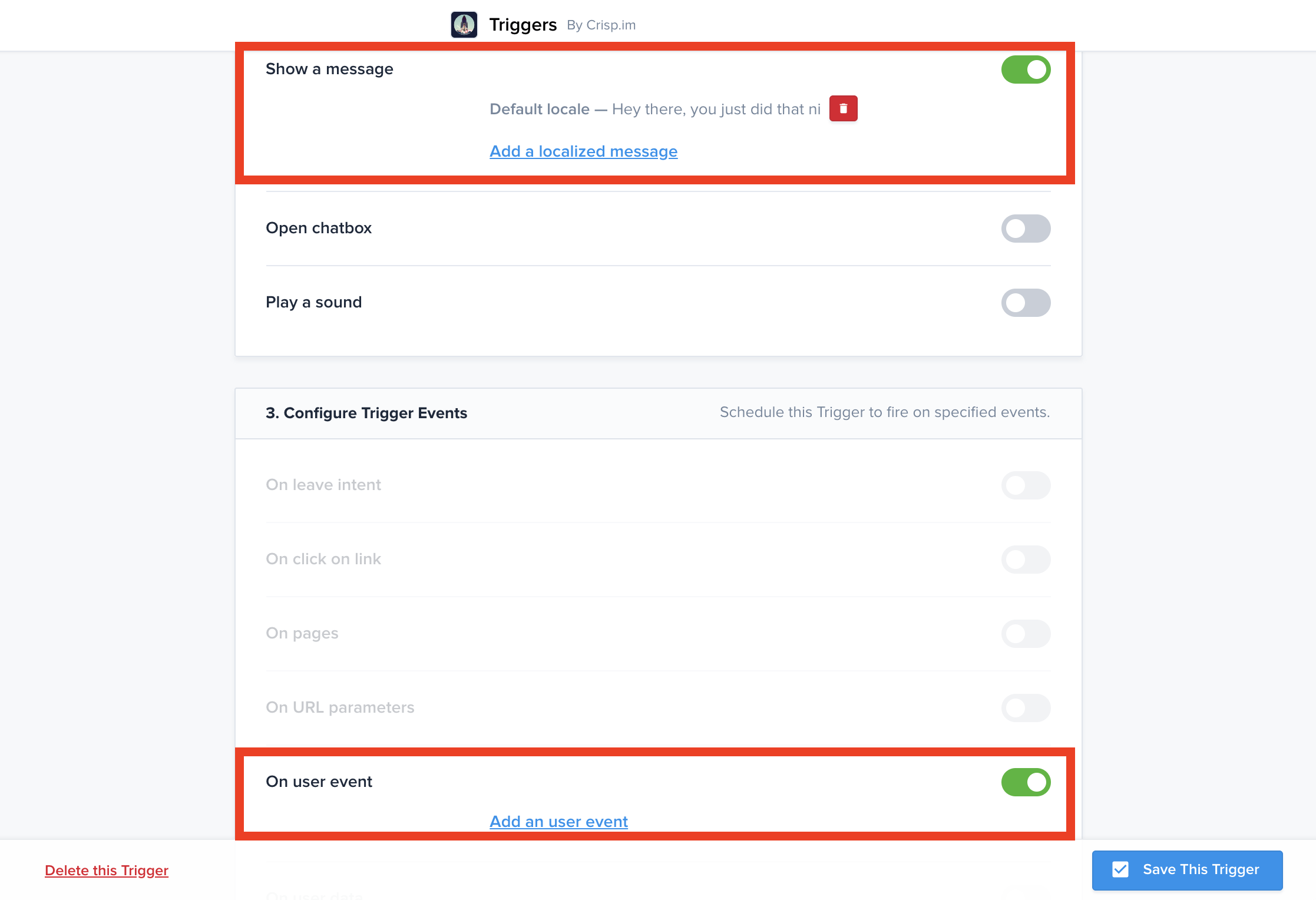 Using your live chat widget for your website, you can get high engagement while sending the right message at the right time. Using a trigger, will let you craft the perfect message, at the right time.
Don't ask for unfinishable feedback
Customer feedback is harsh, don't make your customers look tired before they even get started.
SurveyMonkey has discovered that the more you have questions, the faster is the time spent / on questions, which could lead to a lowered data quality.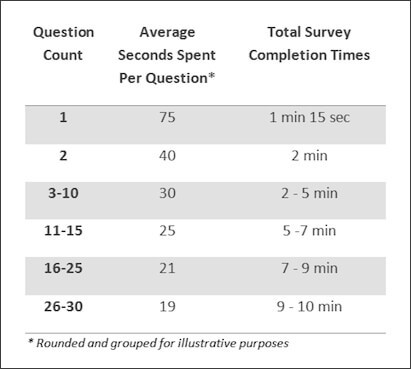 We advise you to make feedback consistent and straightforward, asking only one or two questions, regarding a specific part of your product.
Don't make your feedback request boring
Answering feedback is boring, and you know it. If you don't make any effort to entertain and motivate your customers to do the review, it will never happen!
When writing down invitations to your ratings, whether through chat, emails or, phone, add a unique copy.
Using fun and beautiful message can impact a lot on your ability to get feedback.
There are multiple other things you should not be doing, but we can't list them all, but here is a quick list:
Asking a low active user
Using bad channels and not optimizing deliverability
Using generic, invasive feedback request