Apps on Shopify that help improve customers' relationships
By the end of 2023, an estimated 1.92 billion people will be shopping online. That's 25% of the world's entire population, for those playing at home. And according to Statista, the number of online shoppers are only going to keep growing.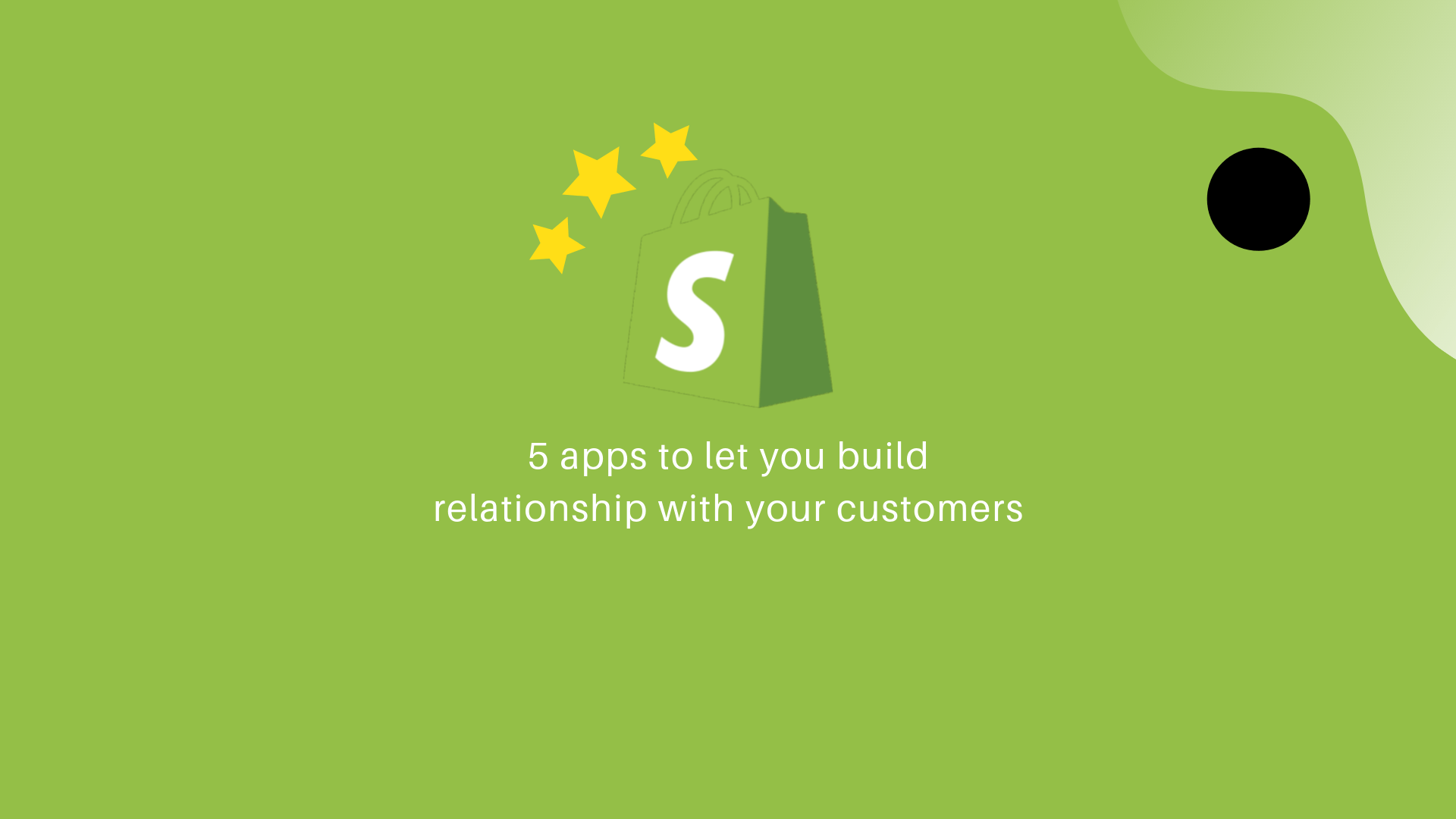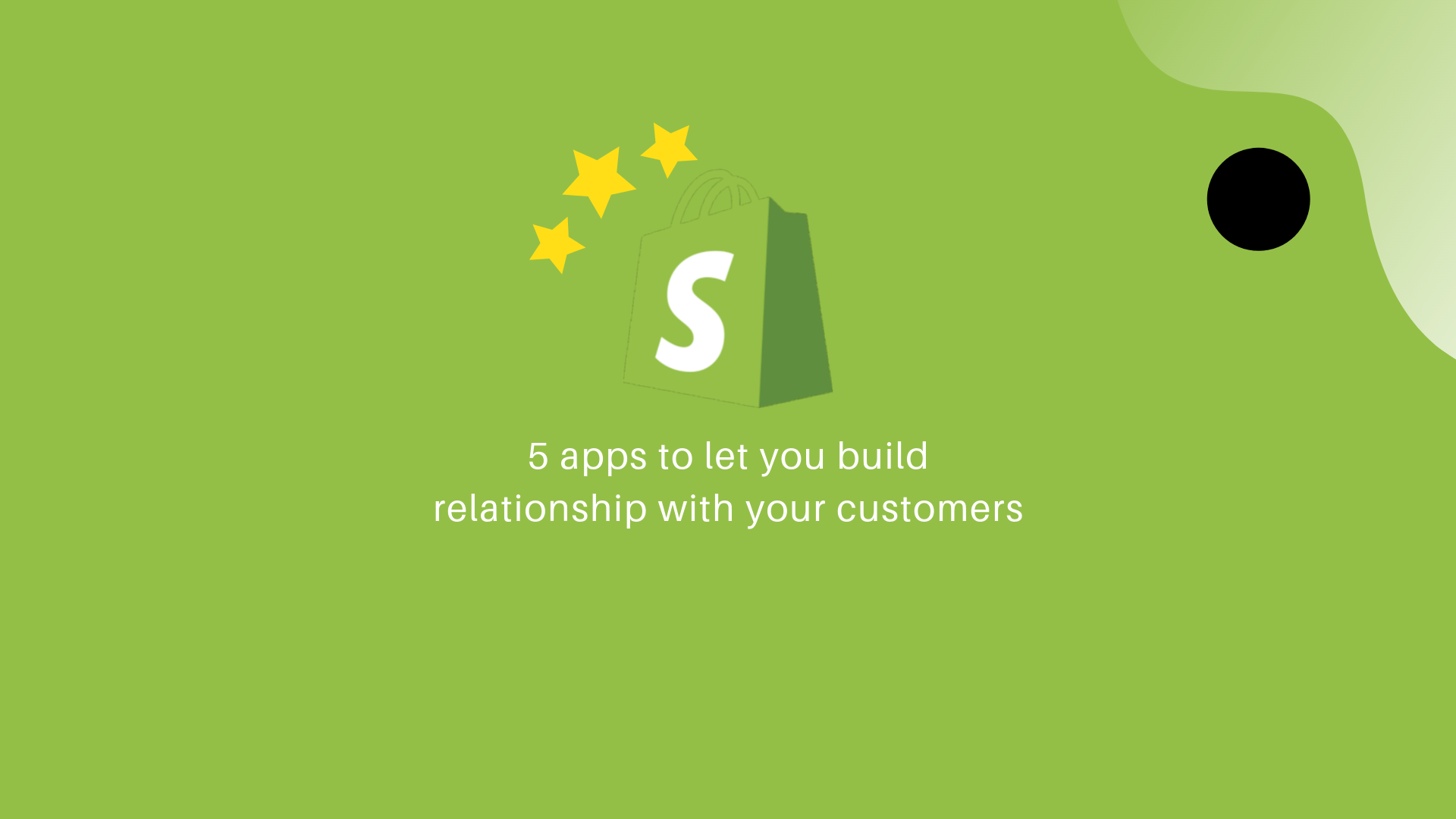 By the end of 2023, an estimated 1.92 billion people will be shopping online.
That's 25% of the world's entire population, for those playing at home. And according to Statista, the number of online shoppers is only going to keep growing:
For Shopify merchants, the increase in online shoppers creates a conundrum.
On the one hand, there is the potential for a lot more customers to be shopping in their stores. On the flip side, building meaningful relationships with customers will become a priority to ensure merchants get a decent piece of the growing eCommerce pie.
Fortunately, the app market has taken note of this trend. There are now more tools available than ever for Shopify merchants to build better relationships with their customers. Here are some of the best apps for Shopify stores to improve customer relationships.
Crisp: Live chat & helpdesk for online store
One of the best ways to build a relationship with customers is for your customer service to be on point.
With customers being omnichannel more than ever, it's important to build a seamless customer service experience.
63% of millennials and 44% of customers overall now look at Live chat as their preferred way to talk to customer service. But when live chat joins forces with an eCommerce store, it can boost sales. A study by Forrester found customers who use live chat to start a conversation with a business are 2.8x more likely to complete a purchase.
Crisp offers Shopify store owners a one-click install live chat for Shopify stores and a helpdesk that supports 50+ different languages.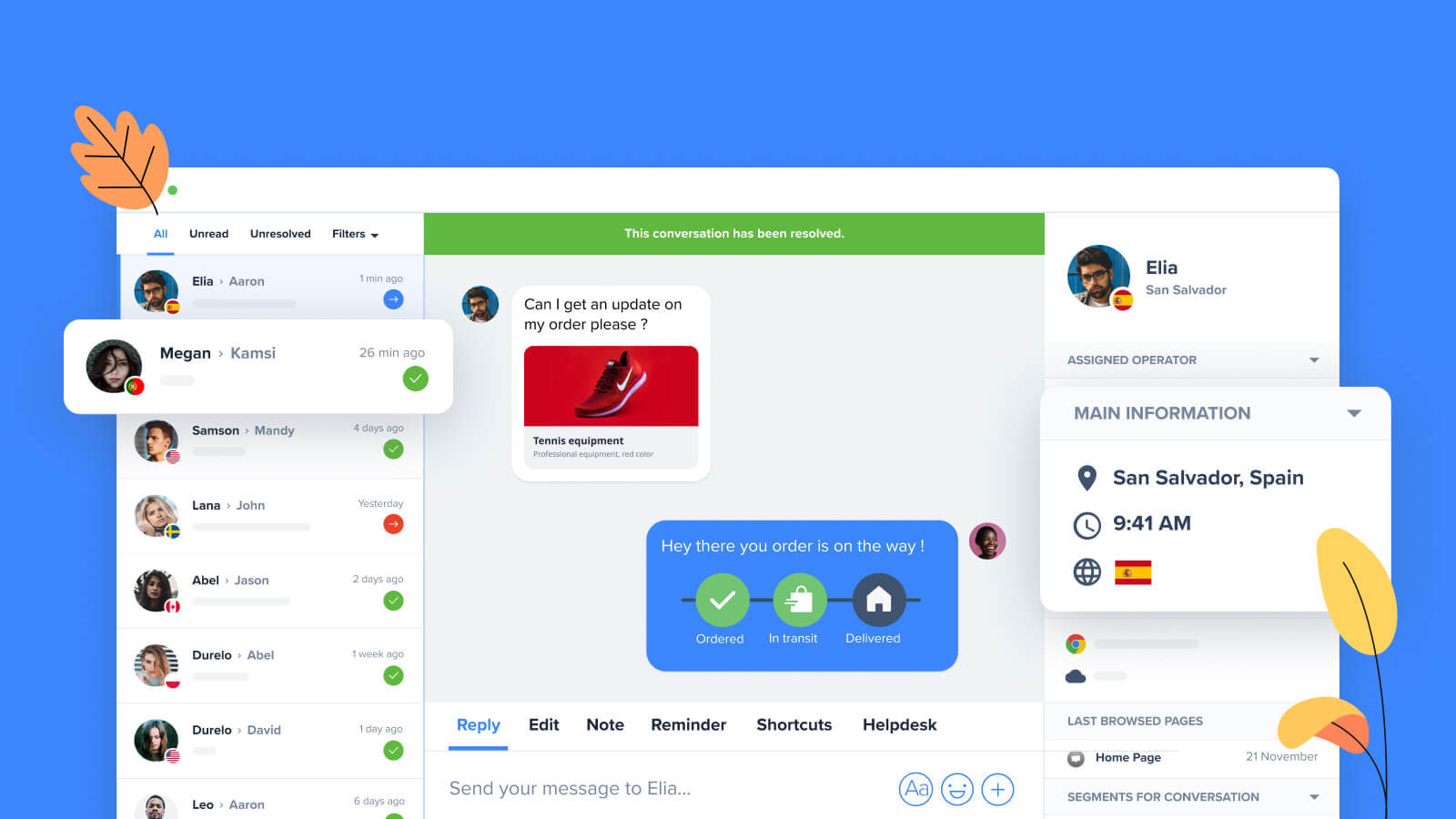 Using Crisp, merchants can connect more than 10 different channels into one inbox, create a dedicated help center and build chatbots to automate answers to repetitive questions.
The inbox allows merchants to centralize channels via Twitter, Facebook, WhatsApp, Instagram, and a bunch of other messaging platforms as well. Store owners will never miss an opportunity to build a relationship with a potential buyer or an existing one.
Price: free plan / Starting at $25 per month
Shopify app link: Live chat and helpdesk
ReferralCandy: Referral for online store
Is there a better relationship than one that starts from a word-of-mouth recommendation?
Word of mouth influences 80% of buying decisions, and customers trust referrals over every other channel.
ReferralCandy can supercharge those referrals for Shopify store owners. The app integrates into Shopify stores so that customers can earn rewards for referring the store to their friends.


But how useful can referral marketing be in boosting relationships?
E-commerce store Riff Raff & Co used ReferralCandy to boost their customer referral rate to 24%⁠—more than ten times the industry benchmark.


But what did the referral program do for their sales? In the first six months of the program, it generated 16x ROI and accounted for 35% of the company's total sales.
💡
"I always knew from my research when launching a referral program was going to form a major part of our marketing plan, CEO Emma Kruger said. With much of our target market being mums, and me being a mum myself, I knew that the best people to promote our product were other mums - they are the ones they really trust."
Price: 30-day free trial then $49/month (Enterprise plan also available.)
Shopify app: Referral and affiliate
Weglot: Website translation app for online store
💡 Reminder: Although 57% of websites are written in English, only 26% percent of global internet users speak the language.
When your customers can't understand the language your website's in, it's almost impossible to build a relationship with them.
Popular eyewear store Jimmy Fairly didn't want to lose the international customers that brought them 19% of their sales. It knew it needed an effective website translation solution to serve its clients—fast.
Just one month after installing Shopify translation app Weglot, Jimmy Fairly's international sales quadrupled, and after eight months, it grew 6x higher and saw a 70% increase in web sessions.
Weglot gives store owners an easy way to expand into new markets without having to create new storefronts for each one. In just minutes, add multiple languages for an instantly translated store, that's also optimized for international SEO.
The result? A singular store that's available in as many languages as you want while being compatible with all themes and apps like Pagefly, Klaviyo, and Sufio. No need for duplicate websites or a single line of code.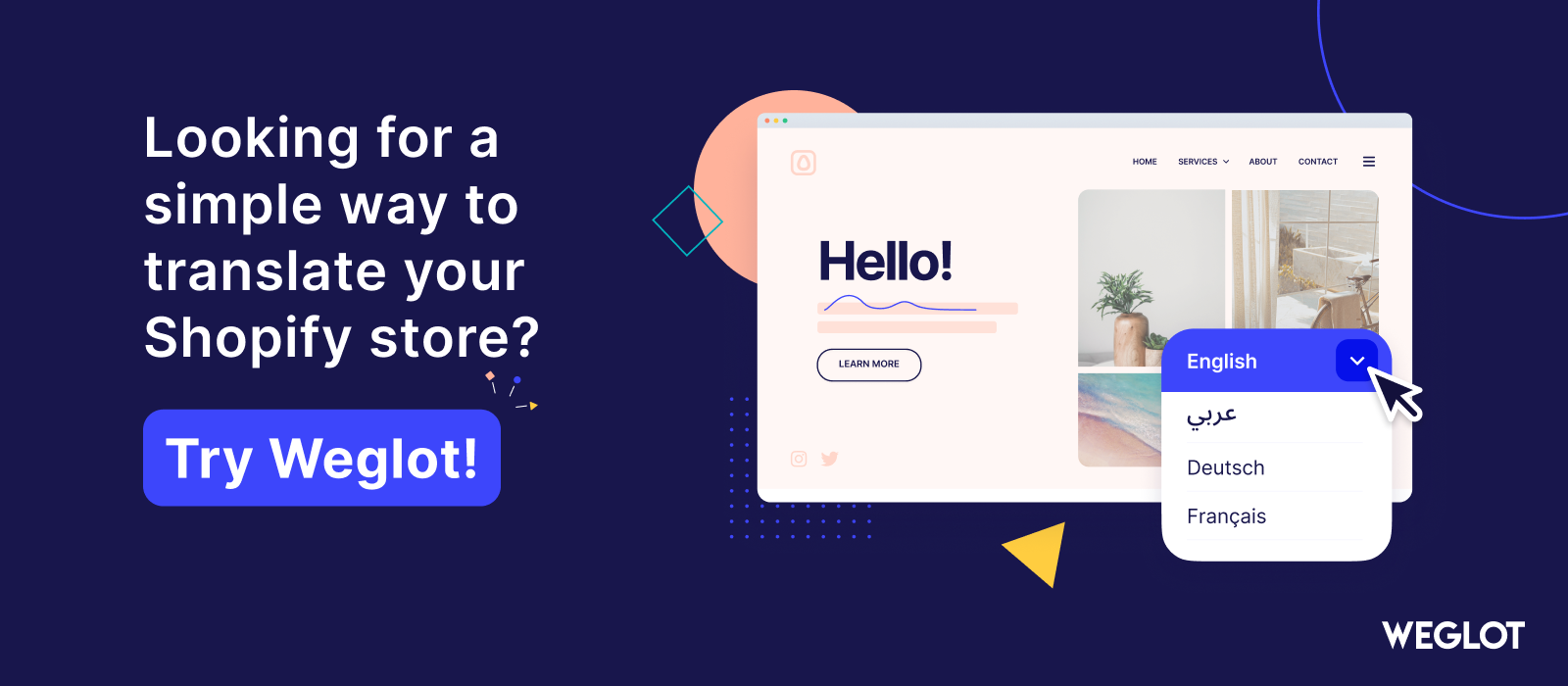 After installing Weglot, your Shopify store will be completely translated and displayed under language subdomains or subdirectories, and the content fully editable.
Now that your international customers understand what you're all about, you can engage with them better, offer more support, create stronger relationships with them, and ultimately make the buying process seamless.
Price: Start at 15$/ mo
Shopify app: Translate your online store
BigBlue: Fulfillment app for Shopify
Brands work hard to acquire new customers yet often overlook the opportunity to increase purchase conversion rate and optimise customer LTV with a personalised delivery experience.
Consumers abandon their shopping carts for a variety of reasons, and many of them have to do with logistics.
💡 Reminder: 44% of consumers find shipping too expensive, and 28% think delivery times are too long.
Brands using Shopify and Bigblue can increase checkout conversions by 34% on average by displaying free and fast delivery labels on their product pages.
Providing customers with all the delivery methods they need (express, standard, organic, pick-up point, domestic and international) and details delivery dates for their packages has shown a 33% positive impact on conversion.
Turn returns into a customer loyalty tool
Returns are a key stage of the customer experience, especially for online fashion retailers. Zalando, Zara and other major fashion competitors have accustomed consumers to a simple and transparent returns process.
A study on Bigblue's +450 customers using the customised returns portal shows that fashion brands that offer free returns have a 52% higher conversion rate. And by enabling the In-Store Credit option to promote product exchanges instead of refunds, they get 47% more revenue on the new purchase.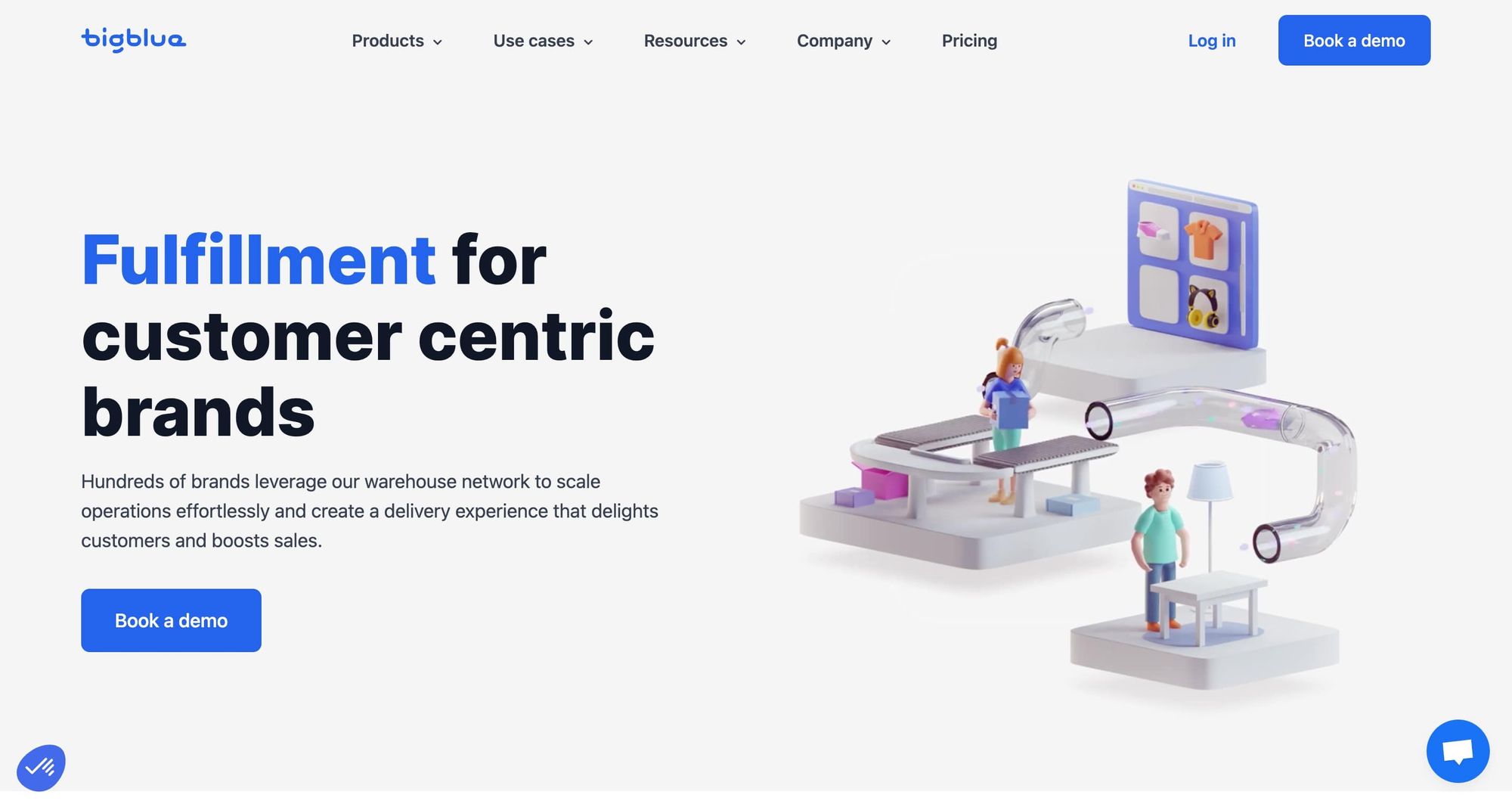 Price: Get a custom price
Shopify app: All-in-one logistic app for Shopify
Loyoly : Loyalty program for Shopify brands
Loyoly: Loyalty program for Shopify Brand
The classic brand-to-consumer marketing model is outdated. Consumers are seeking intimacy and trust, and they now look at their peers for product recommendations.

Traditional loyalty programs can fall short as they all look alike, leaving you feeling disconnected from your brand.

Yet the potential is tremendous.

56% of consumers would be willing to spend more with a brand to which they are loyal, even if cheaper options exist  (according to Yotpo).

But this same study shows that consumers want more than just free delivery and discounts in a loyalty program.

That's where Loyoly comes in.

Loyoly is a loyalty and referral platform that builds personalized spaces for customers to engage with e-commerce brands.

They can perform missions, unlock rewards through gamification, and contribute to your growth.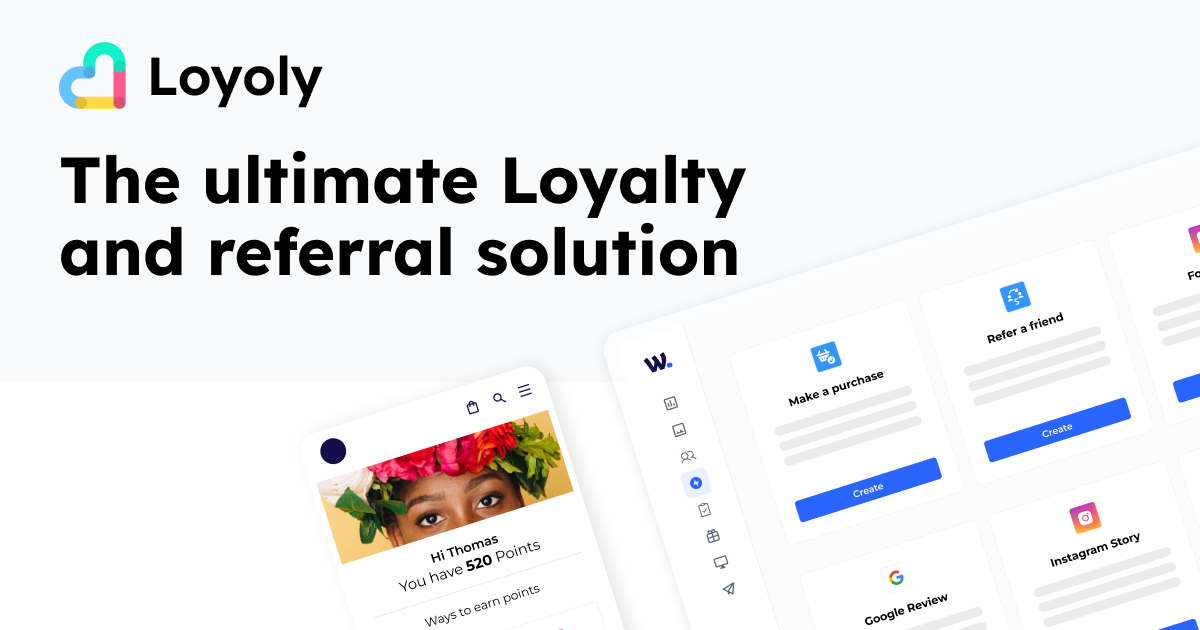 In addition to building loyalty, Shopify brands generate awareness and credibility thanks to their customers by encouraging them to create UGCs, to follow on social, to interact with their posts, to leave a review or to refer to friends... +30 pre-built missions are available. And new ones are added regularly.

Customers can then redeem their earned points for personalized rewards, which are fully connected with Shopify stores.

Creating a loyalty program that sets you apart from the competition has never been easier. Setup and integration takes no more than 3 minutes.

Price : 14-day free trial / Starting at 59€ per month
Shopify App : Loyalty and referral for Shopify
Kolsquare: Boost Shopify sales with Influencer Marketing
Kolsquare a data-driven Influencer Marketing platform that helps brands to optimize each step of their influencer marketing campaign with help of data and machine learning.
The SaaS platform allows you to connect your Shopify store by creating a personalized application that provides limited access to the data pertaining to orders made in your store.
From the campaign report tab in Kolsquare, you'll be able to track the revenue and number of orders generated by your KOLs. To do so, Kolsquare will collect data on revenue, orders, average basket (sales), and ROAS (Return on Ad Spend). This way, you manage to effectively improve the ROI of your campaign.
Kolsquare also enables you to automatically generate and assign Shopify promo codes in one click and gives you full control over access to the app from your store admin.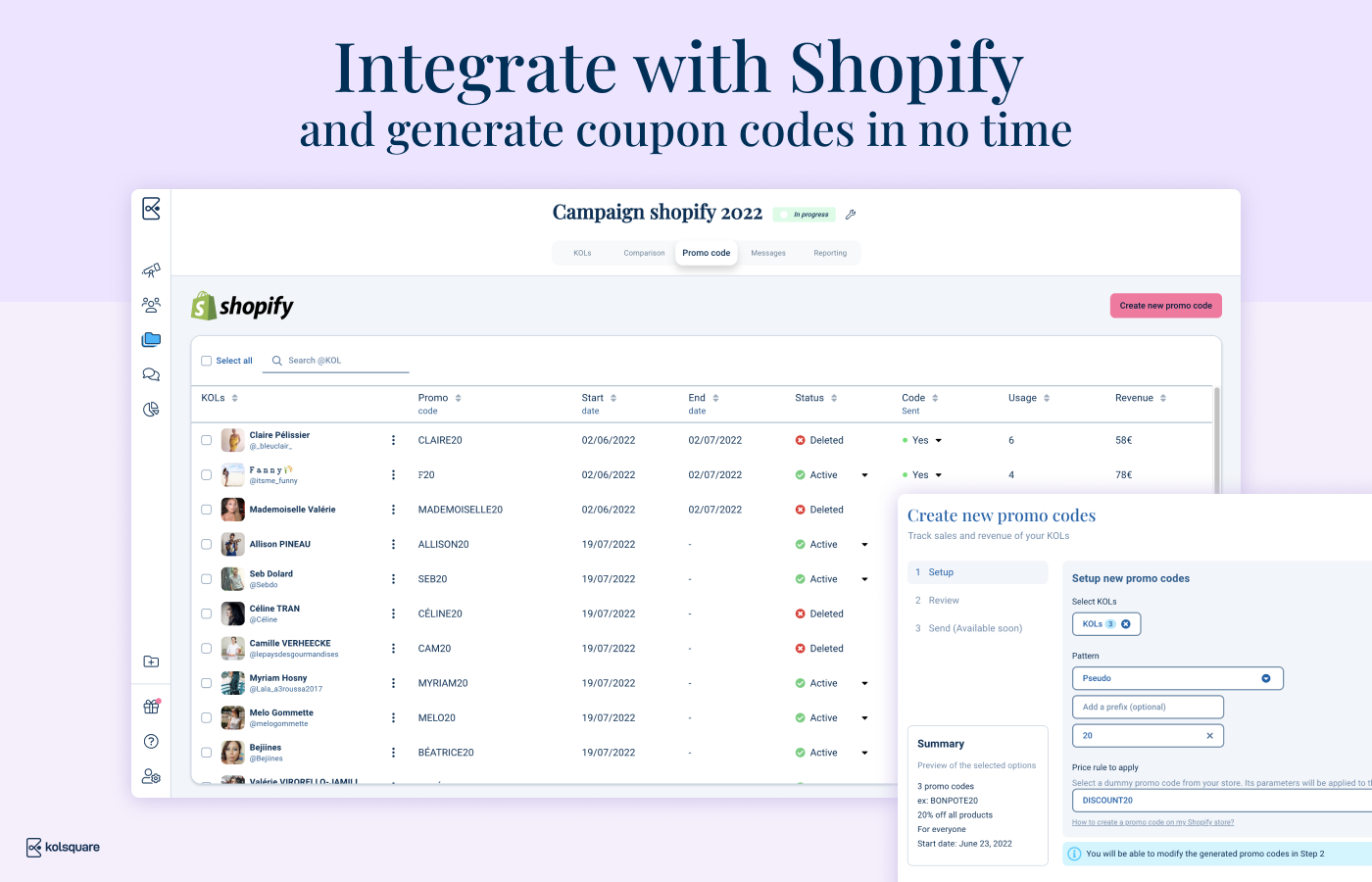 Price: Starts at 6,000 € / year (Software Licence «Search only»)
Shopify app: none
Cocon - Email Marketing app for Shopify
Email is the best return on investment channel in digital marketing. For every $1 spent, you can expect to generate $35! (see more details here: study).
It is one of the greatest growth levers for an e-commerce site.
However, a lot of e-merchants on Shopify still underuse email marketing for 3 main reasons :
lack of time
lack of knowledge of CRM techniques
don't know where to start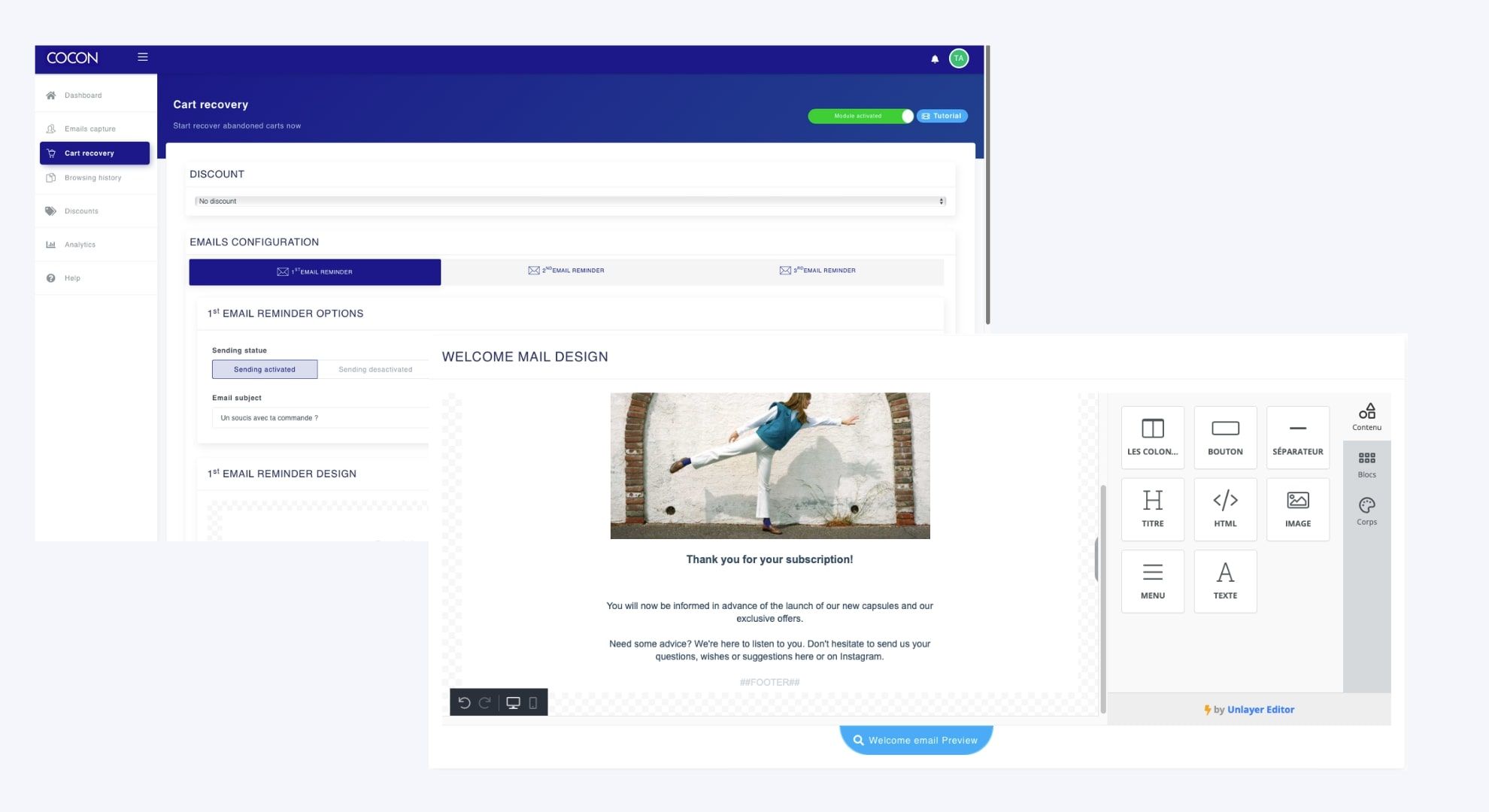 That's why with COCON, we have developed a turnkey email marketing strategy for online merchants that is efficient for any business and can be set up in less than 2 hours:
What email sequence to send
How many emails to send per sequence
The perfect timing of each email
Pre-designed templates (where to put product photos, and calls to action...)
Hole-punch texts created by a copywriter for an easy-to-follow structure that can be customized for each business
The benefits: Allow any Shopify online store, regardless of their marketing level, to implement a strategy that works
The guarantee: quick visible results
Price : 0$ until 250 contacts / 10$ until 500 contacts
Shopify app : COCON

Growave
Showcasing your store through social media interactions is a powerful way to build relationships with current and future customers.
But just how important is it for your products to be showcased on social media?
In a recent survey of 1,000 customers in the US, 78% of 18-34-year-olds said over the last three months, they had found a product on Facebook they were interested in purchasing.


On top of that, fifty-nine per cent found a product they considered buying on either Instagram or Pinterest.
Using Growave, Shopify store owners can encourage their customers so share their purchases on social media, along with leaving comments, and reviews on their site.

The result? Your store can increase its conversion rates using photo reviews, user-generated content, Instagram feeds, and social proof. You can also build on your current relationships with customers by replying to reviews and interacting with their social shares.
Win-win!
Price: Forever free basic plan / Growth plan starts at $50/month.
Shopify app: Loyalty program
Baback: Exchanges & returns app for Shopify
Is there a better growth leverage than a post-purchase management system for e-shops?
💡 Reminder: in Europe, 40% of customers returned a product in 2022. This is a huge volume for the sector and for an e-shop so turning this volume into growth is vital for the brand.
Baback is the very first post-purchase management system;  a triple software composed of one interface for the customer, one for the shop, and the last one for the logistician. Thanks to a dedicated Shopify app available to any store, the company helps online merchants to improve the post-purchase experience.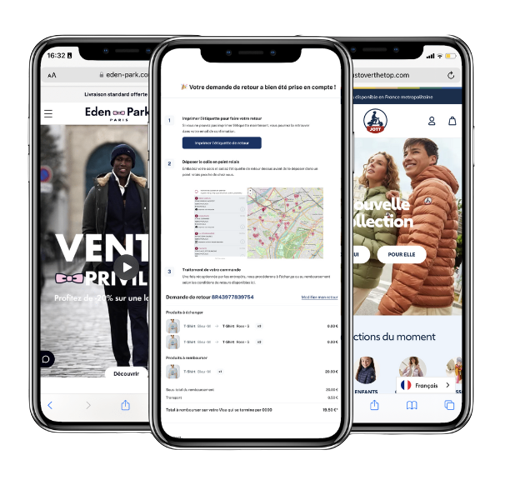 The main goal is managing a one-click fit-all strategy where all the returns and exchanges are handled from one app to improve the e-shop cash retention and customer satisfaction.
Using Baback's system will help eshops to increase the:
Growth with a return management system focused on cash retention
Customer loyalty thanks to simple returns and exchanges options
Customer experience with Baback's own 24h customer service
A better global flow and costs management
Price: Lite, 49$ / mo - Plus, starts at 399$ / mo - Major, on request
Shopify App: Return management
Wisepops: popups and onsite notification feed app for Shopify
Popups remain one of the most effective ways to generate leads and sales on Shopify, but they can also be of huge help with building good customer relationships. And when it comes to popups, Wisepops is one of the best apps to use (rated 5 stars by Shopify users).
Here are a few ideas to use popups to build good relationships with customers:
Share information about your loyalty program and perks
Drive traffic to pages with your brand's mission and values
Raise awareness about your initiatives and projects among visitors
Example:
Asphalte is a fashion brand whose mission is to fight overproduction with pre-orders and plant trees for every sold item. Ben, their marketing officer, found out that knowing about this mission helped them to convert more website visitors (here's the full case study).
So he used Wisepops to create a popup to lead visitors to a survey introducing them to the way Asphalte operates: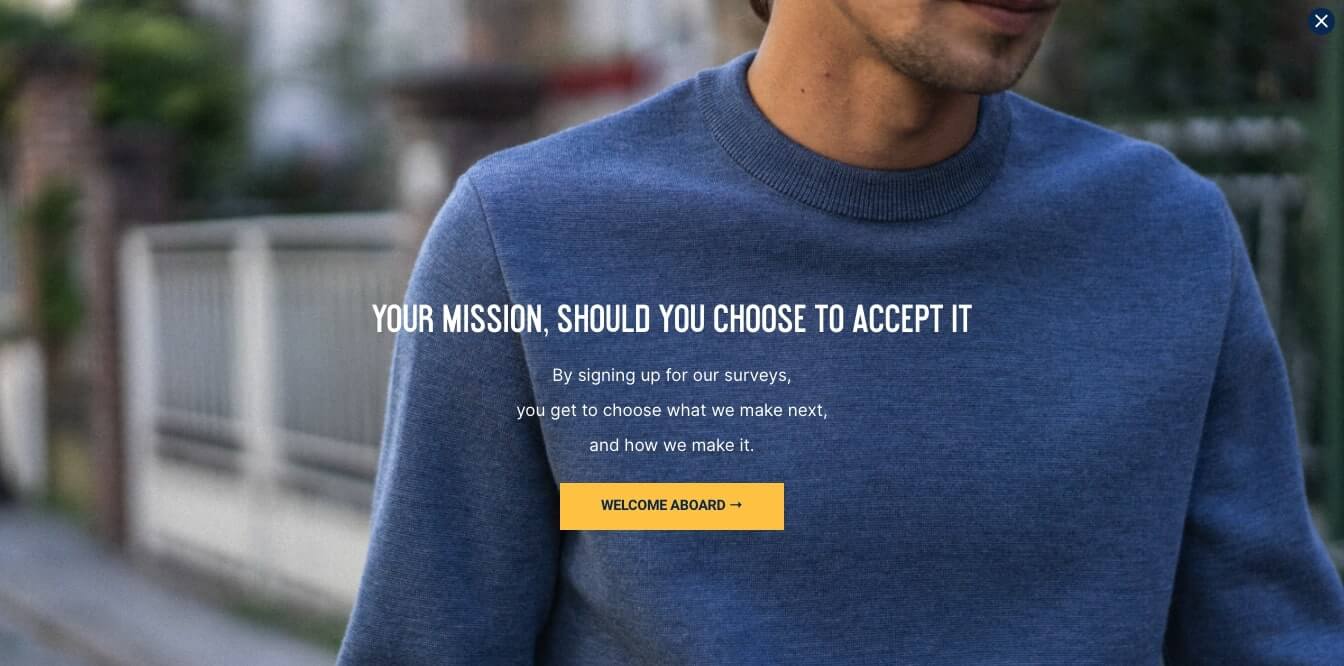 Also—
Ben takes pre-orders with Wisepops's onsite notification feed: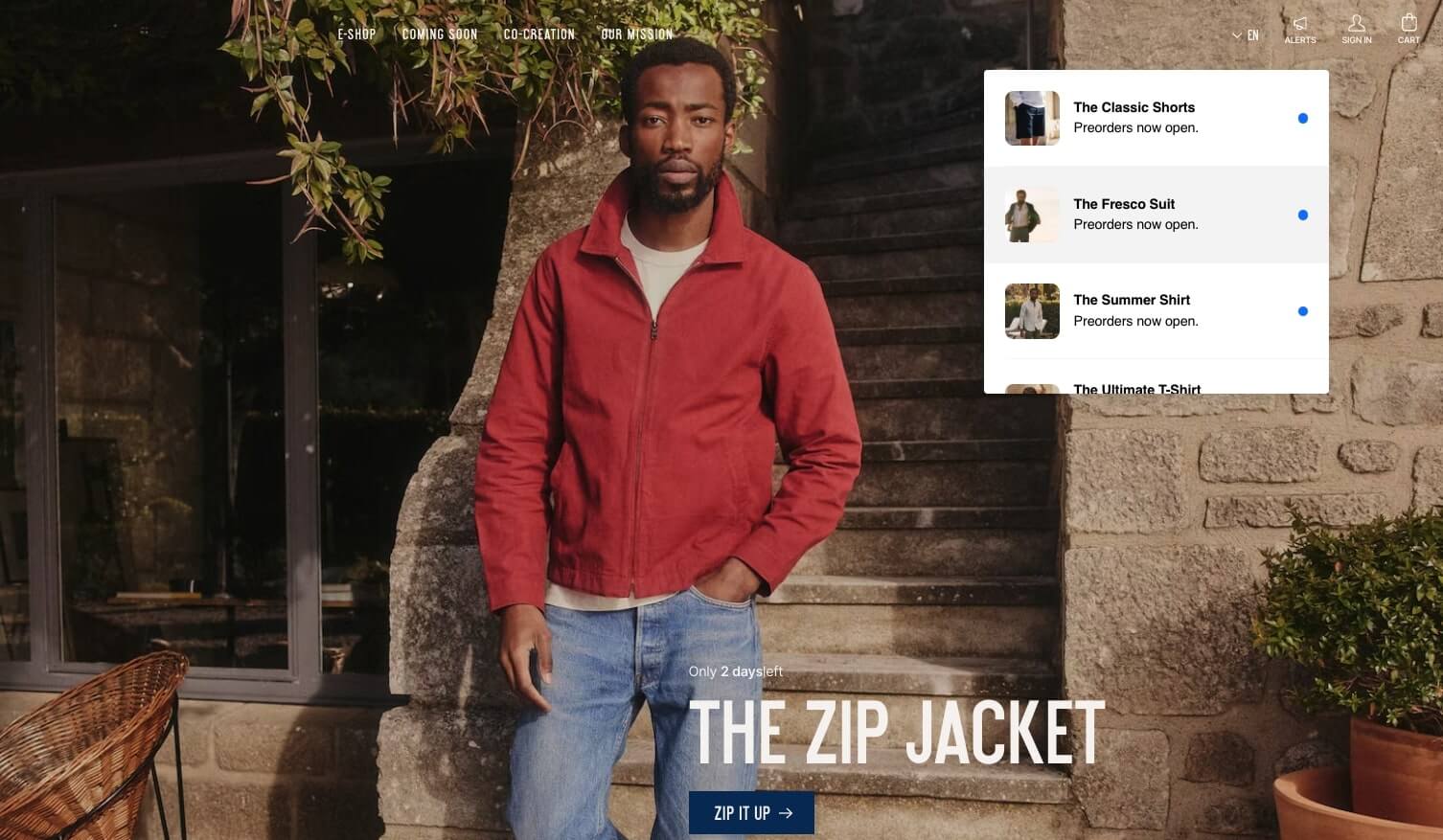 This way, Asphalte generates 4,000+ leads that sign up to receive updates from the brand.
As you can see, Wisepops includes two different onsite channels to engage potential customers. What's more, it also gives you website bars and embedded signup forms. Thanks to this, you can create a dynamic, personalized, and interactive experience on your Shopify store, which can help to increase sales and brand loyalty.
Pricing: free 14-day trial with all features. Paid plans begin at $49/mo.
Shopify app: Wisepops for Shopify
Live Me Up: Live Shopping and Shoppable video for Shopify
Live Shopping & Shoppable videos are designed to help brands uplift their customers' engagement, retention and revenue.
Let's figure it out throw 3 reasons :
More than ever, brands need to embody their brand. Customers want to hear brand's stories and see products and how to use them. Customers want authenticity.
By embodiment, brands spread a vision that customers listen and follow.
Community creates relationship and retention. The more brands are doing live sessions, the more they generate brand love, traffic and sales through their online store.
LiveMeUp offers a seamless experience built for Shopify : go live in one click and publish replays and shoppable videos across online stores without technical obstacles.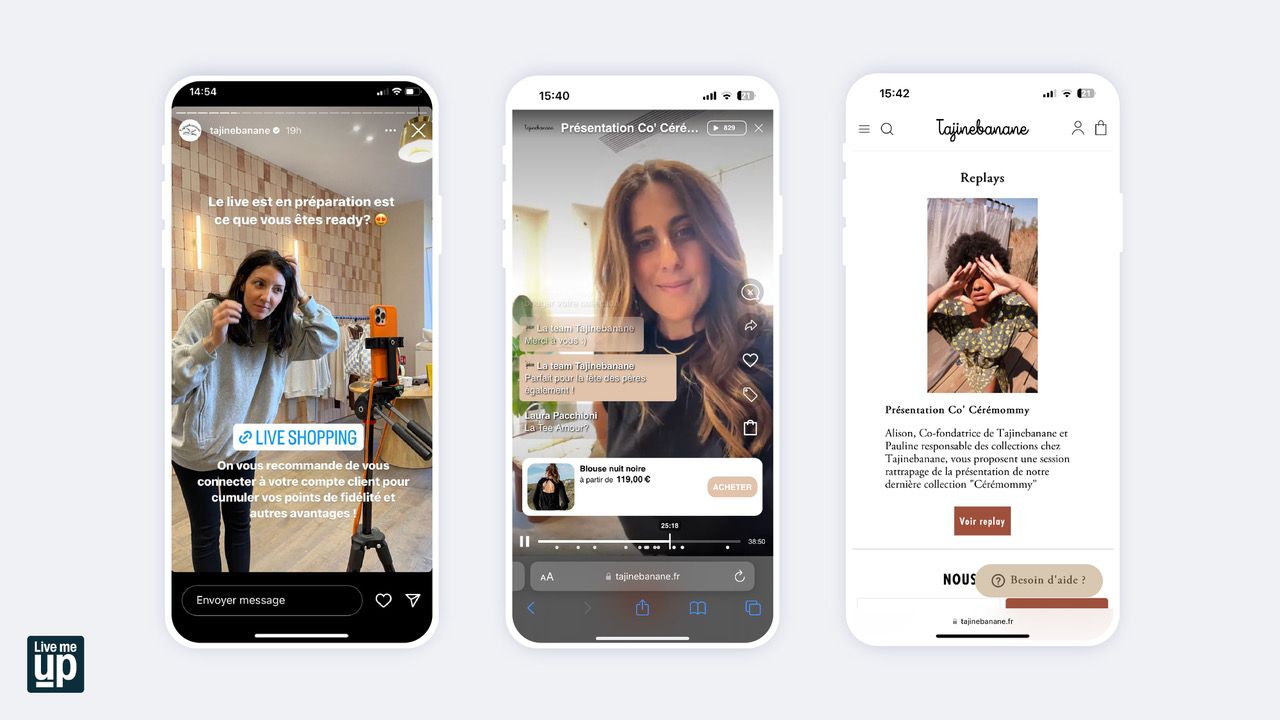 Exemple :
Tajinebanane achieves 25K€ of revenue in 10' with new collection in Live session. With 750 viewers, the brand has attracted twice as many viewers compared to its Instagram lives.
To get started with Live Shopping, communication and customers' relationship are vital. Tajinebanane publishes smart posts, reels and stories on Instagram plus newsletters one week before Live session to tease the event and maximize viewer's engagement during Live Shopping session.
LiveMeUp empowers brands to capture customers' attention in long-lasting relationships and drive instant sales.
Price: free plan / starting at $89 per month
Shopify app: https://apps.shopify.com/livemeup
Relationships can be built in a ton of different ways
Building relationships with your customers on Shopify can go far beyond a post-purchase email asking for a review.
By integrating apps into your store that help you to build relationships more smartly, you can drive more revenue into your store with less effort. Referral marketing, data-driven retargeting, and in-store live chat are all powerful ways merchants can build relationships with their customers automatically.
Willing to get started with Shopify? Here is an analysis about shopify pricing to help you to choose the best option for your business.
If you think building relationships is labor-intensive and time-consuming, think again. Take a look at your store and decide which parts of your relationship-building process you could improve with the help of an app.